BISC116/CHEM116: Fundamentals of Chemistry and Molecular/Cellular Biology with Lab: An Integrated Approach

A 2.5-unit "double" course team-taught by biology and chemistry faculty that is an interdiscplinary alternative to taking BISC110 and CHEM105 (the traditional introductory courses in each individual department) separately.
This course is perfect for you if you like both biology and chemistry and want to understand the interface between these subjects!
Please visit our Frequently Asked Questions page for more logistical information about the course!
What are the advantages of taking BISC116/CHEM116?
You will get to explicitly see the many exciting, synergistic connections between biology and chemistry. Delve into questions like "How do drugs *really* work?", "What are the underlying molecular mechanisms of disease?", or "How do living systems use energy?" as you learn core, fundamental concepts in both chemistry and biology.
With one lab period and a shorter "problem-solving" session each week, the course efficiently covers content and skills from both BISC110 and CHEM105 with less overall time spent in class than taking each separately.
This intense course will enable you to form a close-knit community in your first semester with other people also interested in connections between the life and physical sciences. Make friends that can last a lifetime!
You can immerse yourself into exciting science in your first semester, taking on intellectual risks that are central to an engaged college experience.
The semester culminates with student presentations on biochemically-relevant topics of their choosing; past topics included prions, antibiotic resistance, molecular therapies for cancer and cystic fibrosis, and the chemistry of vision and hearing!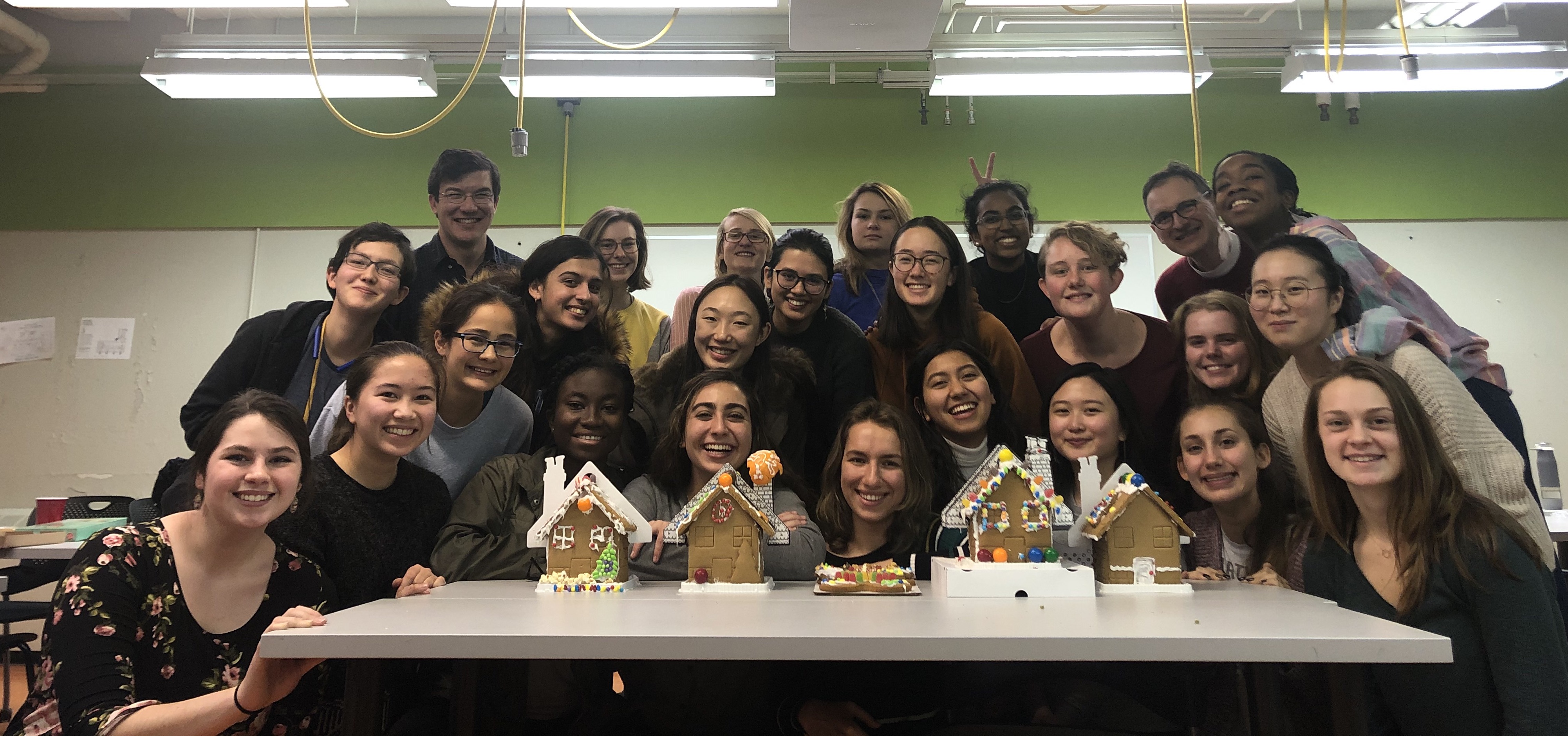 This course debuted in Fall 2016, and here's what a diverse set of members of the first three cohorts of students have to say:
A sense of community:
"BISC/CHEM 116 was one of the best courses I have taken at Wellesley. Apart from being an amazing integrated introduction to both biology and chemistry, it created an incredible community (that remains even after the course). Even though it was a challenging course, the continuous support of our peers and professors made the course enjoyable. I developed a multitude of scientific and learning skills that prepared me for higher-level science courses at Wellesley."
"Coming into Wellesley, BISC/CHEM 116 created a really incredible learning community. Because it is a double course, we spent a lot of time together, and I created some great friendships-- regardless of what courses we are currently taking, it is typical to see tables of us hanging out, studying, and catching up in Sage! Also, the professors were so engaged in and committed to the course and the students, and again spending so much time together and having one of the instructors as an academic advisor really created a great foundation for my first science courses at Wellesley. "
"After taking BISC/CHEM 116, I feel like I have a community in STEM at Wellesley because of the inherently collaborative nature of the class. It's a hard course, but not unmanageable, and taking BISC/CHEM 116 made me feel prepared to take any science class in college."
An interdisciplinary experience:
"BISC/CHEM 116 is an amazing course: I was able to learn and to ponder the connections between biology and chemistry on a deeper level within a truly supportive community of peers and professors. It's an intensive course, but the efforts put in over the semester resulted in both educational growth and fond memories of study group sessions, engaging class discussions, and fun office hours."
"...the course is very challenging, but I would not have learned the information as well if I had taken the two courses separately."
"The course has provided me with a challenging yet interesting integrated approach to both Biology and Chemistry and give me a glimpse into how they intertwine, which is exactly what I looked for when I chose it. It was really challenging sometimes but also very rewarding. I tend to believe if I had an entirely smooth first semester, I wouldn't be motivated this much to pursue either subject, so for me, the challenge is actually very meaningful and beneficial"
A challenging yet supportive environment where students collaboratively engage with College-level science:
"I am so glad that I took BISC/CHEM 116 in the fall. The course was definitely challenging and required a lot of time and effort, but the professors were always there with a bowl of chocolate and a book of chemistry poetry to help. The structure of the course also catalyzed many bonds between the students. I am still very good friends with many of my classmates. Overall, it was an extremely rewarding experience, and there is no other course like it at Wellesley."
"As a student who didn't have the opportunity to take rigorous AP science courses or have lab experience, the course made me feel as if I needed to work twice as hard to "catch up." However, as I look back, I see how the course forced me to look for academic resources and ask for help, something I found and still find difficult doing. The course was hard but I learned a lot, even if at times it felt like I wasn't, and it allowed me to grow as a student. Ultimately, my hope is for students like me to take advantage of this opportunity and challenge themselves, knowing that they always have the support of their professors along the way."
"BISC/CHEM 116 really shaped my first year experience: not only did it expose me to concepts and connections integral to the field of biochemistry, but the frequent class meetings helped me make friends and feel less alone during my first semester of college. I'd recommend this course to anyone looking for a challenge and a supportive academic environment, both inside and outside the classroom!"
"BISC/CHEM 116 was not only a great way to learn and review introductory biology and chemistry but also the perfect introduction to the level and standard of work necessary to succeed at Wellesley. Through this course, I developed better study skills, figured out just how office hours work, and made many incredible friends!"
"I have never felt so challenged in a course, nor felt as though I had achieved so much in a course, as I did in BISC/CHEM 116."
"As someone who did not come in with the same level of academic preparation as her peers, I definitely struggled in this course. However, I do not regret taking it, nor would I discourage anyone who is in this same situation. On the contrary, I think this course really helped me develop my study skills and forced me to ask for help, which I did not have to do in high school."
"If I were to describe BISC/CHEM 116, I would say that it was overall a really fun class. BISC/CHEM 116 was really intense and SO MUCH WORK, but it also gave me more confidence to take upper level biology and chemistry classes. I also love that I'm still good friends with almost everyone from that class, and the teaching was so good."
"BISC/CHEM 116 was definitely my hardest class during my first semester at Wellesley (both in workload and content), but the study and critical thinking skills that I gained from that class have served me well in my second semester! The community that was formed in the class was also so inclusive and supportive, and the company of my classmates made the problem sets, labs, and projects a lot more fun!"
A course to continue or perhaps discover your love for science:
"BISC/ CHEM 116 continued my love for both bio and chem with the interesting topics we learned about, including cell signaling and nuclear chemistry, and the many fun memories I made from working with cells and chemicals in lab! I grew in many ways as a student and person from interactions with our amazing and approachable professors, and from doing so much group work and studying together with other students in my class, many of whom have become my friends."
"When I first came to Wellesley, I did not expect to take many courses in the sciences. However, taking this class made me realize how fun and challenging the material...can be."
Please see the course description in the course catalog and our FAQ page for more information. Questions? Please contact amatthe2 (at) wellesley (dot) edu

Inner Life of the Cell animation conception and scientific content by Alain Viel and Robert A. Lue. Animation by John Liebler/XVIVO. Other images courtesy of Mala Radhakrishnan, Lucy Liu, Lucica Hiller, Connie Chen, and Fides Nyaisonga