Colleagues In The News
Lisa Barbin, chief of police, has been chosen as one of 24 law enforcement executives from across the country to participate in a National Campus Law Enforcement Leadership Institute on Violence Against Women, hosted by the International Association of Chiefs of Police (IACP). The institute's goal is to increase law enforcement response to violence against women and to support the adoption of best practices among the officers in the Wellesley College Police Department. The four-day institute takes place in Austin, Texas. Barbin and other participants will explore innovative approaches for investigating crimes, assessing agency performance and sharing challenges and solutions with law enforcement colleagues. Expenses for participants are covered under a grant to the IACP from the U.S. Department of Justice, Office on Violence Against Women.
Susan Reverby, women's and gender studies, is the winner of the 2010 Arthur J. Viseltear Award, presented by the American Public Health Association's Medical Care section. The honor is given annually to a historian who has made outstanding contributions to the study of the history of public health. The selection committee chose to honor Reverby for her book, "Examining Tuskegee: The Infamous Syphilis Study and its Legacy." She will be presented with the award at a ceremony at the annual meeting of the American Public Health Association in Denver, Colo., on Nov. 9. She will also participate in a panel presentation that day on the theme of public health, race and social justice.
Charlene Galarneau, women's and gender studies, will make a presentation on issues of discrimination and FDA blood donation policy at a meeting of the Advisory Committee on Blood Safety and Availability, Department of Health and Human Services, on Friday, June 11, in Rockville, Md. This follows the February 2010 publication of her article, "Blood Donation, Deferral, and Discrimination: FDA Donor Deferral Policy for Men Who Have Sex With Men," in the American Journal of Bioethics. The two-day meeting is focused on the FDA's current policy. Galarneau is currently finishing an article examining the ethics of a 1980s FDA policy that banned blood donation from Haitians in the U.S.
Adam Schwartz, the writing program, has been awarded a $7,500 Artist Fellowship in Fiction Writing from the Massachusetts Cultural Council (MCC). He is among 39 Massachusetts artists recognized by the MCC for creating work of exceptional quality in the disciplines of choreography, fiction/creative nonfiction and poetry. The program has awarded $7,500 unrestricted grants to 21 artists, and distinguishes 18 others as finalists with $500 grants. The fellowships recognize the unique contribution made by artists to the cultural vitality of the Commonwealth. Schwartz is the author of "A Stranger on the Planet: a Novel" (Soho Press, 2011) and has contributed to "An Introduction to Critical Reader" (Harcourt Brace 1999), "Coming of Age in America: A Multicultural Anthology" (The New Press, 1994) and "Writing Our Way Homes" (Shocken Books, 1992) and other publications.
Several Wellesley College faculty members have been named to professorships: Courtney Coile, Class of 1966 Associate Professorship; Selwyn Cudjoe, Margaret E. Deffenbaugh and LeRoy T. Carlson Professorship in Comparative Literature; Rosanna Hertz, Class of 1919- 50th Reunion Professorship; Marion Just, William R. Kenan, Jr. Professorship; Phillip Levine, Katharine Coman and A. Barton Hepburn Professorship in Economics; Salem Mekuria, Luella LaMer Professor of Women's Studies; and Brian Tjaden, Theresa Mall Mullarkey Associate Professorship.
Marjorie Agosin, Spanish, recently spoke at a fundraiser at the Central Congregational Church in Newburyport, Mass., to support relief efforts in Chile, following a devastating earthquake in February. Agosin is the author of several books about human rights in Chile. Agosin's book, "Of Earth and Sea: A Chilean Memoir" (University of Arizona Press, 2009) won the International Latino Award for Best Biography in English. The collection of prose vignettes and free verse draws upon Agosin's experiences as a child in Chile, an expatriate abroad and a minority Jew, even in the land she calls home.
Ifeanyi Menkiti, philosophy, has been invited to Wales to give two readings in June, one at the historic The Boathouse at Laugharne and the other at an invitation-only event at the Dylan Thomas Birthplace. Menkiti, who is a poet, was born in Onitsha, Nigeria, and is the owner of the Grolier Poetry Book Shop in Harvard Square, the nation's oldest bookstore devoted exclusively to poetry. His two readings in Wales will bring to a close a series of international appearances that have taken him to Vasteros and Orebro, Sweden; Istanbul, Turkey; Seoul, South Korea; and Delhi and Chengannur, India.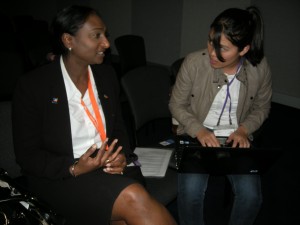 Lindsay Rico (right) interviews Urvasi Naidoo, CEO of the International Federation of Netball Association.
Susan Meyer, English, will serve as the keynote speaker at the Willa Cather 2010 Spring Conference "Food, Drink and Willa Cather's Writing," June 3-5 in Red Cloud, Neb. The annual event is presented by the Willa Cather Pioneer Memorial and Educational Foundation, celebrating the life and literature of the world-renowned author who grew up in Red Cloud. Twenty academic institutions will be represented by scholars sharing their thoughts on the conference theme. For more information, visit http://www.willacather.org/cather-blog/461-registration-for-the-willa-cather-spring-conference-is-now-open.
Laura Pappano, Wellesley Centers for Women writer-in-residence, and Allison Tracy, Wellesley Centers for Women senior research scientist and methodologist, recently traveled to Sydney with Sarah Odell '10 and Lindsay Rico '13 for the Fifth World Conference on Women & Sport. Pappano and Tracy presented a paper, while the students participated in the conference and are blogging at www.FairGameNews.com. Interviews with a United Nations special advisor and the president of Qatar's Women's Sport Committee have been posted, with more to come, including pieces on the phenom sport Netball and a Q&A with leaders of Afghanistan's women's sports committee.
Peggy Levitt, sociology, will lead the research seminar "Migration, Care and Citizenship" June 7-8 at the Centre for Gender, Power and Diversity at Roskilde University in Roskilde, Denmark. The workshop explores the intersecting research fields of gendered migration and globalized care branches. She will be joined in discussion by Nicola Yeates from the Open University in the United Kingdom.
Peggy McIntosh, Wellesley Centers for Women, recently spoke at Fordham University, delivering an interactive lecture, "Coming to See Privilege Systems: The Surprising Journey." In the lecture, McIntosh explained the process behind "White Privilege: Unpacking the Invisible Knapsack," an essay she published in 1989.
Ifeanyi Menkiti, philosophy, recently participated in a celebration of the life and work of Dr. Hugh Morgan Hill, "Brother Blue," described by the Smithsonian Institution as "an elder statesman of black storytelling." Hill garnered international acclaim in the performing world both for his original work, including retellings of Shakespeare, whom he called "Willie the Shake," and for the spiritual depth of his storytelling.
Philip Kohl, anthropology, recently delivered the lecture, "Ancient Histories as National Charters: Innocent Dreams or Dangerous Delusion?" at Columbia University. The talk is part of the daylong workshop, "Anthropologies of the South Caucasus," sponsored by the Harriman Institute, Columbia University and the American Research Institute of the South Caucasus.

Irene Mata, women's and gender studies, will give the talk, "'Oye mi canto': Challenging Constructions of Gender, Sexuality and Nation in the Chicana/Latino Community," at Connecticut College April 21. Her lecture is sponsored by Spectrum and MEChA, the Mexican-American cultural appreciation and social justice club on campus, and is part of "Gay-pril," a month of LGBTQ-themed events on campus.

Peggy McIntosh, an associate director of the Wellesley Centers for Women and founder of the National SEED Project on Inclusive Curriculum, recently gave the talk, "Coming to See Privilege Systems: The Surprising Journey," at Fordham University. She explained the process behind "White Privilege: Unpacking the Invisible Knapsack," an essay she published in 1989. "I have found it is life-changing to act on my actual values, such as the reduction of suffering," she said. "That means I want to reduce power for those who have been given it arbitrarily." To read more, visit www.fordham.edu/Campus_Resources/eNewsroom/topstories_1819.asp. McIntosh will also be presented with the Sandra B. Henriquez Racial Justice award at the YWCA Boston's annual Academy of Women Achievers Celebration Luncheon June 1. YWCA Boston's Academy of Women Achievers builds female empowerment and solidarity by celebrating women who have made significant contributions in their professions and to social and economic justice.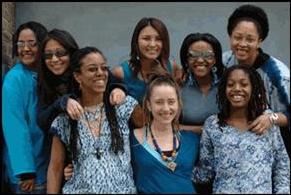 Zili Misik, a band headed by Kera Washington '93, music, was recently featured in The Boston Globe. An all-female group with afocus on Haitian music, Zili Misik (pictured below) has worked to raise awareness and funds for relief efforts following the nation's devastating earthquake. Washington's love of Haiti began when she was a student at Wellesley, where a Haitian professor taught her the art of hand drumming. "We hear so much about what Haiti doesn't have, what Haiti has lost," she said. "It's important, especially for us in the United States, to talk about what Haiti has given and continues to give us.'' To read more, visit www.boston.com/ae/music/articles/2010/03/09/zili_misik_
makes_haitian_music_with_a_mission/.
Zili Misik, along with Wellesley's Yanvalou Drum and Dance Ensemble, will celebrate Haitian Heritage Month April 30 at the Multicultural Arts Center in Cambridge. For more, visit www.wickedlocal.com/cambridge/news/x99750664/Celebrate-Haitian-Heritage-Month.
Dan Brabander, geosciences, recently presented the seminar, "Urban Geochemistry and Emerging Lead Exposure Pathways," at the Marine Biological Laboratory in Woods Hole, Mass.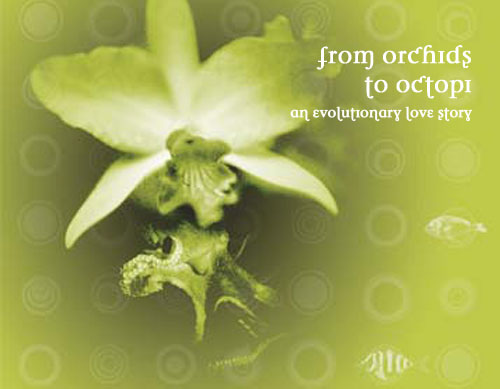 "From Orchids to Octupi: An Evolutionary Love Story," by award-winning playwright Melinda Lopez, theatre studies, will have its world premiere at the Central Square Theatre in Cambridge, Mass., March 31-May 2. The play, which is directed by Diego Arciniegas, theatre studies, was commissioned by the National Institutes of Health to celebrate the 150 th anniversary of Charles Darwin's On the Origin of Species. Surprises erupt in the play as a muralist's work is derailed by hallucinations, pregnancy and dinosaurs in this witty take on how we understand – or do not – the theory of evolution. For more, visit www.centralsquaretheater.org/season/09-10/orchidsoctopi.html.
Barry Lydgate, French, recently presented the lecture, "Liberation: Teaching Post-War Paris through Popular Songs," to Wellesley College alumnae and guests at the Meadows Country Club in Sarasota, Fla. He discussed new technology he has developed for teaching French language and literature and shared photos from Wellesley's junior year abroad program in Aix-en-Provence.
Susan Reverby, women's and gender studies, will speak March 31 at Worcester's Clark University on the Tuskegee syphilis study, its legacy and research ethics as part of the university's speaker series on health, disparities and race. Reverby is a historian of medicine and public health and author of the new book, Examining Tuskegee: The Infamous Syphilis Study and Its Legacy.
Sealing Cheng, women's and gender studies, will deliver the opening lecture for the photography exhibit, "Our Lives, Our Space: Views of Women in a Red-Light District, Korea," at the University of Pittsburgh March 18.
Donald Elmore, chemistry, will present the lecture "Design and Characterization of Histone-Derived Antimicrobial Peptides" on March 11 at Connecticut College. The talk is part of the college's biology seminar series.
Jean Kilbourne, a senior scholar at the Wellesley Centers for Women, will be presented with the National Eating Disorders Association Profiles in Living Award in New York City March 31. Previous recipients of the honor include Paula Abdul and Jamie Lynn Sigler. Kilbourne and several other authors will be honored by the Newton Free Library at an "Evening for Library Lovers," March 27 in Newton, Mass. Kilbourne will also speak at the World Summit on Media for Children and Youth in Karlstad, Sweden, on June 16.
Yu Jin Ko, English, discussed Tim Burton's "Alice in Wonderland" March 9 on WGBH's the Callie Crossley Show. Ko is a regular guest on the show, which offers a daily discussion of current events, local happenings and arts and culture. This year, he has also commented on the 15th annual Bugs Bunny Festival (2/16), romance novels (2/11) and J.D. Salinger's The Catcher in the Rye (2/4). The shows are available online at www.wgbh.org/programs/programDetail.cfm?programID=855.
A manual developed by Rangita de Silva de Alwis, director of international human rights policy at the Wellesley Centers for Women, was posted in The Huffington Post article, "Invisible Women," available at www.huffingtonpost.com/joe-amon/invisible-women_b_490218.html. The manual, "Disability Rights, Gender, and Development: A Resource Tool for Action," was created in collaboration with the U.N. Secretariat for the Convention on the Rights of Persons with Disabilities of the Department of Economic and Social Affairs/United Nations and the United Nations Population Fund.
The Pirate's Daughter, by Margaret Cezair-Thompson, English, is rated No. 18 on a list of the 250 most borrowed books from the United Kingdom's libraries for 2008-2009. The novel is a coming-of-age saga focusing on Ida Joseph, a Jamaican teenager who falls in love with actor Errol Flynn after he nearly shipwrecks off the Jamaican coast. Ida finds herself expecting, but Flynn refuses to take responsibility for the resulting child, May. The story follows May's search for a father she never knew with the backdrop of an emerging black nation and its white, expatriate society. To view the full list, visit http://www.guardian.co.uk/news/datablog/2010/feb/12/most-borrowed-books-libraries-james-patterson.
Beth DeSombre, environmental studies and political science, is serving as program chair for the International Studies Association's 51st Annual Convention Feb. 17-20 in New Orleans, La. The theme for this year's convention is "Theory vs. Policy? Connecting Scholars and Practitioners." More than 5,000 people are expected to attend, and the gathering will include more than 1,000 panels and roundtables, as well as poster sessions.
Visions of Struggle in Women's Filmmaking in the Mediterranean, a collection of essays edited by Flavia Laviosa, Italian studies, has recently been released. The volume, which arose from a symposium Laviosa organized in 2007, looks at the films of women directors in countries in the Mediterranean rim. Contributors examine the ways in which cinematic art reproduces and structures the discourses of realism and represents Mediterranean women's collective experience of struggle. To find out more, visit http://www.palgrave-usa.com/catalog/product.aspx?isbn=0230617360.
Susan Reverby, women's and gender studies, will present the lecture "Race, Medicine and Research: Re-examining the Infamous Tuskegee Syphilis Study and Its Legacy" Feb. 23 at the University of South Alabama. "Dr. Reverby is recognized as an internationally known historian of American medicine, nursing and public health," said Dr. Clarence L. Mohr, chair and professor in the department of history. "We are honored to have her accept our invitation to speak at USA." In her new book, Examining Tuskegee: The Infamous Syphilis Study and Its Legacy, Reverby takes an in-depth look at medical testing that targeted hundreds of poor African-American men near rural Tuskegee, Ala. The federally sponsored testing of syphilis, which ran for about 40 years, raised ethical questions about the use of clinical testing in humans.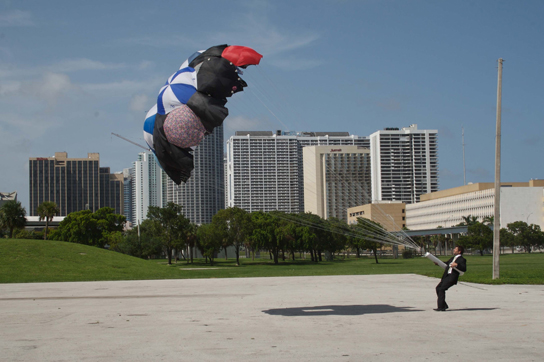 "Parachute" by Andrew Mowbray
The work of Andrew Mowbray, art, was recently displayed at the DeCordova Sculpture Park and Museum in Lincoln, Mass. In Tempest Prognosticator, Mowbray presented a series of works that explore our contemporary relationship with weather. The exhibition included sculpture, performance video and drawing. Mowbray investigates the life of objects through a mixture of sculpture and performance, questioning the boundaries between body and object in the process.
Robert Paarlberg, political science, will participate in the dialogue "9 Billion Served: A Global Dialogue on Meeting Food Needs for the Next Generation" Friday, Feb. 12, at the Newseum in Washington, D.C. Stakeholders, academics, policymakers and related experts will discuss meeting the food needs for the next generation. Paarlberg also recently presented the lecture "The Ethics of Modern Agriculture" at Oregon State University. He discussed why, after embracing agricultural science to become well fed, people in wealthy countries are instructing Africans not to do the same.
Daniela Rivera, art, has been named a finalist for the 2010 James and Audrey Foster Prize, the Institute of Contemporary Art's biennial award and exhibition program for Boston-area artists. The finalists will participate in an exhibition at the ICA that opens Sept. 22 and continues through Jan. 30, 2011. The winner of the prize, who will receive $25,000, will be announced in January 2011. Rivera creates paintings on three-dimensional structures and installations. In her work, she looks at the function of decorative paintings from the 17th and 18th centuries, particularly murals and frescos that performed as what she calls "deceiving visual decorations of indoor spaces." Her installations use paintings as a tool for staging and generating a physical experience.
Ruth Rogers, special collections librarian, gave the lecture "Of Beauty and Relevance: The Place of Artists' Books in the Liberal Arts Curriculum" at Carleton College in Minnesota this month. Her presentation emphasized the significance of artists' books as teaching tools in the liberal arts and argued that artists' books have the power to enlighten and persuade. "Artists' books can be satirical, personal, political, lyrical, didactic, poignant and tragic," she said. "They are a hybrid medium whose impact relies on concept and form as much as text. Their visual and tactile elements confound our expectations of 'book,' but artists' books fit easily within the whole range of multi-media communication that is part of our daily lives."
The Art Institute of Boston will feature the work of Elaine Spatz-Rabinowitz, art emerita, in the exhibition "5 From Around" Feb. 4- March 6 at the AIB Gallery at University Hall, 1815 Massachusetts Avenue, Cambridge, Mass. An opening reception will be held Feb. 11 from 6-8 pm. The exhibit features the work of five Boston and Cambridge artists who are working in diverse media at different stages in their careers. She shows her work regularly at the Howard Yezerski Gallery in Boston and at the O.K. Harris Gallery in New York. Her work is held in many public and private collections, including the Boston Museum of Fine Arts, the Addison Gallery of American Art, the DeCordova Museum and the Davis Museum and Cultural Center.

Nolan Flynn, chemistry, is co-author of the paper, "Intravenous Hemostat: Nanotechnology to Halt Bleeding," which was recently published in Science Translational Medicine. The paper suggests that synthetic platelets may be useful in reducing blood loss during early intervention trauma cases.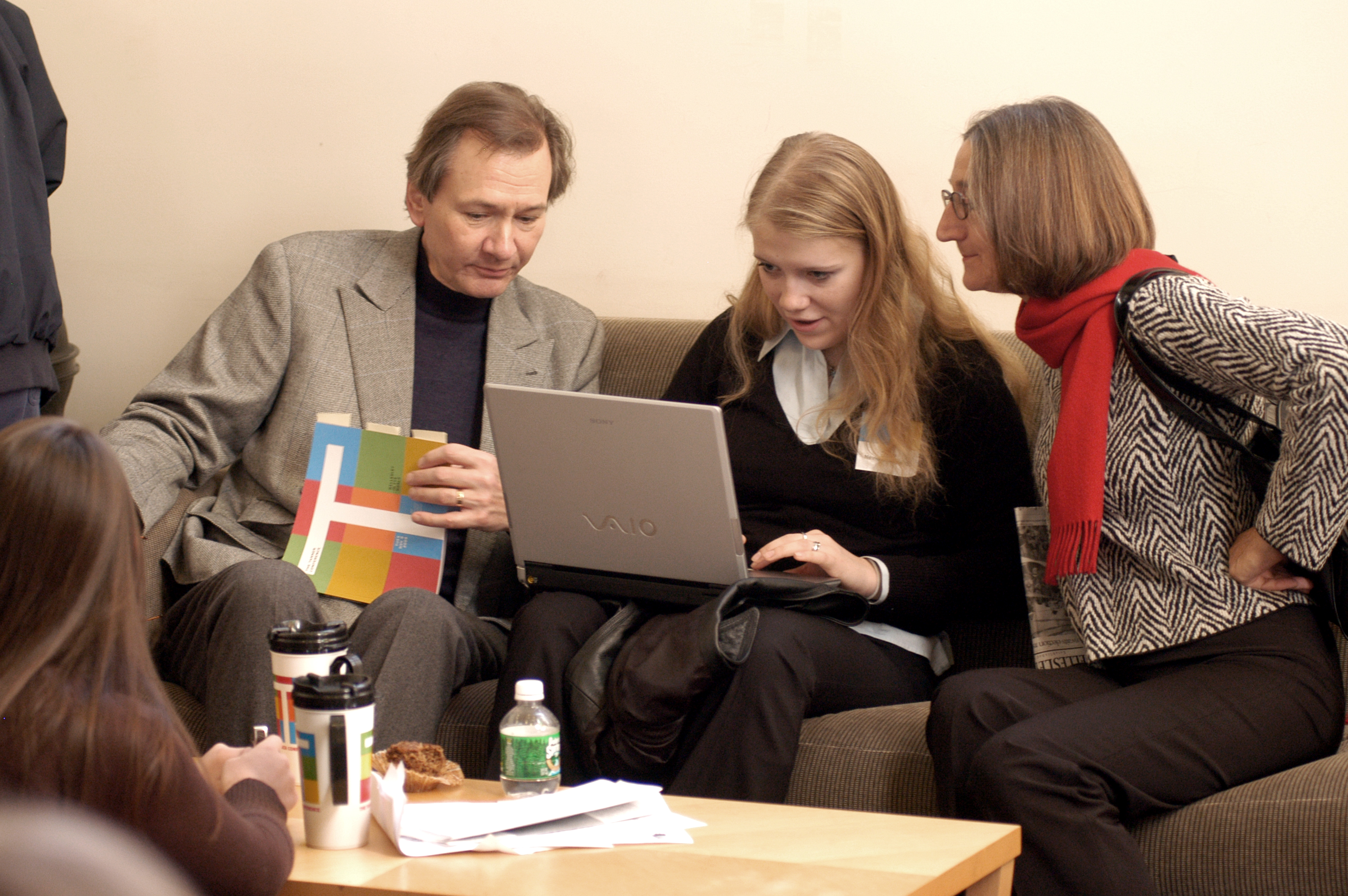 A translation by Thomas Hansen (left), German language and literature, and Stephanie Gilardi '07 of The Weather Fifteen Years Ago, by Wolf Haas, has been selected as a finalist for the 2010 Best Translated Book Award by Three Percent, a resource for international literature at the University of Rochester. The book, a translation from German to English published by Ariadne Press, tells a sensational love story involving a hero with a strange talent: He can remember the weather for every day of the past 15 years in a certain village in the Austrian Alps.
Corrine Taylor, quantitative reasoning, will present a talk at the DeCordova Museum with curator Nina Gara Bozicnik Sunday, March 14, at 2 pm, in which she will discuss quantitative reasoning, economics and art. The talk, part of the Platform Discussion Series, will examine some of the larger issues in artist Eric Hongisto's site-specific installation, Black Swan Event. Topics will include how people typically construct meaning within the economic marketplace, the emotions linked to our decision-making processes and the way Hongisto's installation visualizes these ideas.
Lynne Viti, writing program, contributed the essay, "'I Got the Shotgun, You Got the Briefcase': Lawyering and Ethics," to The Wire: Urban Decay and American Television, a collection of critical studies of the acclaimed HBO 2002-2007 television series set in Baltimore's inner city. The volume examines The Wire's place within popular culture and its representation of the realities of inner city life, social institutions, and politics in contemporary American society. Viti designed and taught a Writing 125 class on The Wire and the American city during in fall 2009. In addition to focusing on The Wire as a primary text, the class read and wrote about essays and book excerpts from the fields of sociology, media studies, public health, education, gender studies and literary criticism.
Courtney Coile, economics, has been named an editor of The Journal of Pension Economics and Finance (JPEF), an academic journal focusing on the economics and finance of pensions and retirement income programs.
Mary Lefkowitz, classics emerita, recently gave the lecture "'Black Athena,' Interdisciplinarity, Multiculturalism and the Modern University" at Connecticut College. She discussed her decision to challenge theories that ancient Greek democracy, philosophy and science — and even perhaps the ancient Greeks themselves — were African in origin. She also addressed the ways in which matters of race and ethnicity are discussed on contemporary college campuses. This fall, an article Lefkowitz wrote about Herodotus appeared in the journal History and Theory, and another article "Biographical Mythology" was published in Antike Mythen: Medien, Transformationen, und Konstruktionen (Berlin, de Gruyter).
James O'Gorman, art emeritus, is chief curator of "Drawing Toward Home: Designs for Domestic Architecture from Historic New England," on display now through Jan. 17 at the Boston University Art Gallery. The exhibit features 100 drawings of Boston-area houses, past and present. O'Gorman will give an overview of the exhibit during a symposium January 16, from 9 a.m. to 1 p.m., at the George Sherman Union Conference Auditorium, second floor, 775 Commonwealth Ave.


William Cain, English, contributed the essay "Sensations of Style: The Literary Realism of Stephen Crane" to A Companion to American Fiction 1865 – 1914 (Blackwell Publishing, November 2009). The volume is a collection of 29 essays by top scholars exploring historical traditions and genres, contexts and themes, and major authors of American fiction of the post-civil war period and the early twentieth century.
Jean Kilbourne, senior scholar at the Wellesley Centers for Women, was recently awarded the Ida M. Johnston Award from the Boston University School of Education. The award is the most prestigious alumni award made by the School of Education and is bestowed annually to an alumnus in recognition of service to the profession, community and alma mater.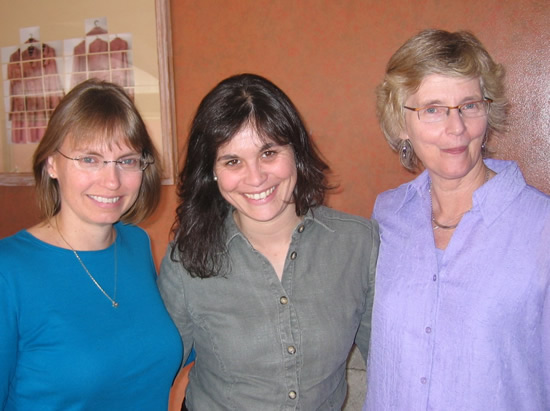 Corrine Taylor (far left), director of the quantitative reasoning program, ran a three-day workshop at Pontificia Universidad Catolica in Santiago, Chile, Nov. 16-18. She spoke to about 100 faculty and deans before working with a subgroup to develop a quantitative reasoning program based on the Wellesley model. Taylor also presented at the "Assessing Quantitative Literacy" session of the annual meeting and conference of the New England Association of Schools and Colleges this month. Below, from left: Taylor; Maria Jose Salinas, the university's director of academic affairs; and Jennifer Craig, who spoke on MIT's Writing Across the Curriculum program at the workshop, in Santiago.
Over the Thanksgiving weekend, Claire Fontijn, Barbara Morris Caspersen Associate Professor of Music, will travel to Switzerland to participate in the world premiere of Antonia Bembo's Ercole amante (Hercules in Love). Although the opera was written in 1707 and dedicated to King Louis XIV, it has lain silent in a manuscript for three centuries. Fontijn will give an introductory lecture prior to each of the four performances by the ensemble Musica Fiorita in Bern, Basel, Zürich and Geneva.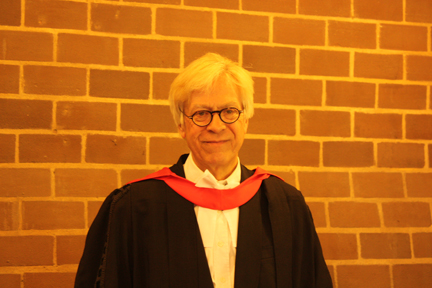 Bryan Turner (left), the Alona Evans Distinguished Visiting Professor in Sociology for 2009-2012, was awarded a Cambridge Doctor of Letters. The degree was awarded after extensive committee review for his contributions to academic research in the social sciences. Only three others received honors at this level at the October 24 ceremony.
Kera Washington, director of Yanvalou Drum and Dance Ensemble at Wellesley, was featured in The Boston Globe article, "25 Most Stylish Bostonians of 2009," along with her all-female band Zili Misik. "I think we decided from the beginning that we should have a look," she said. "All-white worked very well, and it's also a very spiritual color. In Haiti— a lot of the songs that we play have root in Haitian music— white is a beginning color. It's unifying. In other cultures, when you go through an initiation, like a rebirth, white is the color you wear. It helps your insides be expressed."

Roxanne Euben, political science, has been appointed to serve as an officer and governing council member of the American Political Science Association, the official professional association of North American political scientists. Her official title is Secretary of the APSA (term 2009-10). Euben also has a new book out, Princeton Readings in Islamist Thought: Texts and Contexts from al-Banna to bin Laden, with Muhammad Qasim Zaman of Princeton University (Princeton University Press).
Stacie Goddard, political science, has a new book out, Indivisible Territory and the Politics of Legitimacy: Jerusalem and Northern Ireland (Cambridge University Press).
Hahrie Han, political science, has published a new book, Moved to Action: Motivation, Participation and Inequality in American Politics (Stanford University Press).
David Lindauer, economics, gave the lecture, "Trade, Aid or Immigration: How Can We Help the World's Poor?" at Ewha Womans University in Seoul, Korea. The talk was part of the 5th Scranton College Global Lecture Series.
Peggy McIntosh, associate director, Wellesley Centers for Women, will receive a Lifetime Achievement Award from Community Change Inc. during the 2009 Community Change Leadership Awards — Challenging Structural Racism, Tuesday, Nov. 10. Community Change is a nonprofit organization whose mission is to promote racial justice and equity by challenging systemic racism and acting as a catalyst for antiracist action and learning.
Susan Reverby, women's and gender studies, will give the Richard Shryock Distinguished Lecture, "What More Can an Historian Say About the 'Tuskegee' Syphilis Study?" for the History Department at the University of Pennsylvania Tuesday, Nov. 10. Reverby's book, Examining Tuskegee: The Infamous Syphilis Study and its Legacy (University of North Carolina Press) was published this month.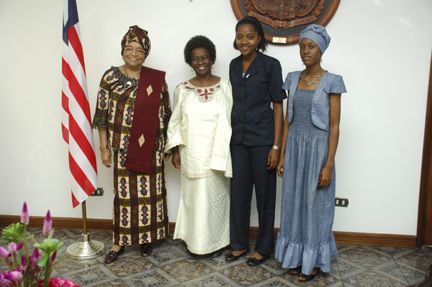 Filomina Steady (left), Africana studies, met with President Ellen Johnson Sirleaf of Liberia, the first elected female president in Africa, as part of the research project, "Women and Leadership in the Mano River Union Countries of West Africa." (From left to right): President Ellen Johnson Sirleaf, Filomina Steady, and Liberian students Kula Fofana and Cietta Stevens.












Archives: [2009]