President H. Kim Bottomly talks about women in science
Wellesley College President H. Kim Bottomly took part in a "Women in Science" interview with Matthew Brown of the University of Oxford in the fall of 2008. Brown received a master of science degree in physiology at Oxford and a degree in biology from Yale University, where he was an associate editor of the Yale Journal of Medicine and Law. At Yale, he was awarded a Mellon research grant to undertake research in bioethics. Below are excerpts from the interview, which you can also listen to by clicking here.

Question: What are the defining moments in your immunology career?
President Bottomly: If I had to pick a defining moment, I would say that it was the work I did at the National Institutes of Health as a postdoctoral fellow. This was really instrumental to my success. It was a very tough environment but a really superb training ground for a budding scientist…Immunology was a very young field at the time. But it wasn't just about the science there, it was also about instilling in me a sense of confidence in my abilities as a scientist…(As they) say, if you can make it New York, you can make it anywhere; for a scientist, I think if you can make it at the NIH, you can make it in science anywhere. So I felt very much like that when I left the National Institutes of Health and went on to become an assistant professor. The other defining moment, as I was thinking about this, was really choosing Yale. It was a wonderful and supportive place in which to do research. It turned out to be, somewhat by chance, one of the crucibles of modern immunology. We were a department – a group of individuals in the medical school – who really contributed many of the foundational bases of modern immunology. It really doesn't get any better than that. I had great colleagues and a lot of support, and that was also a key to my scientific career.
Question: What does Wellesley College do to promote women into those higher ranks of science?
President Bottomly: Wellesley is just such an example of having women in science faculty and in the higher ranks of science faculty. In the sciences, 43 percent of the tenure track faculty are women here at Wellesley and [54 percent of all] professors in the sciences are women…Compared to most coeducational institutions, we have more tenure track women faculty in sciences and more senior women in sciences than almost any other place I can think of. So that's a great thing. When we talk about what it's like to be a school that educates women, I think that's one important consideration.
Question: How is Wellesley working to make the sciences more exciting and engaging?
President Bottomly: There are three things I'd say about Wellesley…I think a very important thing for women in science, particularly for persistence in science, is that our faculty here are really known for their superb teaching. This is really unparalleled. I've never seen such fabulous teachers. And some of the reasons that's the case is that tenure evaluation here is based on teaching excellence as well as scholarship. And they take that very seriously. So if you're not a good teacher, you can't get tenure here. I think the result of that is that we have fabulous teachers…There is a role for inspiration in science retention. If you have a great teacher and that teacher pays a lot attention to you because you have small class sizes, then the likelihood that you will get excited and stay in science really increases dramatically.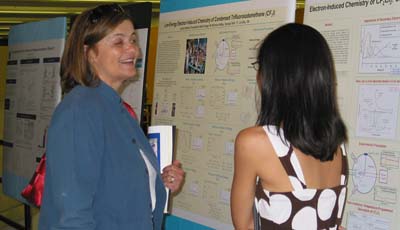 President Bottomly discusses summer research project with a Wellesley College student scientist.
The other thing that's really great here is that we offer summer research programs. That starts usually at the end of freshman year and could continue every year after that. A lot of students participate in this, and this one-on-one contact directly with a professor interacting with a research project, allowing the students to come up with their own project, to be able to carry it out in the summer, to be able to present it at a research conference at the end of the summer, is something that is very motivating for students. I think that it increases their interest in science careers; it increases their confidence. They think, "Wow, I can do this."
The third thing I really like about Wellesley (is our) peer tutoring program. This is tutoring not for individuals but for a course. For those really rigorous chemistry, physics, math, astrophysics courses, there is a set of students who have already taken the course who become these peer instructors, if you will. These students sit in on the course and then they provide supplemental sessions for the students who are taking the course. This rewards both sets of students. The students who are already doing well, or who have done well in the past in that course—they are gaining a deeper understanding of the material, and also feel excited about being able to teach the material, which is harder to do than just learning the material. And then there are the students who are learning from them, who just need more practice with the material, who maybe need a different approach to thinking about the material. So it's really a win-win situation. So that's another thing that Wellesley does that I think is really unusual and very helpful in terms of getting students to be interested in science and keeping them interested in science.
Question: What more can be done to help women in science?
President Bottomly: I think for the last 25 years we have done things pretty much the same in science. It's a meritocracy, you know, the best person rises to the top, and then the next best person rises to the top. So I think we haven't stopped and said, well, gee, that might be standing in the way of some individuals who are very talented contributing to our science effort. My major desire on training or educating of all individuals in science is that I believe that science is really important to society and that there is a scarcity of people who are really capable of becoming really great scientists. And I believe at birth that there are an equal number of male and female babies capable of becoming outstanding scientists. But by the time they're adults, there's clearly a difference in the interest and persistence. So I think we do need to do a better job and we need to think about how we are doing that job. The data will help us understand that. Most institutions now are putting together programs that make the environment less toxic for women. But it hasn't been done long enough so that we know whether these things are working or not. So tracking that, and I know a lot of institutions are doing this very well, is going to be important.
Question: Can Wellesley, an all-women's college, affect the issue of gender equality?
President Bottomly: I came to Wellesley because I feel it makes a difference to gender equality. You only have to look at our record. We have a wonderful list of fabulous women doing all kinds of interesting things in our alumnae body. I always say that if you looked at what Wellesley gives to women in terms of education, it clearly makes very smart women who come in more intellectual. But I think the Wellesley women leave here with confidence, a lot of confidence, and I think that matters in the world. The women here, because it's an all-women school, hold all the leadership positions, they receive the full attention from the faculty, and as I always say in my speeches, they are cut no slack because they are women. Too often, and I know this to be  fact from my own personal experience, too often in traditionally male fields like the sciences, women students are not treated the same as male students. They don't receive the same level of criticism or attention, they don't receive the same type of challenges or critiques. They often don't get as much attention or advice or as much mentoring, and they certainly get less in the way of establishing professional connections. So that has an effect on an ability of a woman to become confident about her ability and diminishes her contributions in ways that are hard to define. So I think that women being able to go to a single sex institution build up that level of confidence; they can go out and do anything they want to do.