Wellesley College Offers Robotic Exhibit on Jan. 26
Exhibit is still on!
For immediate release:
January 13, 2005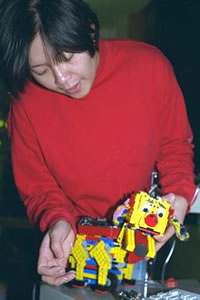 WELLESLEY, Mass. -- Wellesley College will host its ninth Robotics Design Studio exhibition on Wednesday, Jan. 26, from 4:30-6 pm in the Science Center's Sage Lounge, on the building's second floor. The event is free and open to the public.
During Wellesley's January Wintersession, robotics students have built what they call "kinetic sculptures" that interact with their environment using sensors, motors and programs running on small computers.
"The materials are Lego bricks, craft materials like felt and styrofoam and lots of hot glue," said Wellesley computer scientist Franklyn Turbak, who teaches the course. "Past exhibitors have built car washes, shape sorters and scenes from The Wizard of Oz. Come and see what the creative, programming and engineering skills of this year's class will produce."
Light refreshments will be served. For more information, please visit http://new.wellesley.edu/Physics/robots/studio.html.
###