Teacher of Spiritual Insight To Speak at Wellesley College Feb. 16
For immediate release:
February 7, 2005
WELLESLEY, Mass. -- The Rev. Dr. Renita J. Weems, a member of the Wellesley class of 1976, will speak at Wellesley College Wednesday, Feb. 16, from 7-8:30 pm in Houghton Memorial Chapel. A reception will be held at Harambee House from 8:30-9:30 pm. Weems is the author of the recent book, What Matters Most: Ten Passionate Lessons from the Song of Solomon.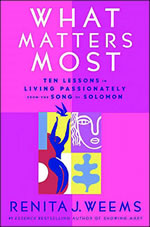 "In this text she brings a different perspective and exciting insight into the interpretation of the Song of Solomon," said Patricia Walton, Protestant Christian chaplain at Wellesley.
Weems is passionate about her vocation as a teacher of spiritual insight. Whether through books and articles, sermons, classes, workshops or lectures, she sees her work as that of a midwife of inner wisdom, helping women and men tap into the spiritual intelligence they already possess.
A former contributing writer to Essence Magazine, she is the author of several widely acclaimed books on women's spirituality and wholeness: Just A Sister Away (1987), I Asked for Intimacy (1995) and Showing Mary: How Women Can Share Prayers, Wisdom and the Blessings of God (2003). Her latest book, What Matters Most, was released in April 2004. She has spoken at national religious, civic and sorority gatherings, local churches, community-wide events and on radio and television programs. Her work as a scholar and religious thinker has led to invitations to serve as a panelist for Bill Moyers' 1995 PBS award-winning "Genesis Project," for various A&E and Hallmark cable programs on women in the Bible and on "FlashPoints USA" with Bryant Gumbel and Gwen Ifill, on the role of religion in politics, government and public life.
Her online question-and-answer column, "Whispering Hope," in which she discusses relationships, self-esteem, careers, spirituality and opportunities for change, is available on beliefnet.com. She is also the author of an electronic newsletter, "Something Within," at www.somethingwithin.com.
After graduating from Wellesley, she completed a master's and Ph.D. at Princeton Theological Seminary. She is the William and Camille Cosby Professor of Humanities at Spelman College in Atlanta, Ga. For more information, call 781-283-2655.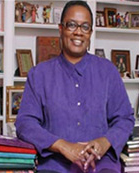 ###