Law Professor and Author Patricia Williams Will Be
2005 Commencement Speaker at Wellesley College

For immediate release:
April 1, 2005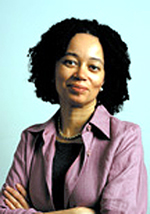 WELLESLEY, Mass. -- Patricia J. Williams will address the 600 members of the Class of 2005 and their families and friends at Wellesley College's 127th Commencement Exercises on Friday, June 3, at 10:30 a.m. on Severance Green on the Wellesley, Mass., campus.
Williams is a professor of law at Columbia University School of Law. A graduate of Wellesley College and Harvard Law School, she also is a trustee of Wellesley and has served on the faculties of the University of Wisconsin School of Law, Harvard University's Women's Studies Program and the City University of New York Law School at Queen's College. She has held fellowships at the School of Criticism and Theory at Dartmouth College, the Humanities Research Institute of the University of California at Irvine and the Center for Advanced Study in the Behavioral Sciences at Stanford University. She is the recipient of the MacArthur foundation "genius" grant.
Before entering academia, she practiced law as a consumer advocate and deputy city attorney for the City of Los Angeles and as a staff attorney for the Western Center on Law and Poverty.
She currently serves on the boards of the Center for Constitutional Rights, NOW Legal Defense and Education Fund and the Society of American Law Teachers. She has written numerous articles for scholarly journals and popular magazines and newspapers including USA Today, Harvard Law Review, Tikkun, The New York Times Book Review, The Nation, Ms. magazine, and the Village Voice. Her book, The Alchemy of Race and Rights, was named one of the 25 best books of 1991 by the Voice Literary Supplement and one of the "feminist classics of the last 20 years" that "literally changed women's lives" by Ms. magazine's 20th anniversary edition. She writes a column, "Diary of a Mad Law Professor," for The Nation. Her newest book is Open House: Of Family, Friends, Food, Piano Lessons, and a Search for a Room of My Own. It is a personal collection of stories, essays, anecdotes and biography.
Williams has appeared on a variety of radio and television shows and has been a keynote speaker at numerous conferences, including "Race: The Power of an Illusion" at Wellesley April 12-13. She has served as a guest commentator for a number of radio stations and has served as a program consultant for television broadcasts and public radio. She has also served as a consultant and coordinator for a variety of public interest lawsuits. She has appeared in a number of documentary films, including That Rush!, which she wrote and narrated. Directed by British filmmaker Isaac Julian, this short study of American talk show hosts was featured as part of an installation at the Institute of Contemporary Art in London.
Since 1875, Wellesley College has been a leader in providing an excellent liberal-arts education for women who will make a difference in the world. Its 500-acre campus near Boston is home to 2,300 undergraduate students from all 50 states and 68 countries. For more on Commencement 2005, visit Wellesley College Web site at www.wellesley.edu/PublicAffairs/Commencement/index.html.

###