Washington Native Wins 110th Annual Hooprolling Contest
For immediate release:
April 30, 2005
WELLESLEY, Mass. -- Esther Handy, a psychology and Latin American Studies major from Olympia, Washington, is the winner of this morning's 110th annual hoop-rolling competition at Wellesley College. Handy, who will graduate on June 3, was met at the finish line by Wellesley College President Diana Chapman Walsh (herself the winner of the 1966 hoop-rolling contest), who presented the winner with a bouquet of flowers.

In keeping with tradition, Handy was promptly carried by her classmates to the edge of Lake Waban and tossed into the chilly water. Traditionally, the winner of the contest, which first began in 1895, was said to be the first in her class to marry. These days, victory is seen as a sign that the winner will be the first to achieve success, however she defines it.

After emerging from the lake, Handy credited her win to a steady hand, a bit of practice, and a good spot at the starting line. Beginning around midnight last night, she and several friends practiced rolling their hoops near their residence hall and, after a brief night's sleep, arrived at the starting line an hour before the race began. After the race, she planned to take a shower and then go to practice with the college tennis team, on which she has played for four years.

In addition to playing tennis, Handy has served as president of her residence hall, Beebe Hall.

Nearly 200 Wellesley College seniors, many dressed in academic gowns, made this morning's 1/8 mile dash, rolling old-fashioned wooden hoops in a race to the finish line.

Wellesley College has been a leader in liberal arts and the education of women for nearly 130 years. The College's 500 -acre campus near Boston is home to 2,300 undergraduate students. For more information, go to http://new.wellesley.edu/.

###
Esther Handy '05 crosses the finish line.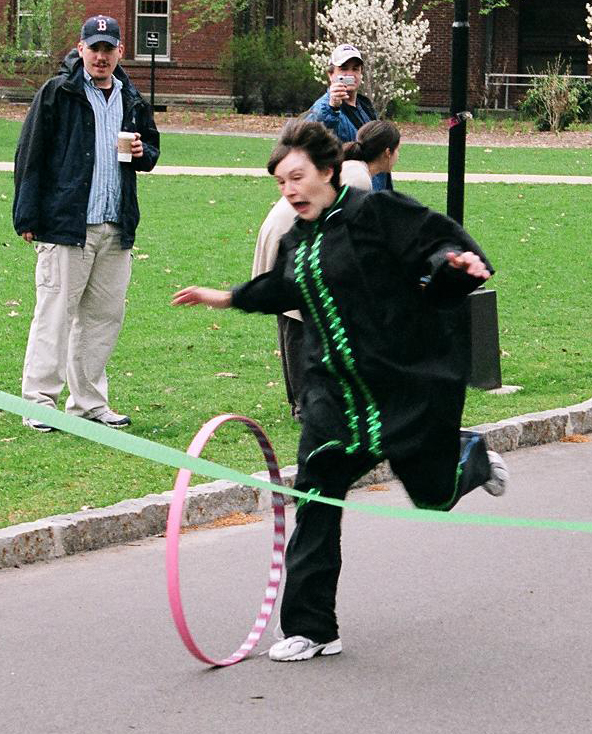 Click here for hooprolling history.