International Conference at Wellesley College Celebrates the Poet Dante
For immediate release:
September 15, 2005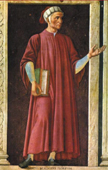 WELLESLEY, Mass. --"Dante Vivo," an international conference, will be held Saturday, Sept. 24, at Wellesley College, featuring distinguished international scholars and teachers sharing their passion for Italy's most famous poet. The conference is free and open to the public.
Born in Florence, Italy, in 1265, Dante Alighieri is best known for the monumental epic poem La commedia, later named La divina commedia (the Divine Comedy). A great work of medieval literature, it is a profound Christian vision of man's temporal and eternal destiny. Dante was also a prose writer, literary theorist, moral philosopher and political thinker.
The Wellesley conference is called "Dante Vivo" (Dante Alive) to suggest the vibrancy of the contemporary readings of Dante's extraordinary poem.
"Dante's Comedy, written in the 14th century, continues to fascinate readers and challenge its interpreters," said conference organizer Rachel Jacoff, Wellesley professor of Italian studies. "This will be a rare opportunity to see some of the most interesting of those interpreters in action."
The speakers hail from both Italian and American universities, including Piero Boitani (La Sapienza, Rome), Linda Bolzoni (Scuola Normale, Pisa), John Freccero (New York University), Robert Harrison (Stanford University), Peter Hawkins (Boston University), John Kleiner (Williams College), Giuseppe Mazzotta (Yale University), Lino Pertile (Harvard University) and Susan Stewart (Princeton University).
The conference will be held in Jewett Arts Center auditorium beginning at 9:15 am. It will conclude with a reception at 4:30 pm.
For more information, go to the conference Web site at www.wellesley.edu/Italian/DanteVivo or call 781-283-2616.

###