Author and Commentator Julianne Malveaux
To Speak at Wellesley College Oct. 20

For immediate release:
October 5, 2005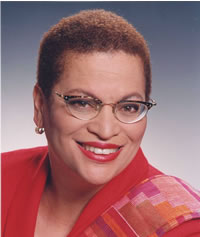 WELLESLEY, Mass. --On Thursday, Oct. 20, at 7 pm in Collins Cinema, Wellesley's Martin Luther King Jr. Memorial Committee will present a lecture, "What Is Economic Justice and How Do We Attain It?" by author and commentator Julianne Malveaux.
"We on the Martin Luther King, Jr. Memorial Committee are quite pleased to be able to bring Julianne Malveaux to campus," said Africana Studies Professor Judith Rollins, chair of the committee. "We know that students – especially economics majors – have wanted her to come for a while."
Malveaux is well-known for her appearances on CNN, C-Span, Fox News and other media.
"Her columns and articles actually began appearing in the early '80s and, since then, she's been a consistent voice for social justice, both in this country and in the world system," Rollins said. "There's no question that her insightful contributions on contemporary issues – from gender to poverty to race to the so-called 'war on terrorism' – have advanced the public discourse."
Rollins noted that current events underscore Malveaux's message.
"As the events around Hurricane Katrina have reminded us, the 'other America' that Michael Harrington wrote about in 1962 still exists," she said. "This is the America of most Native American reservations, of rural Appalachia, of Latino barrios, of migrant farm workers, and, yes, of large tracts of urban poverty in cities like New Orleans. Dr. Malveaux will help us envision what an America without economic injustice might look like."
Malveaux received her B.A. and M.A. degrees in economics from Boston College and a Ph.D. in economics from MIT. In addition to her chapters in numerous books, including Race and Resistance: African-Americans in the 21st Century (2002) and When Race Becomes Real (2002), she is the author of Wall Street, Main Street and Side Street (1999) and Sex, Lies, and Stereotypes: Perspectives of a Mad Economist (1994), and the co-author (with Deborah Perry) of Unfinished Business: A Democrat and a Republican Take on the Top Ten Issues Women Face (2002). She also edited Voices of Vision: African American Women on the Issues (1996) and co-edited (with Regina Green) The Paradox of Loyalty: An African American Response to the War on Terrorism (2002).
As a columnist, her work appears regularly in USA Today, Black Issues in Higher Education, Ms. Magazine, Essence magazine and the Progressive. A committed activist, she serves on the boards of the Economic Policy Institute, the National Committee for Responsive Philanthropy, Women Building for the Future, and the Recreation Wish List Committee of Washington, D.C. For more information, call 781-283-2563.

Since 1875, Wellesley College has been a leader in providing an excellent liberal-arts education for women who will make a difference in the world. Its 500-acre campus near Boston is home to 2,300 undergraduate students from all 50 states and 68 countries. For more information, go to www.wellesley.edu.

###