Boston Gay Men's Chorus To Perform at Wellesley College

For immediate release:
October 25, 2005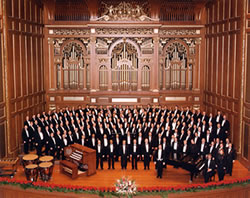 WELLESLEY, Mass. --The Boston Gay Men's Chorus will perform at Wellesley College Friday, Nov. 4, at 7:30 pm in Houghton Memorial Chapel. The concert, which is free and open to the public, is jointly sponsored by Wellesley College and the Unitarian Universalist Society of Wellesley Hills.
Now in its 24th season, the Boston Gay Men's Chorus is one of New England's largest and most celebrated community-based ensembles. The 175-member group sings a wide array of classical, new, and popular music and is known for the energy and emotion that it brings to each number. Under the leadership of Music Director Reuben M. Reynolds III, the Chorus has been celebrated for its outstanding musicianship, creative programming, and groundbreaking community outreach.

"We are very pleased to be able to partner with a local congregation on this concert," said Kris Niendorf, director of Residential and Campus Life. "Our students are really looking forward to this special opportunity to see a well-known chorus and our own Wellesley College Choir perform on campus."
"Because the very first principle of our Unitarian Universalist faith is to promote and affirm the worth and dignity of every person, the UU Society of Wellesley Hills is honored and delighted to co-sponsor the Boston Gay Men's Chorus," explained the Rev. Phyllis O'Connell. "This performance is one of the many programs planned by our congregation as part of the town's 'No Place for Hate' campaign."
In June the Chorus toured Central Europe, performing in Germany, the Czech Republic, and Poland, becoming the first gay chorus to perform in that country. The group has released seven compact discs and has performed in all six New England states as well as major venues in the United States and Canada.

The Wellesley College Choir, under the direction of Lisa Graham, will open the evening's performance. A voluntary collection will be taken to support gay, lesbian, bisexual, and transgender causes.
Parking is available in the Davis Parking Facility at the Route 135 entrance to the College. Accessible parking is available near the Chapel. Driving directions and a map are available online at www.wellesley.edu/Admin/travel.html.


###