Wellesley College Junior Heather Clark Wins Best Student
Presenter Award at International Conference

For immediate release:
November 4, 2005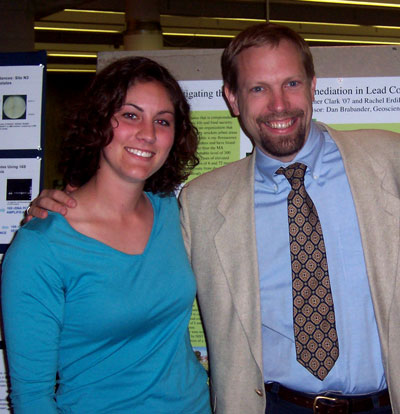 WELLESLEY, Mass. --Wellesley College junior Heather Clark, an environmental studies major, has won the Best Student Presenter Award at the 21st Annual International Conference on Soils, Sediment and Water held at the University of Massachusetts Amherst in October. The award includes a cash prize of $500 presented to each of three students judged to have the best poster or platform presentation at the conference.
Her research, funded by the Howard Hughes Medical Institute, involves the remediation of soil from lead contamination. Clark's faculty advisor, Dan Brabander, assistant professor of biogeochemistry in Wellesley's Geosciences Department, (pictured at left with Clark) calls the award a "wonderful accomplishment for an undergraduate—most of the student presenters were graduate students. After Heather walked one of the judges through major findings of her research, she was offered a job on the spot. I felt compelled to intervene at that point and mention that she still has a year and half to go before graduating!"
Brabander and Clark will submit a manuscript to the Journal of Environmental Quality later this semester. "Heather began working in my lab on this project the summer of her first year at Wellesley and is currently working on this manuscript as first author," Brabander said.
The professor notes that while Clark's experience is outstanding, her opportunity as a student researcher is shared by others at Wellesley. "Early research experiences for our science majors are clearly unique and valuable opportunities for our students," he said.
Clark was thrilled with the opportunity to present her findings to an international audience. "The conference was a wonderful experience for me to share my research and get feedback from experts, and I was honored to be recognized amongst the exciting projects that are shaping the interdisciplinary field of environmental science," she said. "I am very grateful to the Howard Hughes Medical Institute for funding this research."
Clark is the daughter of Susan Freeman of Ojai, Calif., and Devon Clark of Los Angeles. Before coming to Wellesley, she attended the Cate School in Carpinteria, Calif.
The award is given by Adventus Americas in conjunction with the Northeast Regional Environmental Public Health Center and the School of Public Health, University of Massachusetts. In addition to Clark, the other two winners were Deanna Bobak of the University of Toledo, Ohio, and Helen Yu of the University of California, Riverside. Twenty-three participants made presentations at the conference. The following is an abstract of Clark's research project:
"Characterization, Speciation and Remediation of Lead in Urban Garden Soils"
Gardening is an important element of community life and food security in the urban communities of Roxbury and Dorchester, Mass., that is threatened by extensive lead contamination of area soils. Our lab has formed a partnership with The Food Project, a community organization that promotes sustainable and organic agriculture, and we have been able to form relationships with many local residents to educate members of the community about the health of their soil and the potential risks they face as a result of their interactions with the soil. We have used field portable x-ray fluorescence to test over 500 soil samples and have found that 90 percent of samples contain concentrations of lead greater than the Massachusetts Department of Environmental Protection (MA-DEP) reportable level of 300 µg/g lead in soil. The principle goals of our research are to:
1) characterize the spatial variability of the lead at the neighborhood scale
2) fingerprint the sources of lead in the gardens
3) assess the chemical speciation and bioavailability of lead
4) devise and test a phytoremediation scheme for the area.
We are using textural-analytical approaches coupled with trace element ratio analysis and lead isotope analysis to evaluate the mass balance and geochemical characteristics of the lead found in garden soils. Preliminary results indicate that lead concentrations are highest in the finest particle size of soil and that lead is often associated with an identifiable suite of trace elements. Initial observations suggest that point and non-point sources, including lead-based paint chips and particulate matter from leaded gasoline, contribute to the overall soil lead burden.
Phytoremediation data is still inconclusive but eight gardens of test crops are currently being planned with sunflowers, collards and mustards as heavy-metal hyperaccumulators. A detailed geochemical assessment of lead in urban garden soils will provide insight into the severity of lead contamination in this high exposure setting and help to design a successful remediation scheme.

Since 1875, Wellesley College has been a leader in providing an excellent liberal-arts education for women who will make a difference in the world. Its 500-acre campus near Boston is home to 2,300 undergraduate students from all 50 states and 68 countries. For more information, go to www.wellesley.edu.
###