Wellesley Professors Edit Collection of Stories by Jewish Women Writers

For immediate release:
November 28, 2005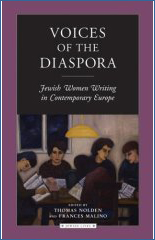 WELLESLEY, Mass. --Wellesley College's Thomas Nolden, professor of German and director of the comparative literature program, and Frances Malino, the Sophia Moses Robison Professor of Jewish Studies and History and chair of the Jewish Studies Program, have co-edited a new anthology on Jewish women writers from Europe, Voices of the Diaspora: Jewish Women Writing in Contemporary Europe (Northwestern University Press, October 2005).
"The roots of this literary anthology go back to a symposium with European Jewish women writers we organized here at Wellesley in 1999 and to one in Stockholm in 2002," said Nolden.
Voices of the Diaspora offers works by major women writers from Austria, England, France, Germany, Italy, the Netherlands, Spain and Russia. Their stories and essays, written over the last 25 years, speak to challenges confronting the post-Shoah generations of Jews living in Europe. The writers address themes specific to national contexts. Berlin-born Barbara Honigmann questions the possibility of Jewish life in the country responsible for the "final solution."
Marlène Amar and Reina Roffé write about the experiences of displacement and emancipation as Sephardic women in Western, postcolonial societies. Clara Sereni describes how Jews in post-Fascist Italy reemerged with a self-assertiveness that troubled a society that wanted to forget the past.
The book reveals "the extraordinary vivacity and diversity of European Jewry and introduces these readers to a new generation of women writers," Nolden said.
Since 1875, Wellesley College has been a leader in providing an excellent liberal-arts education for women who will make a difference in the world. Its 500-acre campus near Boston is home to 2,300 undergraduate students from all 50 states and 68 countries. For more information, go to www.wellesley.edu.
###