Wellesley's Multifaith Community: An Experiment in Understanding

For immediate release:
December 6, 2005
WELLESLEY, Mass. -- Can people of different religions learn to live together peacefully? Can they find the commonalities that faith implies? Can they accept and respect their differences? This fall Wellesley College launched its Multifaith Living and Learning Community (MLLC), 11 students who share life on a floor of a residence hall. Their faiths include Siddha Yoga, Jewish, Bahá'í, Catholic, Unitarian-Universalist, Hindu, Seventh Day Adventist and Protestant Christian.
"People of all faiths are welcome," said charter member and Wellesley senior Camille Inducil, 21, a Catholic from Auburn, Washington. "We are not imposing our views on others but increasing awareness."
This fall, for example, the group sponsored a Sukkot dinner on the chapel lawn, cooked by senior Jessica Bell, 21, who is Jewish and from Woodbridge, Connecticut.
"Not only did we learn about the holiday of Sukkot but we shared our own traditions," said Deborah Cady, the MLLC advisor, who also is a member of Wellesley's religious and spiritual life team as the Catholic chaplain. "It raised a variety of issues beyond a simple meal together."
MLCC students are working to reach out to the rest of the Wellesley campus, which is one of the most diverse in the nation. Among their goals is to start a kitchen that serves both Jewish kosher and Muslim Halaal foods. "The kitchen would follow the requirements of both religious traditions," said Bell.
In addition, a project is in the works to collect personal stories of spiritual reflections from across the campus community. "This doesn't mean people necessarily have to have a faith," said Inducil, "just stories about faith in general."
A multifaith living option is all about building relationships, according to MLLC members. As Bell put it, "People always say to keep the peace, you don't talk about religion and politics. We do. It makes our interactions much more honest."
Cady agreed, adding, "That way, we can deal with the conflict if one is arises."
For some it is also a chance to be seen as an individual. "This is a great opportunity to see the person behind their faith," noted Wellesley sophomore Catherine Walline, 19, a member of the Bahá'í Student Association and a resident of Factoryville, Pennsylvania.
Wellesley has become a leader in a new national emphasis on religion and college, said Victor Kazanjian, dean of religious and spiritual life. Since 1996, Kazanjian and others at have led the Transformation Project, which sets goals for religious pluralism in higher education. Its first event attracted 800 participants from 250 U.S. educational institutions. The MLLC is its direct outgrowth.
"Wellesley is exploring a new model of interreligious dialog and conflict resolution," he said. "We have established a model for other colleges and universities, and created a team of students and religious leaders."
Wellesley's highly diverse student population allows it to take the lead in multifaith matters. "We've got the numbers nobody else has, that let us understand how a minority group gets recognized and how to create a living and learning community together," Kazanjian said.
Once students move onto the wider world, he added, the chance to learn from other cultures is harder to find.
"Outside of college, people are far more separated and divided from each other," he said. "College offers the perfect opportunity to understand the dynamics and develop strategies for people to understand each other."
For more information on the Multifaith Living and Learning Community at Wellesley College, go to http://new.wellesley.edu/RelLife/multi_faith/team.html.
Since 1875, Wellesley College has been a leader in providing an excellent liberal-arts education for women who will make a difference in the world. Its 500-acre campus near Boston is home to 2,300 undergraduate students from all 50 states and 68 countries. For more information, go to www.wellesley.edu.

###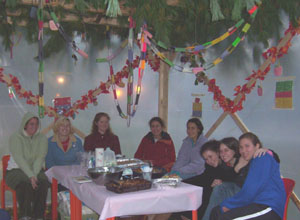 Members of the Multifaith Living and Learning Community enjoy a Sukkot dinner.
Catherine Walline, Camille Inducil and Jessica Bell, from left, are three of the 11 Wellesley students who live in the Multifaith Living and Learning Community.