Free Conference Will Tackle Questions About Religion and Violence

For immediate release:
February 9, 2006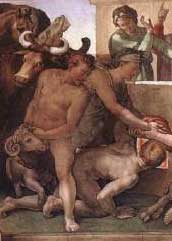 WELLESLEY, Mass. -- Questions about the link between violence and religious traditions, and their sacred writings, have been front and center in the current public discourse.
"One entry point to the discussion is a close and honest look at the key texts in question, on their own terms, and in their own literary and historical contexts," said David Bernat, assistant professor of religion at Wellesley College.

In conjunction with Boston University's Department of Religion, Bernat has convened a group of prominent biblical scholars to address these issues at a two-day conference called "Religion and Violence: The Biblical Heritage." The conference keynote address will be presented Sunday, Feb. 19, at 7:30 pm at Boston University Hillel by Ziony Zevit of the University of Judaism on "Cosmic Disintegration, Ritual Repair and the Search for Violence in Israelite Religion."

On Monday, Feb. 20, a daylong symposium from 8 am-3:30 pm will take place in Pendleton West 212 on the Wellesley College campus. The symposium entails two panels, one focused on the Hebrew Bible/Old Testament and one treating the New Testament and Early Christianity. Presentation titles include "The Problem of Violence in Prophetic Literature" and "The Legacy of Sectarian Rage: Vengeance Fantasies in the New Testament." A closing lecture, "Forms of Ritualizing Violence: Past and Present," with a response from Wellesley Professor of Religion Stephen Marini, will bring the religion/violence question into a broader perspective.
The symposium is free and open to the public, and breakfast, coffee break and lunch are included. The event is sponsored by the Elizabeth Luce Moore Fund for Christian Studies at Wellesley College and the Luce Program in Scripture and Literary Arts at Boston University.

For more information about the speakers and their presentations, go to the conference Web site at www.wellesley.edu/Religion/David_Bernat/Writing/writing.html or e-mail dbernat@wellesley.edu.
###