Film Critic Laura Mulvey Will Speak at Wellesley College

For immediate release:
March 24, 2006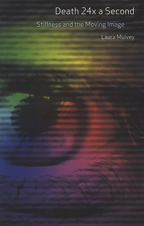 WELLESLEY, Mass. --One of the most influential feminist film theorists and critics in the world, Laura Mulvey, will speak at Wellesley College Wednesday, April 5, at 4:30 pm in Science Center 277. Professor of film and media studies at Birkbeck College, University of London, Mulvey will discuss the relationship between new media technologies and spectatorship in her lecture "Discovering the Pensive and the Possessive Spectator." The event is free and open to the public.
Based on her recent book Death 24x a Second Stillness and the Moving Image (Reaktion Books, 2006), Mulvey's lecture will examine how modern media technologies, including home DVD players, have fundamentally altered our relationship to the movies. She will explain how they give viewers the ability to control both image and story, so that movies, meant to be seen collectively and followed in a linear fashion, may be manipulated to contain unexpected and even unintended pleasures.
Mulvey will discuss how the individual frame, the projected film's best-kept secret, can now be revealed by anyone who hits pause, and how easy access to repetition, slow motion and the freeze-frame may shift the spectator's pleasure to a fetishistic rather than a voyeuristic investment in film.
After studying history at St. Hilda's, Oxford University, she came to prominence in the early 1970s as a film theorist, writing for periodicals such as Spare Rib and Seven Days. Much of her early critical work investigated questions of spectatorial identification and its relationship to the male gaze, and her writings, particularly the 1975 essay "Visual Pleasure and Narrative Cinema," helped establish feminist film theory as a legitimate field of study. A prolific writer, Mulvey has written several major books: Fetishism and Curiosity, Citizen Kane, Visual and Other Pleasures, and Douglas Sirk, a collection of essays co-edited with Jon Halliday. She also has published a vast number of articles in collections, journals and magazines.
Between 1974 and 1983 Mulvey co-wrote and co-directed with Peter Wollen six theoretical film projects dealing with the discourse of feminist theory, semiotics, psychoanalysis and leftist politics. The first of these, Penthesilea: Queen of the Amazons explored concerns central to Mulvey's writings: the position of women in relation to patriarchal myth, symbolic language and male fantasy. Penthesilea represents an experimental British venture into territory pioneered by the likes of Jean-Luc Godard. With its counter-cinema style and relentlessly didactic approach it is a film in five sequences on the iconography of the woman as a warrior. The most influential of Mulvey and Wollen's collaborative films, Riddles of the Sphinx (1977), presented avant-garde film as a space in which female experience could be expressed. Remarkable formalistic innovation, notably 360-degree pans, informs the film's content, describing the mother's loss of and search for identity. The result is a challenging, forceful and intelligent film.
AMY!, a tribute to Amy Johnson, is a reworking of themes previously covered by Mulvey and Wollen. Far from a conventional biopic, the aviator is used as a symbolic figure, her journey exemplifying the transitions between female and male worlds required by women struggling towards achievement in the public sphere.
Crystal Gazing represented a departure from the emphatic formalism of Mulvey and Wollen's earlier films. This representation of London during the Thatcher recession was generally well received, despite criticism for the lack of a feminist underpinning to the film. Mulvey admitted she had been reluctant to incorporate feminist polemics fearing they would unbalance the film. Frida Kahlo and Tina Modotti (1982) and The Bad Sister (1983) followed, revisiting feminist film issues; New Horizons (1987) was an installation for 36 video monitors commissioned by Public Access, Toronto, for the series 'The Lunatic of One Idea'. After these films, Mulvey returned to filmmaking with co-director Mark Lewis on the project Disgraced Monuments (1994), an examination of the fate of revolutionary monuments in the Soviet Union after the fall of communism.

The lecture is sponsored by the Committee on Lectures and Cultural Events, the Writing Program, French, Italian Studies, Art, Cinema and Media Studies, East Asian Languages and Literatures, German, Sociology, Women's Studies and Spanish departments. For more information, contact Flavia Laviosa, Italian Studies, at flaviosa@wellesley.edu or call 781-283-2618.
###