Best-selling Author Alice Sebold Will Speak
at Wellesley College April 20


For immediate release:
April 10, 2006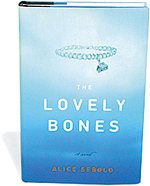 WELLESLEY, Mass. -- Alice Sebold, author of the bestseller The Lovely Bones and the memoir Lucky, will present a lecture Thursday, April 20, at 8 pm in Jewett Arts Center Auditorium at Wellesley College. After her one-hour talk, there will be a 30-minute question-and-answer period followed by a reception and book signing.
The event is sponsored by SAAFE (Sexual Assault Awareness For Everyone), a group of Wellesley students dedicated to crisis intervention and the prevention of violence. The Lovely Bones addresses the rape and murder of a young girl.
"Sebold's novel is extraordinary because it has commanded such a wide audience and enjoyed such enormous popularity, said SAAFE member and senior Samantha Fields. "Sebold's style and voice are wonderfully honest, fresh and unique, and she succeeded in making people fall in love with a book about a subject that generally would not draw large contingents of readers." The book will be made into a film to be released in December 2007.
"Bringing Alice Sebold to campus in April is also a powerful way of drawing attention to Sexual Assault Awareness Month," Fields added. For more information, call 781-283-2679 or e-mail sfields@wellesley.edu.

Since 1875, Wellesley College has been a leader in providing an excellent liberal-arts education for women who will make a difference in the world. Its 500-acre campus near Boston is home to 2,300 undergraduate students from all 50 states and 68 countries. For more information, go to www.wellesley.edu.
###