Mother and Daughter Follow Their Dreams Together
at Wellesley College
For immediate release:
May 12, 2006
WELLESLEY, Mass. -- On Mother's Day, Christann Spiegel celebrates her 42nd birthday—and her impending graduation from Wellesley College. Among other things, her daughter Maia Azoulay, 21, can thank her mother for introducing her to Wellesley. Next June, Maia will become a Wellesley alumna, just like mom.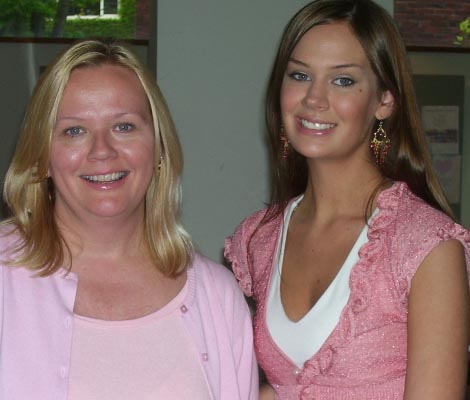 A resident of Clinton, Mass., Christann is a member of Wellesley's Davis Degree Program, which enrolls women beyond the typical age of college students. After a variety of life experiences, Davis Scholars return to school to earn a liberal-arts degree from the nation's top women's college.
"Because my mom was a student here, I visited the campus a few times before applying and was able to sit in on some of her classes to get a better feel for the school and began to appreciate the amazing faculty that Wellesley has," said Maia (with Christann, left), a political science major. "I might not have considered it had she not been a student here."
As for the experience of being a Davis Scholar vs. a traditional-age student, Christann said, "I definitely come with a different perspective than trads (which is what we Davis Scholars call them—in a nice way!) It's not that it is a qualitatively different perspective, it's just different. Sometimes when I hear what years my fellow classmates were born, I can't believe how old I am! It's different, but it's good."
Both mother and daughter began their college educations at Quinsigamond Community College in Worcester, Mass. A women's studies major, Christann entered Wellesley in the fall of 2003; Maia followed her there in the spring of 2005.
"I picked Wellesley because my honors advisor at the community college I had attended told me about the program and insisted I apply," Christann said. "I really didn't know much about Wellesley before I applied; if I had, I think I may have been too intimidated to even try."
She certainly has met the challenge. This fall, she will study in the master's program in sociology and women and gender studies at Brandeis University.
Only once did Christann and Maia have the opportunity to take a class together, studying oceanography with Professor Harold Andrews. "I was a little bit apprehensive, but I actually benefited a lot," joked Maia, who sometimes borrowed Mom's notes. "And we could go get lunch together if we wanted to right after class because of the time. It was actually kind of fun."
Maia has found many reasons to celebrate her choice of attending Wellesley. "It's such a great school academically, and I really felt that having a Wellesley degree would open a lot of doors for me in the future and help me get into a competitive law school," she said. "Also, I was interested in attending an all-women's college for the different and positive experience it would give me."
Christann cherishes the college years spent with her daughter. "Attending school with Maia has been the most special experience of my life," she said. "Although I am excited to be graduating, I will miss not having Maia on campus with me next year at Brandeis—it will be a bittersweet commencement."
Maia echoes her mother's mixed emotions, saying, "I will definitely miss seeing her on campus next year, but I am very excited for her to be going on to graduate school."
Since 1875, Wellesley College has been a leader in providing an excellent liberal-arts education for women who will make a difference in the world. Its 500-acre campus near Boston is home to 2,300 undergraduate students from all 50 states and 68 countries. Designed with the needs of the returning student in mind, the Davis Degree Program gathers a group of women from diverse backgrounds and life experiences. Davis Scholars take the same classes, participate in the same student organizations and, if they choose, live in residence halls along with students of traditional college age. For more information, go to www.wellesley.edu/NSP/
###