Carolyn Shaw Bell, Internationally Renowned Economist and Wellesley College Professor, Dies at 85
For immediate release:
May 22, 2006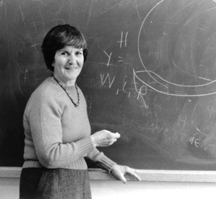 WELLESLEY, Mass. -- Carolyn Shaw Bell, long-time Wellesley College professor of economics and a former columnist for The Boston Globe, died May 13 at her home in Arlington, Virginia. She had lived in Dover and Lexington, Mass., for many years before moving to Virginia in late 2005.
Bell was an internationally known economist whose research focused on human capital, income distribution and the quality of economic data. A consummate teacher, she is credited by many with building Wellesley's economics department to its position as one of the strongest undergraduate economics departments in the country. She was a tireless promoter of women's achievements in general and in economics, in particular.
She had the ability to convey economic principles and analysis to a general audience as evidenced by her columns in The Boston Globe, which she wrote regularly from 1997 until 2000. She also appeared frequently as an economics commentator on WGBH-TV nightly news for several years and wrote opinion pieces that were published by The Christian Science Monitor and The New York Times.
In a 1995 New York Times article about Wellesley alumnae's leadership roles in the business world, several alumnae cited Bell's influence in their career development. "She was a fierce promoter of Wellesley economics graduates," said Ellen Marram, a 1968 graduate and then president of Seagram Beverage Group. "She used to tell us that we should brag, that we should let people know what we can do."
Bell was one of the founders of the American Economic Association's Committee on the Status of Women in the Economics Profession (CSWEP) and served as its first chair. In 1998, the CSWEP established the Carolyn Shaw Bell Award, which is given annually "to an individual who has furthered the status of women in the economics profession, through example, achievements, increasing our understanding of how women can advance the economics profession, or mentoring others." Bell wrote in the fall 1997 CSWEP newsletter, "We need every day to herald some woman's achievements, to tout a woman's book or painting or scholarly article, to brag about a promotion or prize and to show admiration for the efforts and influence of women in their professional and technical and social and human endeavors of all kinds."
Bell received her undergraduate degree in 1941 from Mount Holyoke College. Upon graduation she worked for the Office of Price Administration in San Francisco, which was led by John Kenneth Galbraith. The two economists maintained a lasting friendship. She then went to London University where she earned her doctorate in economics in 1949. She joined the Wellesley faculty in 1950, working again with Galbraith in a research position at Harvard University. Bell was named the Katharine Coman Professor of Economics in 1964, a chair she held until her retirement in 1989.
Bell was the author of two books, Consumer Choice in the American Economy (1967) and The Economics of the Ghetto (1970), and was co-author of several more. She served on the editorial boards of numerous publications, including the Journal of Economic Education, the Journal of Economic Issues and the Journal of Economic Literature.

Bell was very hard of hearing for much of her life and was an active advocate for the use of hearing dogs, which provide assistance to deaf and hard of hearing individuals. She traveled extensively and was always accompanied by her own hearing dog, Robin.
Bell was born in Framingham, Mass. Her husband Nelson Sibly Bell died in 1991. She is survived by her daughter, Tova Maria Solo, of Arlington, Virginia, and one grandson. A memorial service at Wellesley College is planned for the fall.