Wellesley College Celebrates 128th Commencement with Speaker Ophelia Dahl

For immediate release:
June 1, 2006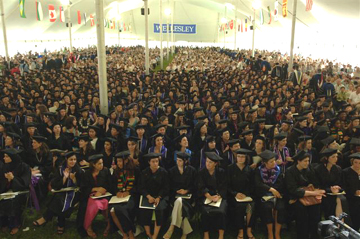 WELLESLEY, Mass. – Global public health activist Ophelia Dahl addressed the 544 graduating seniors, their families and friends at Wellesley College's 128th Commencement Exercises on Thursday, June 1, at 10:30 am on Severance Green on the Wellesley, Mass., campus.
Dahl spoke movingly about the challenges today's seniors have already witnessed, from Darfur to Abu Ghraib to Hurricane Katrina to the Iraq War.
"How might these turbulent times that we live in shape our future?" Dahl asked. "Of course there have been centuries of troubles, wars, violence and terrible battles. You'll see behind you generations of brave people who waded through a mire of injustice and violence to shape a better future and chose to fight passionately for causes they believe in."

Dahl is a founding trustee and the executive director of Partners In Health (PIH), an international organization that brings the benefits of modern medical science to some of the most impoverished areas of the world. Partners In Health and its co-founder Dr. Paul Farmer were the subject of the bestseller, Mountains Beyond Mountains, by Tracy Kidder.
A member of the Class of 1994 who was part of Wellesley's Davis Degree Program for non-traditional-aged students, she arrived at Wellesley in 1989 after serving as a public health worker in Haiti for nearly seven years. In Haiti she met Farmer, and they worked together to bring health care to the destitute sick, beginning with a few villages in Haiti's Central Plateau. "[We started] without much of a plan, but utilizing the talent, goodwill and generosity of other people, working as a team," Dahl said of those early efforts. "…All the time, we tried to draw connections between the near and the distant. The near of Boston teaching hospitals with the distant, rural, dusty clinic in Haiti. The near of people's hunger with the distant World Bank policies."


Expanding on the effectiveness of the community-based model in Haiti, Dahl has helped to establish major PIH projects in poor communities around the world, including Peru, Mexico, Guatemala, Russia, Boston and, most recently, Rwanda. Dahl also serves on the board of her family's foundation to honor the work of her father, the late writer Roald Dahl, and is engaged in philanthropic works in the United States and England.
This year's student Commencement speaker, senior Sophie Kim of Alameda, Calif., continues a tradition that began with the first student Commencement speaker, New York Senator Hillary Rodham Clinton, a member of the Wellesley Class of 1969. Kim emphasized the continued importance of women's colleges in today's world.

"Gender equality is more of a reality today than it was even in our parents' generation, but there is still more progress to be made, particularly in promoting the advancement and visibility of women in all sectors of society," she said.
A political science major, Kim has served as chair of the Committee for Political and Legislative Action, which presents issues of local, national and international importance to the student body in a nonpartisan manner, and has been a member of the 2005-2006 College Government Cabinet. She has been active in the Political Science Majors Council and as a tutor for the department, and has served as a research assistant for her major adviser. She is also active in the Phi Sigma Lecture Society. Last summer, she participated in the Wellesley in Washington internship program in Washington, D.C., where she interned for a federal judge on the U.S. District Court for the District of Columbia. She will prepare for law school after graduation.

Wellesley College President Diana Chapman Walsh delivered her traditional "Charge to the Class," noting that this year's graduates have already shown a commitment to "the values of cooperation, collaboration and community" that serve them well in what she called "the heat of the moment" issues such as presidential elections, war in Iraq, tsunamis and hurricanes.
"In these and in many other instances, including moments of tragedy, you staked out the place where this historic college can meet the claims of a troubled world," Walsh said. "Our deep gladness—as you have lived it in your time here—is educating women who can bring balance and perspective to a world dangerously out of kilter."
For more, including the full text of the speeches given at the 2006 Commencement ceremony, go to www.wellesley.edu/PublicAffairs/Commencement/index.html.

Since 1875, Wellesley College has been a leader in providing an excellent liberal arts education for women who will make a difference in the world. Since 1971, the College has welcomed non-traditional-college-aged women to pursue their bachelor's degrees. There are currently 53 women enrolled in Wellesley's Elisabeth Kaiser Davis Degree Program. Wellesley's 500-acre campus near Boston is home to 2,300 undergraduate students from all 50 states and 68 countries.
###