Wellesley College Sophomore Shavanna Calder Wins
Boston Theatrical Acclaim
For immediate release:
June 2, 2006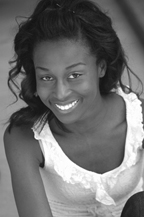 WELLESLEY, Mass. – Wellesley College sophomore Shavanna Calder of Vacaville, Calif., has garnered a plum theater role in Boston, winning critical acclaim as Emmie, the daughter of a 1960s Southern maid in the SpeakEasy Stage Company musical "Caroline, or Change," which runs at the Calderwood Pavilion through June 18.
The daughter of Ed Calder of Sacramento and Audrey Calder-Wood of Vacaville, the 20-year-old attended Vacaville High School. Calder has always lived in Vacaville; her parents had earlier emigrated from Guyana.
She started acting at age 5 when her father was in a community college production of "Big River." She had been attending his rehearsals for fun when one day a little girl acting in the show failed to show up for a performance. Shavanna easily stepped into the role—and musical theater has been her passion ever since. Growing up, she performed in many productions and attended California State Summer School for the Arts. A well-rounded thespian, in high school, she served in the Student Council, volunteered at the senior center and played varsity tennis.
At Wellesley, she is majoring in cinema and media studies with a minor in sociology. She has performed in the theatrical production of "For Colored Girls Who Have Considered Suicide When the Rainbow Is Enuf" through Ethos, a Wellesley group for women of African descent.

Juggling rehearsals, classes and performances this semester have been a challenge, Calder said, but well worthwhile.
"This experience has been absolutely incredible," she said. "The 'Caroline, or Change' cast, production team and crew is filled with amazingly talented and yet humble people. Being with these people day in and day out has given me the opportunity to soak up knowledge and build great relationships. I've really valued their support and honesty."
Calder stumbled across an audition announcement for the Tony Kushner/Jeanine Tesori musical at the end of the fall semester. She soon decided to audition for the part of Emmie, the daughter of title character Caroline. She won over director Paul Daigneault.
"You want to know that she's been brought up by this strong-minded woman, that Caroline is inadvertently changing the world by the way she's raising her kids," Daigneault told The Boston Globe. "Shavanna had all that."
To Calder, the experience has been exhilarating from the start, saying, "I really believe this show has been a Godsend, because of the way things have worked out from the audition experience up until now."

In addition to her performances, during one intermission, she interviewed and videotaped people in the company for a project that became part of her final exams at Wellesley.
"I received so much support from the cast in this," she said. "After the show that night, I spent five hours editing the video. It took a lot of dedication, but working with Speakeasy Stage and the cast made it easier. I felt it was like taking on another class that I couldn't get at Wellesley, and then some, because of the commute." Calder traveled an hour and 15 minutes from Wellesley to the rehearsal location.
Now that classes are over for the spring term, she has a few days as the production winds down to savor her experience. "I think that this semester I was very lucky to have a lot of artistic professors who understood the importance of this opportunity," she said. "Balancing studies with the show was not easy, but musical theater is my passion and that simply made it worth it."
Once the show closes, she will return to California for the summer to work as an intern at the California Musical Theatre in Sacramento.
For a review and a feature story about Calder and "Caroline, or Change," from The Boston Globe, go to www.boston.com/ae/theater_arts/articles/2006/05/09/speakeasys_caroline_captivates/
and www.boston.com/news/globe/living/articles/2006/05/24/two_for_the_show/

Since 1875, Wellesley College has been a leader in providing an excellent liberal arts education for women who will make a difference in the world. Its 500-acre campus near Boston is home to 2,300 undergraduate students from all 50 states and 68 countries. For more information, go to www.wellesley.edu.
###