Wellesley's First in the Nation All-Women Radio Gets New Power of Speech
For immediate release:
June 7, 2006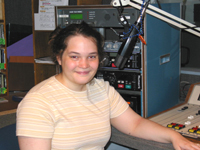 WELLESLEY, Mass. -- Back in 1942, Wellesley College students launched the first all-women college radio station. Broadcast pioneers from the Class of 1942 Ruth Nagel Jones and Rosamond Wilfley Neilson were among those who gave Wellesley a new voice.
Known as WBS in its infancy, the radio station has been a pivotal part of Wellesley life ever since. Today, under the call letters WZLY, the station can be found at 91.5 on the FM dial and heard on the Web at www.wzly.net.
Like every venture that depends on technology, however, a radio station demands upgrades and renovations. Over its 64-year history, WZLY developed a long list of vital needs. The aging studio needed an overhaul from infrastructure to equipment to furnishings.
During a recent tour of the studios, Wellesley College senior and WZLY general manager Kate Tetreault, 21, (above) of Wellesley, Mass., noted that the main control board is older than she is.
"The company that made it is out of business," she said. "Replacement parts are no longer being made. We'd have to troll on eBay for them." To hear their own broadcast, announcers have to turn on a radio since studio monitors don't work. There is no air conditioning in the windowless studio.
Yet WZLY remains a popular activity at Wellesley, with 50 to 60 students signing up for broadcasting slots each year. In addition to a wide variety of music programs rarely found on today's homogenized commercial radio, students produce a news program, air student-directed plays, sponsor free events, partner with other stations and offer internships. Fourteen students also serve on the station's executive board.
"It's a big time commitment, and we run it like a business," Tetreault said. Like any licensed radio station, WZLY must pay royalties for songs played on air and through the Web. The staff must follow FCC rules and provide training for staff and for the technical director, who fixes the myriad problems. The college budgets money for these current operating expenses, but there has been no capital budget for new equipment.
Tired of working with "shoestrings and bubble gum," last summer Tetreault began to write a funding proposal to address the needs, from a long-awaited analog to digital technical revamp to equipment including a digital control board, computer, CD players, turntables, amplifiers and microphones.
Happily, this spring Wellesley's broadcasting voice has grown stronger and steadier with a major donation from one of its student pioneers: Ruth Nagel Jones, Class of 1942 and resident of Los Angeles, has donated $50,000 to transform WZLY and infuse new life into the college airwaves.
To celebrate – and to commemorate – Jones' gift, WZLY played parts of the college's first radio broadcast from April 20, 1942, including music from Gershwin's "Porgy and Bess" and toe-tapping songs from the Big Band and swing era. The two-hour music extravaganza was dedicated to the memory of Jones' fellow student radio pioneer Rosamond Wilfley Neilson, Class of '42, who passed away May 8.
The radio renewal plans came at just the right time to honor one of WZLY's founders.
"This was an amazing coincidence," Jones said, "considering the passing of my friend Roz. It's such a lovely way to be able to remember her. I am glad I'm able to help it continue. It is thrilling to realize the radio station is still going full force."
Also a generous supporter of theater at Wellesley, Jones said these two passions came naturally to her. Her father, Conrad Nagel, was a successful theater, screen, television and radio actor for many years. During Jones' years at Wellesley, he hosted the CBS Silver Theater radio show. Jones recalls that every Sunday night, he would sign off with "Well, it's time to say good night," a private code that sent sweet dreams to his daughter at Wellesley.
Thanks to Jones, Wellesley broadcasting buffs will continue to enjoy their radio dreams.
"It means so much to us," Tetreault said, "because WZLY has always been a do-it-yourself organization. Thanks to Ruth, we'll be able to keep up the longest-running, all-women radio station in the country. We were joking that we should change the name of the station to WRNJ (Ruth Nagel Jones). She's an incredible lady, and we really appreciate her help."

Since 1875, Wellesley College has been a leader in providing an excellent liberal-arts education for women who will make a difference in the world. Its 500-acre campus near Boston is home to 2,300 undergraduate students from all 50 states and 68 countries. For more information, go to www.wellesley.edu.
###