A Year of Helping Hands: Wellesley Sends Volunteers, Interns, Money
and Support for Hurricane Disaster Relief
For immediate release:
June 9, 2006
WELLESLEY, Mass. -- The common goal is to rebuild shattered lives. This summer, 19 Wellesley College students and staff members will travel to Louisiana to continue the work begun last fall—a passing of a torch that has been carried through mid-term break, then spring break, aided by continuous fundraisers and aid drives throughout the year.
From June 4-11, the latest Wellesley volunteers traveled under the banner "Building Communities Together: Leaving Our Footprints" with the Habitat for Humanity Rebuilding Project in Slidell, La.
The all-women work crew, followed by their class year, included Stephanie Abbott '06 of Belfast, Maine; Christina Alvarez '08 of Edison, N.J., Mimi An '08 of Arcadia, Calif.; Sejal Babaria '09 of Moorestown, N.J., Danielle Briggs '09 of Irvine, Calif., Deborah Dowlin '06 of Philadelphia, Pa.; Ann Gaffey '06 of Medford, Mass.; Ekta Ghimire '09 of Kathmandu, Nepal; Jerilyn Libby '06 of East Northport, N.Y.; Scarlett Loomas '06 of East Prairie, Mo.; Ana Phakhin '06 of Springdale, Ariz., Jennifer Shin '06 of Palisades Park, N.J.; Kristin Smith '07, of Lincoln City, Ore., Jacquie Stone '06 of Marion, Mass.; Diana Tubbs '07 of Wellesley, Mass.; and Emily Whipp '06 of Shorewood, Wis. It also includes Wellesley residence hall director Karen Doherty; Erin Herzeelle'03, a staff member at Wellesley's Center for Work and Service (CWS); and admission counselor Sarah Jean Kelly '05. Whipp, Herzeelle and Doherty are returning to Louisiana, having volunteered for a week in January as well.
All 19 volunteers worked with the East Saint Tammany Habitat for Humanity in Slidell to support rebuilding efforts, just as a Wellesley group did in a January trip, according to CWS Director of Service and Stipend Programs Melissa Hawkins. Located within a half-hour of New Orleans on the edge of Lake Pontchartrain, Slidell suffered great losses during Hurricane Katrina, with 85 percent of its homes and businesses damaged.
Six of these students are also taking part in a CWS New Orleans Habitat for Humanity Internship Program through Aug. 11. A stipend of $3,000 plus airfare and housing has been awarded to Alvarez, who will intern with the St. Bernard Recovery Project; An, who will work in development and fundraising; Babaria, an intern in construction administration; Briggs, an intern in the real estate division; Phakhin, an intern with family services; and Smith, a volunteer coordination intern.
As a new hurricane season begins, the competition at Wellesley for Louisiana volunteer and internship opportunities has been intense—despite the heat and hard work that lay ahead. Students see this as a chance to help as well as learn about community service and disaster-relief organizations.
"It's a privilege for us to come to work with these organizations that will take the time to train our students to help," Hawkins said. "We're also building a relationship that we hope will continue for a long time."

Throughout the year, Wellesley College has helped hurricane relief efforts. Last fall, the College welcomed four undergraduates from New Orleans colleges closed by the disaster, waiving their tuition fees. Throughout the year, groups have held fundraisers to benefit hurricane relief, raising a total of $10,445.

• During spring break in March, 23 students took part in New Orleans service projects, funded by CWS Quick Fix Grants. (Another 14 did service projects in other parts of the world.) The following projects and students were involved in hurricane relief: Shayla Adams '08 of Columbia, Md; Kendall Alexander '08 of White Plains, N.Y.; Rachel Allen '09 of Old Town, Maine; Danielle Briggs '09 of Irvine, Calif.; Carmella Britt '08 of Ashland, Mass.; Lauren Cross '08 Washington, D.C.; Derice Darlington '08 of Newport News, Va.; Selasie Goka '08 of Accra, Ghana; Esther Han '06 of Plano, Texas; Taylor Holloway '08 Sante Fe, N.M.; Salome Katwiwa '08 of Amherst, Mass.; Sarah MinJoung Koo '06 of Buena Park, Calif.; Corina Morris '08 of Marietta, Ga.; Alyssa Moten '08 of Bloomfield Hills, Mich.; Amara Nwosu '08 of Macon, Ga; Yohko Ogawa '09 of Elkton, Ore.; Monica Ortiz '08 of Philadelphia, Pa.; Katharine Reece '08 of Westlake, Ohio; Sequoia Taylor '08 of Memphis,Tenn.; Fanny Tsang '07 of Manhasset, N.Y.; Natalie Truong '06 of Boston; Simone Weiss '08 of Detroit, Mich; and Cara Williams '08 of St. Thomas, Virgin Islands.

• The CWS coordinated a trip to Louisiana in January, beginning its relationship with Habitat for Humanity in Slidell, La. A group of 20 students, staff and alumnae shared its adventures on a blog at http://follypatterson.pingwellesley.com/blog/CWSHabitatProject, including this entry:

"The house had hardly been touched since the hurricanes….there was mud everywhere. Twisted in and on top of that was insulation and dry wall that had fallen off the ceiling…We had a long day ahead of us. First, we had to shovel the mud away from the front door. We shoveled and wheelbarrowed all day long, slipping over the slimy mud remains. Slowly but surely, we got the furniture out, then the mud, then the remaining plaster and insulation on the walls. It's a changed house now, and all of us are amazed that we did it."

The January volunteers were Cristin Bates '08 of Dudley, Mass.; Lindsey Boylan '06 of Santa Fe, N.M.; Megan Briggs '09 of Torrance, Calif.; Karen Doherty, resident director, Dower Hall; Katie Ellison '06 of Los Angeles; Ellie Gammons, Alumnae Career Programs; Joyce Hahn '06 of Downey, Calif.; Erin Herzeelle '03, CWS; Helin Jung '05, Residential Life; Dawoun Jyung '07 of Williston Park, N.Y.; Alumnae Association staff member Jayne Lew '08 of Natick, Mass.; Leah Lyman '06 of Elmhurst, Ill.; Stephanie Melton '09 of Houston, Texas ; Folly Patterson '85, CWS; Samira Vachani '08 of Lexington, Mass.; Emily Whipp '06 of Shorewood, Wis; and Christine Yow '07 of Cupertino, Calif.

Working with them at the site were President Diana Chapman Walsh '66; Joanne Murray '81, CWS director; Michelle Lepore, associate dean of students; and local alumnae.

The Wellesley hurricane relief effort has also embraced the following projects:

• College Government coordinated a number of projects to raise funds for students attending Spelman College after being displaced from their own colleges. Members collected donations at last fall's opening convocation and in residence halls and the campus center. The group organized two basketball tournaments, in which participants donated money in order to play. Altogether, they raised $6,502.
• As the new school year began, a group of students helped (for a fee) upperclass women retrieve their belongings from storage and move them to their new residence halls. They raised $700 for the New Orleans Hurricane Fund, "Tulane Students Working to Restore New Orleans."
• In early September, students organized fundraisers and a collection drive. "A Day of Sunshine," which included a children's carnival, raised $1,830. Students donated $1,000 to the Spelman College Hurricane Katrina Emergency Scholarship Fund and the remainder toward books, toys and children's items for the organization Cradles to Crayons and to the hurricane relief drive at McNeese State University in Lake Charles, La.
• A car wash sponsored by staff members of Pomeroy, Cazenove, Beebe, Shafer and Munger residence halls raised $863.50 for the American Red Cross.
• The Wellesley College Alumnae Association and the CWS held a donation drive and collected 319 boxes of hurricane relief items. Items were distributed in Louisiana through Quincy, Mass.-based Cradles to Crayons; other items were shipped with help from Senator John Kerry.
Donations included:
- 20 boxes of backpacks, dufflebags and luggage
- 14 boxes of baby food and children's snack items
- 5 boxes of shoes
- 44 boxes of blankets, sheets, towels and washcloths
- 19 boxes of school supplies
- 71 boxes of toiletries
- 4 boxes of books and educational toys
- 2 toddler car seats
- 33 boxes of diapers and baby wipes
- 109 boxes of clothing and underwear
• A group of students set up a make-your-own jewelry table in the campus center and raised $499.
• Severance Hall, a residence hall, collected $50 for Habitat for Humanity.

Since 1875, Wellesley College has been a leader in providing an excellent liberal arts education for women who will make a difference in the world. Its 500-acre campus near Boston is home to 2,300 undergraduate students from all 50 states and 68 countries. For more information, go to www.wellesley.edu.
###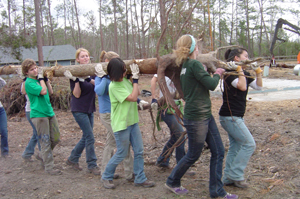 Wellesley College hurricane relief volunteers in Slidell, La.