Wellesley Alumna to Continue Studies in Social Change and Technology
Thanks to Prestigious Scholarship from Jack Kent Cooke Foundation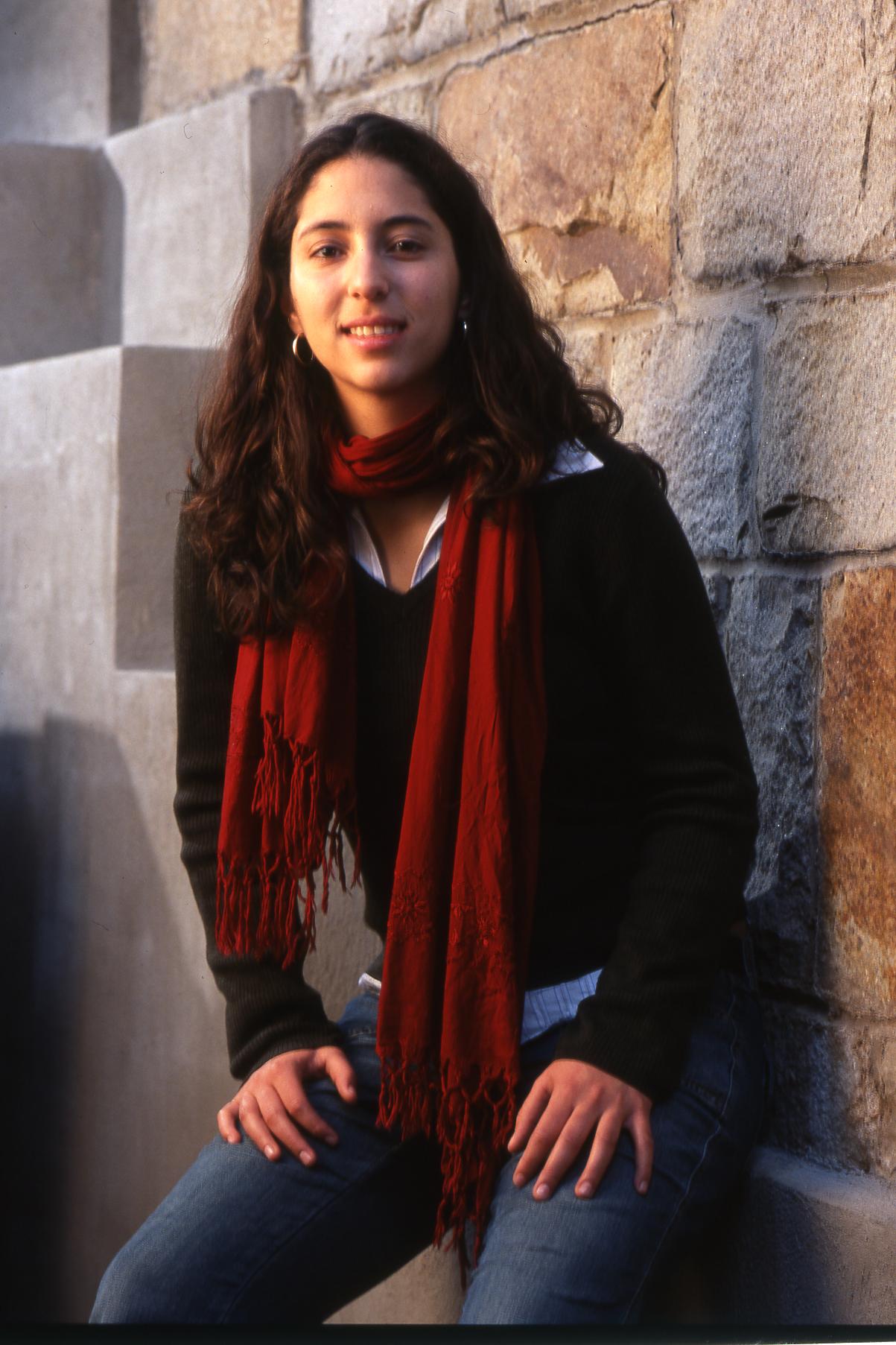 WELLESLEY, Mass. -- Wellesley College graduate Paulina Ponce de Leon Barido, right, a member of the Class of 2005 who hails from Mexico City, Mexico, has won a highly prized 2006 Jack Kent Cooke Foundation Graduate Scholarship.
Ponce de Leon Barido's latest honor comes at the end of a year of international study provided by another award, the 2005-2006 Thomas J. Watson Fellowship. The fellowship funded travel to the Dominican Republic, Madagascar, Mali, Peru and Sri Lanka during which she completed a project, "Powering Livelihoods through Appropriate Technology," working on a global effort to provide energy to the poor.
"She just returned home to Mexico after a terrific year and received a call from the Cooke Foundation staff to cap it off," said Eleanor Perkins, director of fellowship programs at Wellesley's Center for Work and Service. "The Cooke is a most competitive and generous award, offering up to $50,000 for up to six years of graduate study for any degree, in any subject, to candidates of any nationality. It has existed in this particular form for only about three or four years, and Paulina is Wellesley's first winner, one of 77 selected from a pool of 1,079 applications."
With the scholarship, Ponce de Leon Barido plans to attend the Massachusetts Institute of Technology (MIT) to continue her studies.
A physics major, she studied at Wellesley as a Davis United World College (UWC) Scholar, part of a program established by investor and philanthropist Shelby M.C. Davis that underwrites the tuition and expenses of UWC graduates at Wellesley and four other institutions. The United World Colleges are a network of high school campuses on five continents where 2,000 carefully selected teenagers from extremely diverse backgrounds live, study and work together.
The Jack Kent Cooke Scholars come from 33 states and nine countries. "Our objective is to help high-achieving students who have financial need, whether they are attending a middle school in rural Kansas or Harvard Medical School," said Dr. Matthew J. Quinn, executive director of the Foundation. "The graduate scholarship recipients know hard work and sacrifice. These scholarships recognize their devotion to education, reward their efforts and provide an incentive to continue excelling and, we hope, to benefit society."

Ponce de Leon Barido earlier received a 2004 Schiff Fellowship, made possible through the Jerome A. Schiff Charitable Trust. The award supports the scholarly work of students in Wellesley's senior honors program. In the spring of 2003, she completed an internship program in Kabul, Afghanistan, helping with that country's reconstruction.

"I'm a firm believer that you always need to try to put yourself outside your comfort zone, because that's really when you grow," she said in an article in the Wellesley alumnae magazine. Ponce de Leon Barido and other interns were restricted to two city blocks considered safe. She spent 10 ½ weeks in the Afghan capital first with the United Nations Environment Program and then with the chief of staff of Afghanistan's president, writing speeches and helping with correspondence.

The experience inspired her to an active role in the world. When she returned to Wellesley from the internship, she added international relations to her physics major and cross-registered at MIT to learn about technology appropriate to developing countries. She subsequently traveled to Brazil to help find a source of drinking-water contamination and to improve electricity for villagers.

In 2004, she organized a Wellesley College benefit for the SPARKS academy in Kabul, Afghanistan, an independent, co-educational school that selects students based on merit and grants scholarships. SPARKS (which stands for Students Providing Aid, Relief and Kind Services) is the organization that allowed her to travel in Afghanistan for her internship.

"It's very important for a person to think about giving back," she told Wellesley magazine. "It can't only be about what I'm getting all the time. We're granted this incredible opportunity that so few people have in the world. It can't just be for you."

This fall a new first-year student, Samantha Bellach of Port St. Lucie, Fla., will attend Wellesley with a scholarship from the Jack Kent Cooke Foundation. Since eighth grade, Bellach has received support from the Foundation for her talents in science, the arts and humanities.
The Jack Kent Cooke Foundation is a private, independent foundation established in 2000 to help young people of exceptional promise reach their full potential through education. It focuses in particular on students with financial need. The Foundation's programs include scholarships to undergraduate, graduate and high school students, and grants to organizations that serve high-achieving students with financial need. For more information, go to www.jackkentcookefoundation.org.

Since 1875, Wellesley College has been a leader in providing an excellent liberal arts education for women who will make a difference in the world. Its 500-acre campus near Boston is home to 2,300 undergraduate students from all 50 states and 68 countries. For more information, go to www.wellesley.edu.

###