Wellesley Professor Preserves Images of Lost City in China
30th anniversary of tragic earthquake memorialized by in historic photos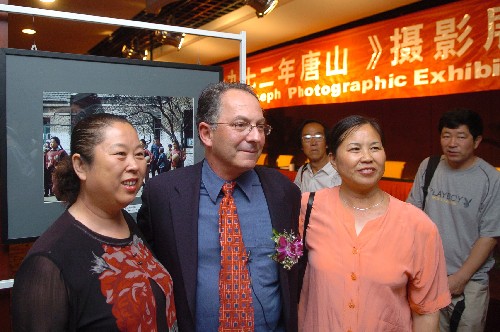 WELLESLEY, Mass. -- Thirty-four years ago, Wellesley College political science professor William A. Joseph never dreamed that snapshots he took in China would become a cherished memoriam for a city that disappeared. This summer, his photographs have been incorporated into an exhibit to remember the city of Tangshan, which was wiped out by an earthquake not long after Joseph's visit.
"I first went to China in March and April of 1972, which was very early in the emerging détente between the U.S. and the People's Republic of China (PRC) after more than 25 years of hostility and estrangement," said Joseph, shown at left at the Tangshan exhibit. "Sino-American relations began to thaw in the early '70s; very few Americans had been to China in the period since the Chinese Communist Party took power in 1949."
Joseph, then a graduate student at Stanford, belonged to a political action group, the Committee of Concerned Asian Scholars (CCAS), founded in the late 1960s by Asian studies faculty and students opposed to the Vietnam War.
"They felt it was the responsibility of scholars in the field to engage in educational discussions about the war and disseminate public information about it," Joseph said. "CCAS came to the attention of Chinese authorities, and a delegation of members who were then studying in Hong Kong—since Americans couldn't study on the mainland—were invited to go to China in the summer of 1971." Among the first groups to go to China from the U.S., CCAS was invited to send a second delegation in early 1972.
That trip coincided with a major shift in global politics: President Richard Nixon and national security advisor Henry Kissinger had entered into negotiations with China about opening relations between the two countries.
"I was among those invited to represent the Stanford chapter of CCAS," Joseph said. "We entered China a few days after Nixon completed his historic journey. Our delegation was part of China's effort to engage in 'people-to-people diplomacy' at the same time they were engaging in high-level negotiations with Nixon and Kissinger."
The group entered China on foot by crossing a bridge between Hong Kong (then still a British colony) and the PRC. "It was like stepping into another world," Joseph said. "Until we got there we had no idea what our itinerary would be, but were told it would be about a five-week trip."
The group split up and traveled to different areas of China using trains and planes.
" What we saw was what might be called 'political tourism'," Joseph said. "It was a lot of 'look at what the revolution and Chairman Mao have accomplished.' This was during the Cultural Revolution when Chinese communism was at its most radical. We saw communes, factories, day-care centers, hospitals and even a prison. Our hosts tried to grant our requests as much as possible. We were almost always accompanied by our guides but there were times we were able to wander on our own. However, even then there was always someone 'official' not too far behind us."
During that trek, Joseph found himself in Tangshan, an industrial city about 100 miles east of Beijing.
"I'm still not sure why they took us there except it was a rather ordinary working-class city," Joseph said. "It is also the home of the Kailuan coal mines – important to modern Chinese history in that they were taken over by the British in the 19th century and became a symbol of western imperialism's impact on China. I took nearly a thousand photos in China, about a hundred and fifty of which are of Tangshan and the surrounding countryside. About three or four years ago, I began to digitize them and put them into an online searchable database with financial and technical support from Wellesley." The college's Information Services staff (particularly project leader Michael Hawkins) and several students in Wellesley's Knapp Instructional Technology Internship Program helped to make Joseph's China photos available for the world to see.
"From time to time, I receive e-mails from people in China saying they recognize scenes from their childhood in my photos, which brings tears to their eyes," Joseph said. "Color photos of daily life in China from the early 1970s are rather rare – especially in a widely accessible digitized format."
While the photos would have been an important historical record and teaching tool on their own, a tragic event greatly elevated their significance. This summer marks the 30th anniversary of a 7.8 magnitude earthquake the killed about 240,000 people in Tangshan and destroyed most of the city. Tangshan literally had to be rebuilt from the ground up.
In early June, organizers of a Tangshan retrospective exhibit contacted Joseph, asking if they could use photos from his Web site to remember their lost history.
"I told them it would be an honor to have you use them," he said. Joseph was invited to Tangshan for the opening in mid-July of an exhibition of his photos, one of the events commemorating the 30th anniversary of the earthquake. Sponsored by the Tangshan Photograph House, the exhibit opened in the grand ballroom of the city's newest hotel and then moved to the city hall. China Central Television interviewed Joseph about his photos and the exhibition. In addition, a multitude of Chinese Web sites ran stories and photos.
"The experience was quite overwhelming," Joseph said upon his return to Wellesley this week. "It will take some while to digest. The amazing thing about the coverage of the exhibition on the Chinese Web pages is that they literally reach millions of people."
Tangshan Photograph House will soon publish a book of photos, including those taken by Joseph in 1972 and others captured at the 2006 events. To see his historic photos, go to Joseph's Web site at www.wellesley.edu/Polisci/wj/China1972/main.html
For a sample of photos taken at the event, including those of Joseph and his hosts, go to the Chinese language website www.newsphoto.com.cn/app/detail.asp?ID=213630

Since 1875, Wellesley College has been a leader in providing an excellent liberal arts education for women who will make a difference in the world. Its 500-acre campus near Boston is home to 2,300 undergraduate students from all 50 states and 68 countries. For more information, go to www.wellesley.edu.

###
A Tangshan child, left, captured in one of Joseph's photos from 1972, four years before the city was destroyed (see photo at right). Joseph says this photo is "particularly meaningful to me since the older brother of the boy pictured came up to me at the exhibit and with great emotion told me how much he treasured seeing the photo since his brother died in the earthquake."