Wellesley Taps Bridget Belgiovine as Athletic Director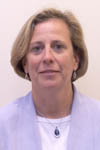 WELLESLEY, Mass. -- Dean Andrew Shennan has announced the appointment of Bridget Belgiovine as director of athletics and chair of the Department of Physical Education and Athletics at Wellesley College.
Belgiovine comes to Wellesley after serving most recently as Director of Division III of the National Collegiate Athletic Association (NCAA), where she has been a central figure in the governance of Division III collegiate athletics and has earned a national reputation as a visionary, energetic and effective leader. She is active in professional associations, having presided as president of the National Association of Collegiate Women Athletic Administrators, and a regular speaker at national conferences.
"Bridget brings to the position deep and varied experience in intercollegiate athletics, a demonstrated commitment to women's athletics and to the value of diversity, and a passionate belief in the contribution that broad-based athletic programs can make to the vibrancy and well-being of a campus community," said Shennan in making the announcement.
Before joining the NCAA in 1998, Belgiovine served for six years as director of athletics at the University of Wisconsin-LaCrosse. During her tenure, UW-LaCrosse was recognized five times as the conference program with the highest grade point average and four times as the All-Sports recipient for the most successful athletic program. In 1990, she was games director of the Massachusetts Special Olympics.
She has also served as coach, assistant professor, and assistant athletic director at Springfield (Mass.) College and taught and coached at the junior and senior high school levels in New Jersey.
Belgiovine earned her bachelor's degree at Trenton State College and her master's degree in physical education and athletic administration at Springfield College.
Wellesley currently sponsors 12 varsity sports and competes within the New England Women's and Men's Athletic Conference (NEWMAC).
Since 1875, Wellesley College has been a leader in providing an excellent liberal arts education for women who will make a difference in the world. Its 500-acre campus near Boston is home to 2,300 undergraduate students from all 50 states and 68 countries. For more information, go to www.wellesley.edu.