Mary Lefkowitz Awarded National Humanities Medal
For immediate release:
Nov. 9, 2006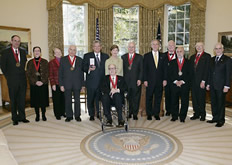 WELLESLEY, Mass. -- Mary Lefkowitz, a renowned classics scholar and professor emerita of classical studies at Wellesley College, has been presented the National Humanities Medal by President George W. Bush for her contributions to the humanities. Lefkowitz received the award at a White House ceremony attended by the President, First Lady Laura Bush and nine other recipients.
According to the National Endowment for the Humanities, the National Humanities Medal "honors individuals and organizations whose work has deepened the nation's understanding of the humanities, broadened citizens' engagement with the humanities, or helped preserve and expand America's access to important humanities resources."
Lefkowitz joined the Wellesley faculty in 1959 and was named the Andrew W. Mellon Professor in the Humanities in 1979, a position she held until her retirement in 2005. She is a prolific scholar and writer, whose articles and reviews have appeared in The New York Times Book Review, The Times Literary Supplement, The New Republic and The New York Review of Books.
Lefkowitz is well known for her work on women in antiquity, having written Heroines and Hysterics (1981) and Women in Greek Myth (1986). Women's Life in Greece and Rome, which she co-edited with Maureen B. Fant (1982) is the standard source book in the field.
She is the author of Not Out of Africa (1996) and co-editor with her Wellesley colleague, Guy MacLean Rogers, of Black Athena Revisited, a collection of essays by various scholars (1996). Because they deal with highly controversial theories about the origin of ancient Greek civilization, both books have been widely reviewed and have generated considerable discussion. While known widely for work on women in antiquity, her most recent book, Greek Gods, Human Lives, published in 2003, has received much critical acclaim for its restoration of the role of the gods in ancient narratives.
A member of the Wellesley Class of 1957, Lefkowitz completed her Ph.D. in Classical Philology at Radcliffe College in 1961.
She has been awarded fellowships by the American Council of Learned Societies, the National Endowment for the Humanities and the Onassis Foundation. She was awarded an honorary Doctorate of Humane Letters by Trinity College in 1996, which cited her "deep concern for intellectual integrity." In 1999, she received an honorary Doctorate in Philology by the University of Patras in Greece and, in 2000, an honorary Doctorate of Humane Letters from Grinnell College. In 2004, she received a Radcliffe Graduate Society Medal.
More information on the National Humanities Medal can be found on the National Endowment's website at http://www.neh.gov/news/archive/20061108.html.
Since 1875, Wellesley College has been a leader in providing an excellent liberal-arts education for women who will make a difference in the world. Its 500-acre campus near Boston is home to 2,300 undergraduate students from all 50 states and 68 countries. For more information, go to www.wellesley.edu.
###