Wellesley's Natasha Sivananjaiah Stars in New Reality Show, "Design Squad"
| | |
| --- | --- |
| FOR IMMEDIATE RELEASE: Feb. 22, 2007 | |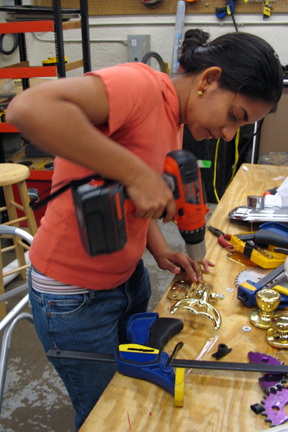 WELLESLEY, Mass. – When it comes to reality TV shows, there's no shortage of fluffy entertainment such as "American Idol," "Dancing with the Stars" – even "Nanny 911." But now the genre gains a brainy new cousin with PBS television channel WGBH's "Design Squad," featuring Wellesley College first-year student Natasha Sivananjaiah (at right). On Saturday, Feb. 24 at 11:30 am, WGBH offers a sneak preview of the series that gets underway March 24.
There's nothing lightweight about this show – but it does promise to be whimsical, entertaining and inspirational. In "Design Squad," eight students compete to design and build quirky but functional machines for real-life clients. "Fun for people of all ages, this fresh, fast-paced PBS series is the fuel behind a national, multimedia initiative designed to attract kids to careers in engineering," say its producers.
The show will air a total of 13 half-hour episodes weekly throughout the spring and summer on PBS stations nationwide. Viewers can also watch free episodes on the Web site at pbskidsgo.org/designsquad.
Natasha, the daughter of Nagabushan and Usha Sivananjaiah of Leominster, Mass., became involved with "Design Squad" at its earliest stages of development in late 2005. The action revolves around building the proverbial better mousetrap.
"These challenges are given by a client that needs a machine to do a specific task such as a machine that can make peanut butter and jelly sandwiches or fill up water balloons," said Natasha. "The teams have 2.5 days to build and test their machines and then at the end of the third day, they show it to their client and the hosts, who judge which machine is the best. Each member of the winning team gets 100 points. At the end of the season, whichever contestant has the highest number of points gets a $10,000 scholarship for college."
A 2006 graduate of the Massachusetts Academy of Arts and Sciences in Worcester, Natasha was participating in a robotics competition the same day as the audition for "Design Squad" and so almost didn't go.
"They had auditions for the pilot episode, which is the episode they use to get funding from companies," she said. "It was the fall of my (high school) junior year and my physics teacher got an e-mail from WBGH calling for auditions and she thought I should go audition. If it hadn't been for my teacher's and my parents' persistence, I would not have auditioned. So the day of the audition, I went in not expecting anything and just did what they told me to do. I remember we had to build a bridge out of string and foam blocks. A few weeks later the producer called me and said they wanted me to do the pilot episode."
Before she was done, Natasha had taken part in two pilot episodes. Then in February 2006, WGBH producers invited her to a huge casting call for "Design Squad."
"Between 200-300 students arrived to audition for the eight spots," Natasha said. "There were two sets of auditions, the initial audition and then the call backs. They were the same format as the other auditions but with harder questions. In March 2006 I found out that I made it to the show, and we started training at MIT and Olin (College of Engineering) in March. We became machine-shop certified and also took some cad drawing courses as well as some physics classes. Training ended in June and shooting started in July. We shot almost every day, 8-10 hours a day, from July to the end of August."
Now that the series is underway, Natasha can watch the results of her hard work unfold each week. Best of all, she feels her future career will benefit from the "Design Squad" experience.
"I have always had a strong background in math and science and it wasn't until recently that I decided to get a liberal arts education," she said. "Even though I have made up my mind to go to law school, the analytical skills you learn from engineering will help you in any field."

Since 1875, Wellesley College has been a leader in providing an excellent liberal arts education for women who will make a difference in the world. Its 500-acre campus near Boston is home to 2,300 undergraduate students from all 50 states and 68 countries. For more information, go to www.wellesley.edu.

###