Former Secretary of State Madeleine Albright Will Be the 2007 Commencement Speaker at Wellesley

| | |
| --- | --- |
| FOR IMMEDIATE RELEASE: March 9, 2007 | |
WELLESLEY, Mass. – Former Secretary of State and Wellesley College alumna Madeleine K. Albright will address the 560 members of the Class of 2007 and their families and friends at Wellesley College's 129th Commencement Exercises Friday, June 1, at 10:30 am on Severance Green on the Wellesley College campus.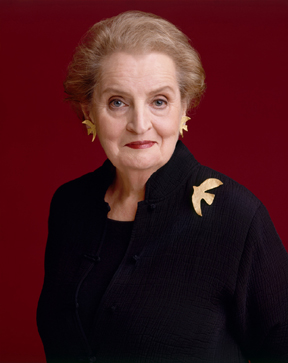 Madeleine K. Albright
(Portrait by Timothy Greenfield-Sanders)
In keeping with Wellesley tradition, the announcement of the speaker was made at a senior reception March 8. In a joint statement, the Class Council noted, "We are very excited to have such a great Wellesley alumna give our Commencement address."
A 1959 graduate of Wellesley, Albright was the first female U.S. Secretary of State, a position she held from 1997 until 2001. Before her appointment, she served as the U.S. Permanent Representative to the United Nations and as a member of President Clinton's Cabinet and National Security Council. Before joining the Clinton Administration, Albright was president of the Center for National Policy, a nonprofit research organization that promotes the study and discussion of domestic and international issues.
Albright's most recent speaking engagement at Wellesley was in 2001 when she and Senator Hillary R. Clinton, class of 1969, delivered the joint keynote address during the College's 125th anniversary celebration. Audio and a transcript from that event can be found online at http://new.wellesley.edu/Anniversary/. She delivered the commencement address in 1995 and was honored with the Alumnae Achievement Award in 1992.
In her keynote address at the 125th anniversary celebration, she encouraged Wellesley students to forge a new frontier.
"Wellesley was founded in 1875 when America was still exploring its earliest frontiers," Albright said. "I graduated in 1959 when we were about to embark on President Kennedy's New Frontier. You are the students today who will lead our nation to the next frontier – and because we're not at commencement so I don't have to lay any weight on your shoulders, we won't pursue that -- but I do hope that each of you will use the knowledge that you gained here at Wellesley to be more than a consumer of liberty but also a defender and enricher of it, employing your talents to heal and help and teach."
At Wellesley, Albright majored in political science and was a reporter for and editor of The Wellesley News. She later studied at the School of Advanced International Studies at Johns Hopkins University, received a certificate from the Russian Institute at Columbia University, and her master's and doctorate from Columbia University's Department of Public Law and Government.

Albright has also been a research professor of international affairs and director of the Women in Foreign Service Program at Georgetown University's School of Foreign Service, where she taught courses in international affairs, U.S. foreign policy, Russian foreign policy and Central and Eastern European politics, and was responsible for developing and implementing programs designed to enhance women's professional opportunities in international affairs.
From 1981 to 1982, Albright was awarded a fellowship at the Woodrow Wilson International Center for Scholars at the Smithsonian. She also served as a senior fellow in Soviet and Eastern European affairs at the Center for Strategic and International Studies, conducting research in developments and trends in the Soviet Union and Eastern Europe.

Since 1875, Wellesley College has been a leader in providing an excellent liberal arts education for women who will make a difference in the world. Its 500-acre campus near Boston is home to 2,300 undergraduate students from all 50 states and 68 countries. For more information, go to www.wellesley.edu.
###