Wellesley College Computer Science Department Hosts "Cirque du CS" Festivities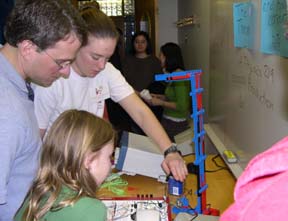 WELLESLEY, Mass.— Where can you see a simulated paper airplane flight and a firefighting Lego robot? Get your face painted, play games and watch a musical show? Enjoy popcorn and cotton candy? On Saturday, March 31, from 1-4 pm, the Computer Science Department will host its third annual Cirque du CS, a celebration of student work in computer science, media arts and science and related fields that promises to be fun for the whole family.
At the celebration, students will present demonstrations of their research and projects, including Web sites, computer graphics, animations and other work completed during courses, internships and independent studies. But the highlight of the day will be a new musical show, written by students and performed by students, faculty and staff.
According to Randy Shull, computer science, "Last year's musical played to a packed house and rave reviews," featuring "a guest appearance by the super- hero Captain Abstraction, who, along with his trusty sidekick Abstraction Bear-ier, battles the vile Sgt. Spaghetti Code and his pernicious programming practices in introductory computer science courses." This year, the play will again present a fun perspective on "the wonders of programming design."
"The event is popular with past and present students, faculty and members of surrounding communities and provides a wonderful opportunity to connect with those now working in computer-related fields," Shull said. "Several hundred people attended last year, including computer science alums from the earliest years of the major. We are hoping for an even bigger turnout this year. Who knows, perhaps Captain Abstraction will return for an encore." For more information, call 781-283-3102.

Wellesley College has been a leader in the education of women for more than 130 years. The College's 500-acre campus near Boston is home to 2,300 undergraduate students from all 50 states and 65 countries.

###