Author Chris Hedges to Speak on "American Fascists: The Christian Right and the War on America"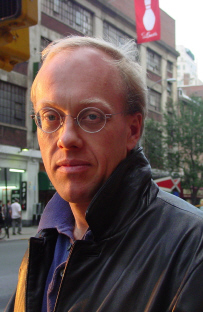 WELLESLEY, Mass.— Chris Hedges, acclaimed war correspondent and best-selling author, will deliver the Wellesley College Religion Department's 2007 Elisabeth Luce Moore Lecture, "American Fascists: The Christian Right and the War on America," Wednesday, April 18, at 7:30 pm in Pendleton East Hall, room 239, on the Wellesley, Mass., campus. Hedges will raise issues covered in his controversial new book by the same name.
Hedges won a 2002 Pulitzer Prize for his work on global terrorism for The New York Times, but resigned from the newspaper when it attempted to discipline him for his early and outspoken opposition to the Iraq war. Since then, he has written a series of books exploring the crucial moral issues facingAmericans, including War Is a Force that Gives Us Meaning (2003) and Losing Moses on the Freeway: The 10 Commandments in America (2005).
His new book, American Fascists, argues that certain elements of American Fundamentalism structurally resemble the early Fascist movements in Italy and Germany during the 1920s. The book also makes a religious critique of Fundamentalism, drawing on Hedges' graduate training at Harvard Divinity School. Hedges is one of the nation's rising public intellectuals in the field of American religion and ethics, currently holding appointments at the Nation Institute in New York and as Anschutz Distinguished Fellow at Princeton University.
The lecture is free and open to the public. For more information, call 781-283-2600.

Wellesley College has been a leader in the education of women for more than 130 years. The College's 500-acre campus near Boston is home to 2,300 undergraduate students from all 50 states and 65 countries.
###