Wellesley English Professors Publish Two New Books on Poetry
FOR IMMEDIATE RELEASE:
April 4, 2007
WELLESLEY, Mass.—Two members of Wellesley College's English Department are marking the publication of new books, one looking at modern poetry, the other at poetry by the father of English literature. On Tuesday, April 10, at 4:15 pm in the English Department Common Room, Founders Hall 106, they will be honored at a public celebration.
Dan Chiasson and Kathryn Lynch
Dan Chiasson has written One Kind of Everything: Poem and Person in Contemporary America (University of Chicago Press, 2007). He is a poet with two previous books of poetry, The Afterlife of Objects (University of Chicago, 2002) and Natural History (Alfred A. Knopf, 2005), which was named among the "100 Most Notable Books of the Year" by The New York Times.

"My book of criticism, One Kind of Everything: Poem and Person in Contemporary America focuses on the use of personal a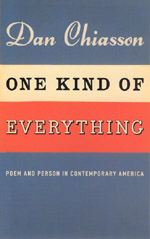 nd autobiographical material in recent American poetry and the backlash against such material," he said.

"Taking on one of the most crucial issues in American poetry of the last 50 years, celebrated poet Dan Chiasson explores what is lost or gained when real-life experiences are made part of the subject matter and source material for poetry," notes his publisher. "One Kind of Everything elucidates the uses of autobiographical fact and constructions of personhood in American poetry since World War II, with helpful reference to American literature in general since Emerson."
Chiasson also writes about new poetry and fiction regularly in The Threepenny Review, Poetry, Slate and The New York Times.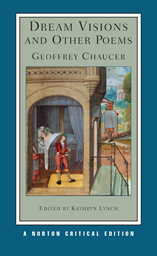 Kathryn Lynch has edited a book, Dream Vision and Other Poems: Geoffrey Chaucer (W.W. Norton, 2007). Her book presents Chaucer's four dream visions and selected shorter poems and is suitable for both beginning and advanced students. There is a section on context, which connects the poems to their classical and medieval foundations and includes works by Virgil, Ovid, Cicero, Boethius, Dante and Boccaccio, among others.

Under the topic of criticism, Lynch has chosen six essays that address the poems' central themes. Contributors include Charles Muscatine, A. C. Spearing, R. T. Lenaghan, Richard Firth Green, Elaine Tuttle Hansen and Steven Kruger.

"The present moment is an especially exciting time for editorial work on Chaucer," Lynch writes in the book's preface. "Great strides have been made recently in editorial procedure and in our understanding of the history of Middle English dialects and scribal practice. The recent identification of Chaucer's scribe offers an example of the kind of breakthrough that makes working on Chaucer right now so exciting."

Lynch is the Katharine Lee Bates and Sophie Chantal Hart Professor of English at Wellesley. She is the author of The High Medieval Dream Vision: Poetry, Philosophy, and Literary Form and Chaucer's Philosophical Dream Visions and editor of Chaucer's Cultural Geography. Her articles have appeared in The Chaucer Review, Studies in the Age of Chaucer and Speculum. She has held National Endowment for the Humanities Fellowships for College Teachers.
Wellesley College has been a leader in the education of women for more than 130 years. The College's 500-acre campus near Boston is home to 2,300 undergraduate students from all 50 states and 65 countries.
###