Kathryn Wasserman Davis 100 Projects for Peace Awards Funding to Three Wellesley Students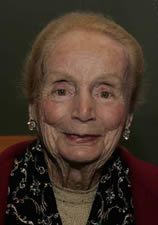 WELLESLEY, Mass.— The Kathryn Wasserman Davis 100 Projects for Peace program has announced that three Wellesley College students will receive funding to undertake their proposed projects this summer. The objective of the program is to encourage and support motivated youth to create and implement their ideas for building peace throughout the world in the 21st century.
The initiative is supported by Wellesley alumna and trustee emerita Kathryn Davis, a member of the Class of 1928, who is an accomplished internationalist and an extraordinary philanthropist. Davis, on the occasion of her 100th birthday earlier this year, established the program with a donation of one million dollars so that each of the projects will receive $10,000. "I want to use my 100th birthday to help young people launch some immediate initiatives – things that they can do during the summer of 2007 that will bring new thinking to the prospects of peace in the world," Davis said.
The winning projects, from students at 65 colleges and universities, propose specific plans of action that will have lasting effects – from youth empowerment and education programs to improved community water supplies to a multitude of agrarian enterprises in countries where famine is pervasive. Students will travel to more than 40 countries over the summer to implement their projects. They will report on their experiences once they return.
"The innumerable complexities of our world demand great creativity and courage to think beyond traditional concepts and boundaries and try new ways of making peace," said Wellesley College President Diana Chapman Walsh. "Through the '100 Projects for Peace' initiative, Kathryn Davis has provided the opportunity for students to imagine and test some of these new possibilities. In doing so, she gives us all hope."
Dafna Ashkenazi '08 will conduct intensive Arabic language workshops in Arara, Israel. Ashkenazi, a double major in psychology and Spanish, will work in collaboration with her twin sister, Noga, a sophomore at Grinnell College, and Almuntada Altakadumi, a non-profit organization dedicated to the promotion of the Arabic language and culture in Israel. Her project, "Language for Coexistence," aims to ease the mutual distrust and resentment between Israeli Jews and Israeli Arabs by reducing the language barrier between them.
"Having been politically active in Israeli peace movements since an early age, we feel that the '100 Projects for Peace' is an incredible opportunity for us to implement our firsthand knowledge and experience of the Middle East conflict and achieve what we believe to be an important step towards its resolution," said Ashkenazi, an Israeli native. "Equipped with new insights gained through a direct and personal contact with Israeli-Arabs, workshop graduates will become ambassadors of co-existence and supporters of a multi-cultural society."
Dawoun Jyung's project, "Empowering Youth Through Service: from U.S. to South Africa," aims to help high-school students from socio-economically disadvantaged backgrounds in New York to become peacemakers by serving internationally disadvantaged communities. Jyung '07, a sociology major from Williston Park, New York, will be working with the students to design and lead art and sports activities for the children of the Carmel Orphanage in Mamelodi, South Africa.
Shayla Adams '08 will continue her work with Global Learning, a not-for-profit organization founded by Wellesley alumna Jana Kiser '00. Global Learning is dedicated to using education as a tool for peace and justice in Costa Rica, Mexico and Nicaragua. Adams, an urban studies major, will spearhead a new Global Learning summer program in Michoacán, Mexico. Approximately 20 volunteers will teach subjects not otherwise available to students, such as art and music, as well as supplement learning in other subjects.
The 100 Projects for Peace program invited applications from all students in schools participating in the Davis United World College (UWC) Scholars Program, which is funded by Kathryn Davis' son Shelby M.C. Davis. Students were asked to submit a plan for their own grassroots projects for peace that they would implement during the summer of 2007. A competition for the funding took place on 65 of the 76 campuses in the UWC Scholars Program, which provides grants to select American colleges and universities in support of students from all over the world who have completed their pre-university studies at UWC schools.
"We are very grateful to all the students who submitted proposals and the many faculty and staff on all those campuses across the country who played a part in evaluating and submitting the students' work," said Philip O. Geier, executive director of the Davis UWC Scholars Program. "Mrs. Davis, who just turned 100 years old in February, sends her congratulations to all the students for their creativity and commitment. She feels this is a wonderful way to celebrate her birthday."
A complete list of the winning schools and projects, as well as a video interview with Davis from 2006, is available on the program's website.
Wellesley College has been a leader in the education of women for more than 130 years. The College's 500-acre campus near Boston is home to 2,300 undergraduate students from all 50 states and 65 countries.
###