Indianapolis Businesswoman Alecia DeCoudreaux to Chair
Wellesley College Board of Trustees
FOR IMMEDIATE RELEASE:
May 3, 2007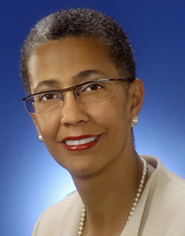 WELLESLEY, Mass. -- The Wellesley College Board of Trustees has elected Indianapolis resident Alecia A. DeCoudreaux to be Chair of the Board, effective July 1, 2007. In a unanimous vote, DeCoudreaux, who is the first African-American to chair Wellesley's board, was selected to succeed Victoria J. Herget, who has led the board since 1999 and will complete her 15 years of trustee service in June.
A member of the Class of 1976, DeCoudreaux is vice president and general counsel for Lilly USA. She has held various legal and executive positions with Eli Lilly and Company since 1980.
A Wellesley trustee since 2002 and a member of the presidential search committee, DeCoudreaux also has served on the board of Wellesley's alumnae association and National Development and Outreach Council and has been an active class volunteer.
DeCoudreaux serves in volunteer leadership roles at several community organizations. She is a member of the Board of Directors of the Indiana University Foundation and the Board of Visitors of the Indiana University School of Law at Bloomington; a member of the Capital Improvement Board of Managers (of Marion County, Indiana) and of the Women's Fund of Central Indiana Emeritus Board. She also is the immediate past chair of the Board of Directors of Indianapolis Downtown, Inc., the non-profit organization that oversees the development, revitalization, and marketing of the city's downtown.
An English and political science major at Wellesley, DeCoudreaux earned her J.D. from the Indiana University School of Law at Bloomington, where she now serves on the board of visitors.
Since 1875, Wellesley College has been a leader in providing an excellent liberal arts education for women who will make a difference in the world. Its 500-acre campus near Boston is home to 2,300 undergraduate students from all 50 states and 68 countries.
###