Senior Yamini Jha Will Deliver 2007 Student Commencement Speech
FOR IMMEDIATE RELEASE:
May 24, 2007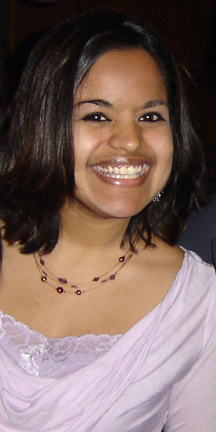 WELLESLEY, Mass. -- Martin Luther King famously talked about goals long dreamed of and a life too short to see their fulfillment. "I've seen the Promised Land," he said. "I may not get there with you."
On June 1, senior Yamini Jha, right, will achieve two of her dreams: graduating from Wellesley College and serving as her class's student commencement speaker. But one important person who inspired her journey will be missing among the families and friends gathered to celebrate.
"When my elder sister graduated from Wellesley in 1999, I remember thinking that being elected to speak at the commencement ceremony, in front of distinguished faculty, administration, alums and family alike, must be the greatest service a student could do for one's alma mater – and not to mention, the greatest privilege bestowed upon her," Jha said.

Years later, Jha found herself among Wellesley's Class of 2007, on her way to realizing her dreams like her big sister, Nayana.

"Since I arrived at Wellesley, my father consistently reminded me of my desire as a mere 14-year-old to one day speak on behalf of my graduating class," Jha said. "My father actually passed away just one short month before commencement, and it is in his memory and with his blessings that I look forward to sharing my parting words with the community that has become an integral component to my idea of 'home.'"
Jha, 22, of Minneapolis, won the honor of addressing the 560 members of her graduating class, their families and friends at Wellesley College's 129th commencement exercises. She follows in the footsteps of Hillary Rodham Clinton, Wellesley class of 1969, who served as the first student speaker. Seniors compete for the honor and are chosen by a committee composed of students, administrators and professors. She will share the stage with guest commencement speaker Madeleine Albright, former secretary of state and member of the Wellesley Class of 1959.

"It is a great honor to be given the opportunity to speak on behalf of the Class of 2007 – a diverse class with different ambitions, outlooks and approaches to the world at large, yet united by one common mission: to share our knowledge, compassion and determination with those less fortunate," Jha said.
Jha is the daughter of Sipra Jha and the late Dr. Prabhakara Jha, who emigrated from Patna, Bihar, India. She graduates with a double major in economics and English. After graduation, she will work at Target Corporate Headquarters in Minneapolis, where she will be a strategic pricing analyst. Her long-term plans include attending law school.
At Wellesley, she has amassed an impressive list of honors and community service, particularly on behalf of her residence hall, Munger Hall. She earned first-year academic distinction and the 2007 Black Bart Award, which recognizes an outstanding Munger Hall resident who exemplifies dedication beyond the call of duty. She has served as senator, member of House Council and vice president of administration for Munger. In addition, she has been the chair of the Senate Policy and Ethics Committee, the College Government president's publicist, the General Judiciary ombudswoman and student liaison to the Committee on Faculty Appointments and to the Committee on the First-Year Experience. She also has volunteered as a public speaking tutor and as a first-year mentor.
Jha now has added one more goal to her Wellesley career: honoring the father who inspired her to reach for her dreams.
Since 1875, Wellesley College has been a leader in providing an excellent liberal arts education for women who will make a difference in the world. Its 500-acre campus near Boston is home to 2,300 undergraduate students from all 50 states and 68 countries. For more on Wellesley's 2007 Commencement, go to www.wellesley.edu/PublicAffairs/Commencement/.


###