New Edition of Women in Greek Myth, by Wellesley's Mary Lefkowitz, Explores Women's Positive Experiences in Ancient Society
FOR IMMEDIATE RELEASE:
July 17, 2007
WELLESLEY, Mass. -- Ancient Greeks might be surprised by our modern assumptions about their way of life, including the ideas that Greek men disliked or hated women, were afraid of their sexuality and determined to exclude them from the world of culture and civilization.
"Modern scholars appear to suppose that women writers were actively discouraged, that women's advice was deliberately unheeded and that women were never seen as positive role models of human behavior," said Mary Lefkowitz, professor emerita of classical studies at Wellesley College and co-editor of Women's Life in Greece and Rome. "I suggested that, on the contrary, women could play all these roles and more."
Lefkowitz explores this idea in the second edition of Women in Greek Myth (John Hopkins University Press, 2007), which revisits myths, the ancient stories about the relations between gods and human beings that influenced Western literature for centuries.
The updated and expanded edition includes a new preface and six chapters on such topics as heroic women in Greek epic, seduction and rape in Greek myth, and the parts played by women in ancient rites and festivals. The first edition, published in 1986 and still in print, has been translated into Greek and German.
"Almost as soon as Women in Greek Myth was published I realized that there was still more that needed to be said about the positive side of women's experience," Lefkowitz said. "So I began to write about how females, both divine and mortal, act as a civilizing force."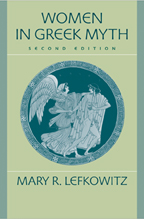 Women played a central role in the religious life of various city-states. For example, the myths about the sacrifice of maidens suggest that the ancients placed a high value on the lives of women, Lefkowitz said.
"Even myths about gods raping mortal women turn out in most cases to be stories about abductions that conferred lasting benefit on their mortal 'victims'," Lefkowitz said. "Mortal men carried off by goddesses are not so fortunate."
Within the pages of the new edition, Lefkowitz concentrates on aspects of women's experiences most often misunderstood- their life apart from men, marriage, influence in politics, self-sacrifice and martyrdom, and misogyny.
"Greek myths remain part of us, despite all the differences between our culture and theirs," Lefkowitz said. "
A reviewer from New England Classical Journal said the previous edition, "exemplifies the characteristics of philological mastery, poetic insight, historical understanding, and lucid style that we have come to expect in a book by Mary Lefkowitz." An Observer reviewer agreed, describing it as a "smashing book in every sense of the word."

Wellesley College has been a leader in the education of women for more than 130 years. The College's 500-acre campus near Boston is home to 2,300 undergraduate students from all 50 states and 65 countries.
###