New Book by Wellesley College Professor Traces History and Lives of 'Forgotten' African Indians
FOR IMMEDIATE RELEASE:
Aug. 29, 2007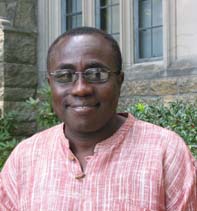 WELLESLEY, Mass.— It's not only the American continent that has been a place of diaspora (or scattering) of African people through slavery and immigration.In a new book by Wellesley College's Pashington Obeng, the history of displaced Africans and their descendants in South Asia draws attention to an almost forgotten people.
Obeng, assistant professor of Africana studies at Wellesley, has written Shaping Membership, Defining Nation: The Cultural Politics of African Indians in South Asia (Lexington Books, 2007). In it, he examines the history, faith and cultural practices of the Karnataka African Indians, also known as the Siddis or Habshis. Drawing upon years of research in India, he describes how people belonging to this minority group have struggled to create and express an African Indian identity.
"My search started during a sabbatical to India," said Obeng, who previously had found only a single academic article on the topic. "I kept asking about minority groups in India and heard about oral histories about Africans. One person said, 'I have seen people who have hair like yours.' Still others said the only Africans they knew were current college students studying at Indian universities."
His persistence eventually paid off as he learned about the long, circuitous history of communities of African Indians. It's a story of survival, endurance and rebirth.
"(African Indians) have depended on their faith and their cultural resources to endure, to resist, to struggle for freedom and to order their lives," Obeng said.
Obeng says Africans in India have a 500-year history, one that predates Africans' arrival in North America.

"Between the 10th and 16th century, Africans were voyagers," Obeng said, with travels that took them over the Indian Ocean, the Mediterranean and the Red Sea. "They went in as many places as can be imagined, in a time that was also marked by African slave traders, who also carried Africans to East Asia long before the North American slave trade began."
Africans found themselves in these foreign lands for a variety of reasons – including as slaves held against their will, victims of untold atrocities. Men were castrated to serve as eunuchs; women were held as concubines. All had to learn to survive in an unfamiliar, often harsh, foreign culture.
Yet, throughout this history, Africans in India have survived and at times thrived, rising to positions of power in colonial British times. Some were able to take advantage of opportunities in the military or other positions of leadership. But in more recent years, it has been a different story.
"Great numbers have fallen into the underclass of India," Obeng said, noting that Africans are typically called "coolies," members of the agricultural poor. "But there is a movement today to help them assert their identity through art, religion, music, dance, theater and education."
Part of the struggle is, as his book title states, to find a way of "shaping membership" for these people in India and other adopted countries.
"As part of Africans of the diaspora, and thus citizens of transnational communities, they have distinctive features but, at the same time, they share the history of other Africans who either voluntarily or forcibly emigrated out of Africa," said Obeng. "My hope is in 10 years' time, we will be able to identify 100 of such descendants of Africans who have finished high school and college and are working in the system, asserting who they can be in the future."
His book has drawn attention from other scholars, including J. Lorand Matory, professor of anthropology and of African and African American studies at Harvard University.
"Pashington Obeng charts the colonial and postcolonial circumstances of the Siddis' marginalization and impoverishment, but not only that," said Matory. "Instead of reducing Siddi experiences to a set of historical types or sociological generalizations, the author documents with pathos and detail the public performances, healing practices, financial decisions, legal claims, ethnic organizations, political strategies and, above all, multiple and hybrid religious expressions through which Obeng's living acquaintances have fought for well-being and respect. This vivid portrait of black oppression and hope in South India will be an eye-opener for all students of the African diaspora."
Obeng teaches Africana studies at Wellesley and at Harvard. He is a graduate of the University of Ghana and of Trinity College and earned a Ph.D. at Boston University, specializing in religion and cultural communication. He is also a graduate of Princeton Seminary in New Jersey, where he studied for his master's in theological anthropology and communication.
Obeng has done postdoctoral studies at the Center for the Study of World Religions and the Afro-American Studies Department, both at Harvard University, and at St. Antony's College, Oxford University, England. He is the author of Asante Catholicism: Religions and Cultural Reproduction among the Akan of Ghana and numerous articles on religion, culture and African diaspora studies.
Since 1875, Wellesley College has been a leader in providing an excellent liberal arts education for women who will make a difference in the world. Its 500-acre campus near Boston is home to 2,300 undergraduate students from all 50 states and 68 countries.
###