Wellesley College Presents Free Live Broadcast of Washington National Opera's La Bohème Sept. 23

Simulcast Will Take Place Sunday, Sept. 23, from 2-4:30 pm - Free Limited Tickets Available to the Public
FOR IMMEDIATE RELEASE:
Sept. 6, 2007; click on photo for downloadable print quality version
WELLESLEY, Mass.— Wellesley College will present a free, live broadcast of Washington National Opera's edgy new production of Puccini's La Bohème Sunday, Sept. 23 from 2-4:30 pm. Wellesley is one of 32 schools across the country presenting the live simulcast from the Opera House stage at the Kennedy Center in Washington, D.C. This event is anticipated to be the largest ever simultaneous viewing of an opera in the world, with more than 45,000 expected viewers. A limited amount of tickets are free and available at the Wang Campus Center information desk on the Wellesley College campus beginning Tuesday, Sept. 11. Hours are 12:30-6:30 pm Monday through Saturday.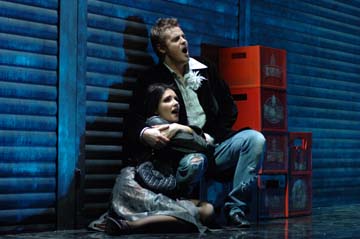 The main location for the event is Jewett Arts Center Auditorium on the Wellesley College campus. Overflow seating will be offered in Collins Cinema, adjacent to the Davis Museum and Cultural Center, and the classroom building Pendleton West, room 212.
"Wellesley College is very fortunate to be able to participate in this spectacular and rare event," said Gurminder Bhogal, assistant professor of music at Wellesley. "We are thrilled that our community will have the chance to hear talented young singers perform in this new production of Puccini's 1896 opera, La Bohème, at three venues across campus. This is a wonderful opportunity for all of us to revise our preconceptions about opera and consider how it is relevant to our lives today. Mariusz Treliński's provocative production will allow us to do just this; to think about how song, drama, music and staging can all come together to tell a story that speaks to each of us."
La Bohème is a timeless tale of ambition, love, loyalty, jealousy and sorrow. It provided the inspiration for the modern day musical, Rent. The Washington National Opera (WNO) production is set in the 21st century and features a cast of talented young artists. Organizers feel it will resonate with young audiences through its theme of the struggle to find one's identity and the hunger for a deeper connection to society. The opera is a human drama of loss and love, as the characters try to launch careers and connect with one another in an increasingly technological world.
"What a wonderful way to draw younger audiences to opera with this innovative new production of La Bohème from Polish director Mariusz Treliński!" said Plácido Domingo, general director of WNO. "We are so happy to present this simulcast free not only to our school partners across the country, but also to anyone in the Washington, D.C., region who wants a taste of top quality opera – for free – at the Washington Monument on the National Mall."
Prior to the simulcast, WNO will distribute educational materials to participating schools about La Bohème as well as how to develop a professional career in opera as an artist, director or conductor.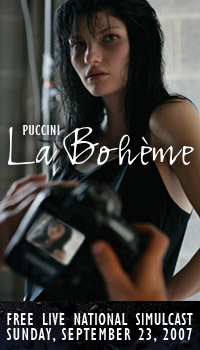 "With this initiative, Washington National Opera dramatically expands our pledge to bring opera to the nation and the next generation," said WNO President Kenneth Feinberg. "We are excited to use simulcast technology to give the gift of opera to the American public in a way that has never been done before."
In addition to Wellesley College, two other Massachusetts schools are among those planning to present the opera simulcast: Brockton (Mass.) High School and the University of Massachusetts Amherst. Others institutions around the country include Ainsworth High School in Nebraska, Bryn Mawr College, Cumberland School of Law at Samford University in Alabama; Duke University; Hinsdale (Ill.) High School, Lowell High School in San Francisco, New York University, Ohio University, Princeton University, Rice University, Temple University, Mary Louis Academy in Jamaica, N.Y., Thomas S. Keenan School for the Arts in Winston Salem, N.C., Tulane University, Southern Virginia Higher Education Center, Union College, U.S. Military Academy at West Point, University of Alabama, University of Arkansas, University of Colorado, University of Florida, University of North Carolina, University of Oklahoma, University of Virginia, University of Montana, University of Richmond and University of Washington.
About Wellesley College
Since 1875, Wellesley College, located in Wellesley, Mass., has been a leader in providing an excellent liberal arts education for women who will make a difference in the world. Its 500-acre campus near Boston is home to 2,300 undergraduate students from all 50 states and 68 countries. For more on Wellesley, go to www.wellesley.edu.
About WNO
WNO was at the forefront of simulcast technology with its broadcasts of Porgy and Bess in 2005 and Madama Butterfly in 2006, both on the National Mall. Simulcasts are one aspect of WNO's commitment to make opera available to a wider, more diverse audience. New initiatives include a partnership with XM Radio to broadcast WNO performances. For more information, go to www.dc-opera.org.
For more information, contact Gurminder Bhogal, Wellesley College Music Department, at 781-283-2063 or gbhogal@wellesley.edu.
###
Photos: Stefan Okolowicz for Teatr Wielki-National Opera Warsaw