Wellesley College Student from Denver Speaks at National Scientific Symposium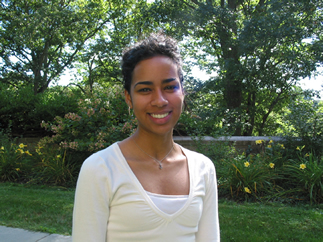 WELLESLEY, Mass.— Wellesley College senior and biochemistry major Sharline Madera of Denver, Colo., was one of five undergraduate student researchers selected to give an oral presentation at the 21st Annual Symposium of the American Protein Society this July. In June, she was also one of 150 students accepted to the American Chemical Society's Scholars Program, an initiative aimed at encouraging minority students to pursue undergraduate degrees in the chemical sciences.
Madera, daughter of Tobias and Josefina Madera of Denver, has been conducting research with Wellesley College assistant chemistry professor Didem Vardar-Ulu since the winter of 2007. Her work focuses on transmembrane receptors called notch proteins, which are involved in cell differentiation, cell communication and gene regulation processes in mammals. Irregular activity of these notch proteins has been identified as a cause of human diseases such as leukemia.
Originally from Santo Domingo, Dominican Republic, Madera received a travel grant from the Minority Access to Research Careers Program (MARC), which she used to cover expenses related to the conference. Of her experience at the symposium, Madera said, "I truly enjoyed meeting other undergraduates and graduate students, and I mostly enjoyed being able to discuss research ideas and future plans, such as graduate school. I am also very proud of representing Wellesley College as the only female of the five invited speakers."
This year Madera's ongoing research will be the subject of her senior thesis. After graduating from Wellesley, she hopes to earn an M.D./Ph.D. in infectious diseases and become involved in research that may lead to better vaccines, new treatments and potential cures for AIDS.
In addition to working with Vardar-Ulu at Wellesley, Madera tutors other students in chemistry and plays on the rugby team.

Wellesley College has been a leader in the education of women for more than 130 years. The College's 500-acre campus near Boston is home to 2,300 undergraduate students from all 50 states and 65 countries.

###