Wellesley College To Replace Invasive Plants
FOR IMMEDIATE RELEASE:
Sept. 12, 2007
WELLESLEY, Mass.— Five years ago, Wellesley College successfully completed the clean-up of the former Henry Woods Sons Paint Factory on the western edge of the campus, constructing new athletic fields and facilities in its place. As part of the clean-up, Wellesley created three new wetlands to replace wetlands found to have contaminated soils near Paintshop Pond. Since then, the new wetlands have grown into a diverse community of plant species, providing a habitat for wetland birds, dragonflies and other animals. The wetlands are also enjoyed by countless people walking on the boardwalk and lake trail.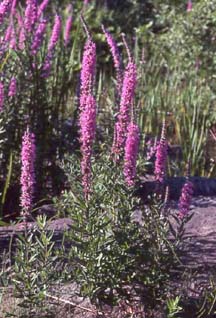 Purple loosestrife, an invasive species.
Photo: Canadian Weed Science Society
Unfortunately, three non-native, invasive plant species have become established and threaten to displace the native plants. These invasive species provide a relatively poor habitat for most wildlife species, according to Lisa A. Standley, Ph.D., chief environmental scientist with Vanasse, Hangen, Brustilin (VHB) Inc. of Watertown, Mass., a planning, development and environmental company. VHB was the firm that did most of the environmental work in creating the new wetlands for Paintshop Pond. The company has been monitoring the wetlands since they were installed.
At the request of the U.S. Army Corps of Engineers, which originally granted one of the permits needed for the clean-up, the College has agreed to attempt to remove these invasive plants—purple loosestrife, common reed and European black alder—and replace the alder with native shrubs and tree.
The College applied for a permit from the Wellesley Wetlands Protection Committee, under the Massachusetts Wetlands Protection Act and Wellesley Wetlands Bylaw, to undertake this habitat improvement program. The plan has been approved, and the College intends to complete the work in September.
Purple loosestrife will be controlled by releasing small European beetles called galerucella, which eat the leaves and will, over time, kill the plants. Galerucella beetles have been widely used throughout New England, including at Cutler Park in Dedham and Needham, Mass., and do not eat native plant species. These beetles have recently colonized the Lake Waban and Paintshop Pond wetlands by dispersing naturally from other locations and have almost completely defoliated the purple loosestrife.
Common reed and European black alder can only be successfully eradicated by using a carefully applied, non-selective herbicide called glyphosate, which has been found to be non-toxic to aquatic organisms. The product does not accumulate in food chains, is immobilized in soils and is rapidly removed from the environment by chemical bonding with soil particles and microbial degradation, according to Standley.
This herbicide has been successfully used to control common reed stands in South Natick and at a wide range of other sites in New England, including Neponset Marsh, Kampoosa Bog and at sites in Connecticut and New Hampshire.
The EPA-approved herbicide Rodeo, manufactured by Monsanto, has been successfully used at these sites and until recently was the only glyphosate herbicide approved by the EPA for use in wetlands.
Common reed will be treated by spraying individual stems using a hand-held backpack sprayer. European black alder will be treated by injecting small capsules of Rodeo into the stems. Once the trees have died, they will be cut and left in the wetland to provide shelter for small animals.
The areas where the alders have become established will then be replanted with native species including highbush blueberry, red maple and black willow.
The College's invasive species control program will safely control or eradicate the invasive species, prevent them from spreading onto other parts of the campus or nearby properties and will improve the wetland habitat for native plants and wildlife.
###