Robots Will Be Demonstrated at Wellesley College Jan. 24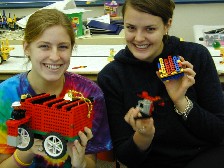 WELLESLEY, Mass. – You never know what kind of robot will emerge from Wellesley College's Robotics Design Studio. The mechanical marvels may resemble anything from Harry Potter's magic wand to Clifford the Big Red Dog. (Students, at right, show robots from previous years.)
A dozen robots are produced during the annual Robotics Design Studio, held during the January "Wintersession" at Wellesley. On the final day of classes, students and faculty members present a parade of wacky but functional robots in a demonstration. The event, which is free and open to the public, will be held Wednesday, Jan. 24, from 4:30-6 pm in Sage Lounge of the Science Center.
"Robotics Design Studio represents an alternative vision of how robot design can be used to teach engineering in a way that is more inclusive and provides more room for artistic expression than contest-centered formats," said Franklyn Turbak, associate professor of computer science at Wellesley College.
The robotics course teaches students how to design, assemble and program robots made out of LEGO parts, sensors, motors and small embedded computers. These creative projects tie together aspects of a surprisingly wide range of disciplines. Producing a robot and presenting it for public display employs skills in computer programming, mechanical knowledge, artistic sense and writing and presentation skills.

Turbak and his fellow robotics teacher Scott Anderson have established a Web page on these projects at http://cs.wellesley.edu/~rds/exhibition.html. It includes links to previous years' creations and background information about how and why this engineering course became established at Wellesley, a liberal arts college.

"In the Jan. 24 exhibition, students will display the LEGO robots that they designed and built during this Wintersession's Robotics Design Studio course," Turbak said, inviting people to "come and play with the creative contraptions that they have constructed." Children and families are encouraged to attend, and refreshments will be served. For more information, contact Scott Anderson at sanderso@wellesley.edu or 781-283-3249 or Franklyn Turbak at fturbak@wellesley.edu or 781-283-3049.

Since 1875, Wellesley College has been a leader in providing an excellent liberal arts education for women who will make a difference in the world. Its 500-acre campus near Boston is home to 2,300 undergraduate students from all 50 states and 68 countries. For more information, go to www.wellesley.edu.


###