Wellesley Celebrates a World of Learning at 2007 Tanner Conference
Catherine Jaffee in Bodh Gaya, Bihar, India. To read more about Jaffee's experiences, click here.
WELLESLEY, Mass.— If you practiced Buddhism and lived in a Buddhist monastery, would you identify as Buddhist? If, before every meal, you sang Christian hymns and worked for an institution rooted in the message of Jesus Christ, would you be Christian?
As a student of meditation at the Burmese Buddhist Monastery in Bodh Gaya, Bihar, India – the birthplace of Buddha's enlightenment—and an intern in Japan at the Asian Rural Institute, Wellesley College senior Catherine Jaffee of Boulder, Colo., faced these questions daily as she struggled to balance her personal beliefs with a desire to be an active member of these communities.
Jaffee will review the learning that took place in these different religious situations – such as 72-hour meditations or discussions on homosexuality and Christianity while harvesting eggplants-- during her presentation at the 2007 Tanner Conference at Wellesley College Tuesday, Nov. 6.
This year's conference represents the work of nearly 300 students, faculty, alumnae and staff. Established through the generosity of Wellesley College trustee Estelle "Nicki" Newman Tanner '57, the Tanner Conference celebrates the relationship between the liberal arts classroom and student participation in an increasingly diverse and interdependent world. The conference provides a venue for students and alumnae to share their off-campus experiences with others.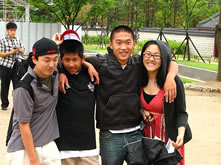 Susan Wang (right) with Korean adoptees. To read more of Wang's story, click here.
Junior Susan (Sook-jin) Wang McLean, Va., will discuss her time as a translator for Korean adoptive families on birth-land tours to Korea during her presentation, "Why is Adoption in Korea So High? Interpreting Birth-Land Tours." Raised in both countries and cultures, Wang's role was mainly to help families overcome the language barrier and to explain the cultural differences between Korea and the United States. For some, the birth-land tour was a quest to find one's identity. For others, it was to better understand one's cultural heritage.
"The trip has a different meaning for every family," said Wang, an economics and French major. "Some families just want to show their kids what Korea is like and show them where they are coming from. For other kids, they get to review their files and potentially meet their birth mothers."
Zehra Omer of Shrewsbury, Mass., will recount the learning that took place while conducting a clinical research study at Massachusetts General Hospital during her presentation, "Help! My Shoes No Longer Fit… And Neither Does My Heart!" Her research focused on a rare hormonal disorder, acromegaly, which develops when there is too much growth hormone in the body.
"While acromegaly is marked by enlargement in the size of the hands, feet and jaws, patients are more concerned about their cardiovascular condition," said Omer, a neuroscience and Middle Eastern studies major. "Too much growth hormone leads to thickening of the heart walls and stiffening of the blood vessels, which may be related to increased levels of inflammatory cytokines, and markers of endothelial dysfunction in the blood." For more information on Omer's project, click here.

Wellesley College has been a leader in the education of women for more than 130 years. The College's 500-acre campus near Boston is home to 2,300 undergraduate students from all 50 states and 65 countries.

###