In a Society Hooked on 'Retail Therapy,' Wellesley Professor Hopes
Personal Finance Lessons Sink In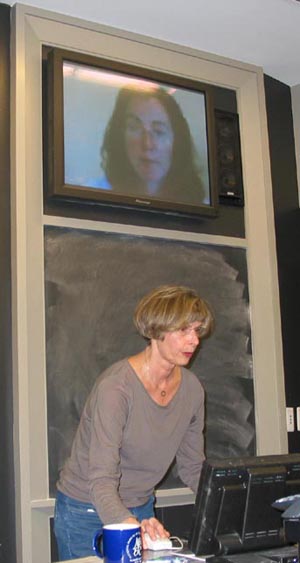 Ann Witte teaches 'Personal Finance' at Wellesley College with help from her former student, Saundra Gulley, seen on the video monitor.
WELLESLEY, Mass.– Another holiday season looms, and for many it means another shopping season. Merchants everywhere hope for a "Black Friday" to bring them out of the debt column: the red side of the business ledger. But for consumers, the season may add up to more debt and deeper financial trouble. Sadly, it won't just mean less change in their pockets. It may also destroy their potential to live their best life.

Money sense holds the key to enjoying the bounty of life, says Wellesley College economics professor Ann Witte. Yet on four-year college campuses, few courses focus on how to manage your money. Now Witte and a former student, Saundra Gulley, Wellesley class of 1985, offer help through a class called "Personal Finance," now in its second year at the college.

Between them, Witte and Gulley share some top-notch advice. Professor Witte has focused on personal finance during her 23 years of teaching. She is the author of more than 10 books and monographs and 100 scholarly articles on the topic of personal finance. A new publication based on their course is on the horizon. Gulley, a self-made businesswoman, retired from her career as an investment banker several years ago. Now she spends her time as a volunteer teacher and advisor living in one of the loveliest spots on earth.

"You don't retire at 36 to Hawaii unless you've been quite successful at investing," said Witte of her colleague, whose presence in the Wellesley classroom is possible via videoconference. Elected to Phi Beta Kappa Society as a junior, Gulley was awarded the Economics Department Senior Fellowship. After graduating magna cum laude from Wellesley, she worked as a financial analyst with Goldman Sachs, went on to become a vice president with Lazard Frères & Co., and then a managing director at Donaldson, Lufkin & Jenrette, from where she retired in 2000. After traveling for a few years, she and her husband, also a retired investment banker, settled in Hawaii.

"What I attribute it to is, seriously, we had a plan," Gulley explained. "I knew how much money I had, how much we spend and what I had to save."

Finding the amount you need to retire is a matter of mathematics, she noted. "I'm planning on being around until at least my 80s," Gulley said. "You have to figure out how much you spend in a year and estimate how many years you will live, and then make an assumption about the return on your investments. My own personal assumption is very conservative – zero percent return after taxes and inflation. People frequently forget that their money has to keep up with both taxes and inflation."

"Personal Finance" is open to undergraduates, college employees and auditors from the surrounding communities. The class currently enrolls students from their early 20s to retirement age, all learning about where their money goes—and how they can keep more of it in their pockets. To learn about money management, each student creates a prototype family or individual. These prototypes have goals based on their stage in life. Without basic knowledge, Witte said, financial disaster is all too likely to strike the uneducated consumer.

"The financial industry is rife with conflicts of interest," she said. "Fools are greatly welcomed – and fleeced." Changes in the financial realms are happening "rapidly and radically," she added. "People have to become responsible for themselves. If they've maxed out credit cards and are late on payments, their credit score is ruined. When you are ready to buy a house, you won't get a mortgage. Sometimes, that's when people find out there is no free lunch."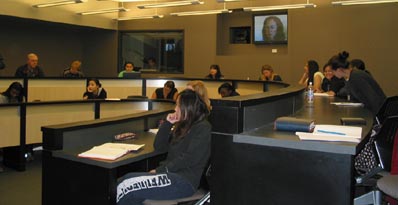 Class is held in a videoconferencing room at Wellesley.
Witte says financial Web sites can often be exploitive. She helps students pick out the flaws in online data and recognize "bait-and-switch" techniques used to lure investors. For overall financial health, Witte and Gulley emphasize the importance of tracking expenses and income in a simple ledger or a computer program like Quicken. That practice alone can reveal an eye-opening picture. Often, people spend their money on what they want now, rather than what they want most.

"Retail therapy is not a medical necessity," Gulley said. "The only way you get yourself out of trouble is to earn more or spend less. Add a little discipline to track your money and your spending habits and you can empower yourself to start reaching your financial goals."

Witte added, "Have a plan, such as 'I put aside X because I want to buy a home.' Think in a dynamic way about your goals: Where do I want to be in five or 10 years?"

Such financial goals have attracted not only traditional-age students, but also college employees and local residents auditing the course, including Rick Faubert, 71, of Wellesley.

"My wife and I moved here in 1997 with our six children," Faubert said. "We lived in a six-bedroom for the first 25 years, moving to our 'down-sized home' in 2002. By that time all of our children had left the house and we could start thinking about retirement."

Faubert had worked at Digital Equipment Corp. for about 25 years when he was offered a special early retirement program. He took those retirement benefits, including a 401K plan, along to subsequent employers and their retirement funds.

"Now I am ready to really retire and so this class is just what I need to consolidate what I know about investments and check out what my present program looks like vs. what it should be," he said. He has some regrets in light of what he's learned in the class.

"I would not have actively managed my [retirement] accounts as much," Faubert said. "I probably would have put them in index funds and left them there. You have to trust the system. The system is going to work over time, but you can't push the market."

Brittany Coles, a senior at Wellesley, hopes to focus on the years ahead by making sound financial decisions from the start.

"I decided to take this course because I didn't have a firm grasp on how to manage my own finances once I graduated from Wellesley," Coles said. "Since high school I have had to manage my money, but with bigger payments like an apartment, car, etc., I needed to get a better idea of how to plan for the future, whether that be two years down the road or 20 years."

The 20-year-old from Littleton, Colo., calls "Personal Finance" one of the most applicable courses she has taken at Wellesley.

"It makes me less anxious about being out on my own," she said. "I will focus on living within my means and having enough left over to create an emergency fund, to invest and plan for the future because, with the volatility of the markets, there is always the possibility to be out of work or other unknown factors."

Coles also is prepared for the "surprise" of taxes, knowing that gross pay is a far cry from take-home dollars. To deal with the tax burden, she has learned "how to allocate my funds into tax-deferred accounts or into municipal bonds that are tax-free. I will also make a point to keep a diverse portfolio, which decreases my financial risk."

Nineteen-year-old Wellesley junior Naana Boampong, a native of Ghana, Africa, who now lives in Columbia, Md., has gone from letting her sister manage her finances to having a solid foundation in the financial world.

"I used to think that when investing, what you invested in was most important," she said. "Taking this class, I quickly learned that the most important thing is the allocation of the assets that one has…because it is a great way to make sure one hedges him or herself against certain financial mishaps."

Both Boampong and Coles, like all students in the class, test their financial decisions through their prototype family, which, Witte says, takes personal emotion out of the process. Coles has learned how hard it is for some members of society to make their way financially in the world.

"My prototype family is a family of four and the father is an E-5 in the U.S. Navy," Coles said. "It amazes me how little money our military families make and that many of them have to live on the lowest means possible even though they are sacrificing their lives for the country. It doesn't surprise me anymore the amount of debt that they accumulate by the end of their careers."

It's not just the poor who suffer in society, Boampong noted. Middle-class families also face a financial squeeze.

"The most surprising thing I learned from this class is about the issue of poverty traps," she said. "The prototype my partner and I are working with is a young immigrant custodian from China who has moved to the United States to help her family back home in China. Despite her low income, she is considered as part of the lower middle class. She can barely make ends meet with her paycheck."
Since 1875, Wellesley College has been a leader in providing an excellent liberal arts education for women who will make a difference in the world. Its 500-acre campus near Boston is home to 2,300 undergraduate students from all 50 states and 68 countries. For more information, go to www.wellesley.edu.

###