Wellesley College Professor to Release Debut Folk Album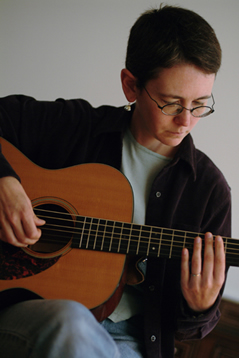 WELLESLEY, Mass.—The day the music died for one songwriter became the day the music came alive for another.
Beth DeSombre, the Frost professor of environmental studies and political science at Wellesley College, first began songwriting in high school, winning a contest for her music. She later chose to attend Harvard University in large part for the Boston folk music scene, which she describes as the best in North America. Halfway through her studies there, she stopped writing and performing in public. Graduate school required too much focus, and she wasn't sure she was good enough to make serious inroads as a singer-songwriter.
DeSombre continued playing music for herself but didn't start songwriting again until 2004, soon after her favorite songwriter, Dave Carter, died suddenly at a young age. After more than a decade, the first song she wrote, "Sarah's Song," dealt with the importance of music.
"The song refers to navigating 'the crooked highways of this world below' as contrasted to a focus on some heavenly reward, so I also see it as representing the fact that my songs often tell stories of different types of people just trying to get by in the world," DeSombre said.
As she began to perform again, she quickly ended up with opportunities to play in front of big folk festival audiences. People began asking whether she had a CD.
"When I realized I'd written more than enough songs to make a CD, I started figuring out how to make that happen," she said. The result is the about-to-be released album, Crooked Highways.
Desombre will present a talk and a few of her songs from the album Friday, Dec. 7, from 12:30-1:30 pm in Anderson Forum, Wang Campus Center, Wellesley College, an event sponsored by the Phi Sigma Lecture Society as part of its "Professors and their Passions" lecture series. She will also perform at her CD's release concert and party Monday, Dec. 10, at 7:30 pm at Punch's Alley in Wang Campus Center.
"I'm holding it on campus because it's my home base— I perform at the pub once or twice a semester every semester— and I thought it would be nice to do it where it would be easy for the campus community to attend," DeSombre said. Both events are free and open to the public.
While the Boston area is home to a specific type of folk singer-songwriter, Wellesley College offered DeSombre another reason to return to the area she loves.


"I adore teaching at Wellesley, but another one of the big draws of this place is that it's in the geographic area that is best for the music I love," DeSombre said.
It was only recently that DeSombre's double lives as a professor and singer-songwriter began to interact.
"Until recently I've kept my professor life and my singer-songwriter life pretty separate; my music bio doesn't mention that I'm a professor and my college Web page and c.v. don't mention my music," DeSombre said. "But beginning to perform on campus has started allowing those identities to intermingle."
Her songs also inadvertently reflect the professor within her.
"I also write songs you actually have to pay attention to in order to appreciate; lots of words, big concepts," DeSombre said. "So they're kind of professorial songs, even though that's not by intention -- it's just the way I think about things."
DeSombre plays around Boston and occasionally out of state, has made special guest appearances at major folk festivals and has won honorable mentions in national and international songwriting contests for her song "No Toll in Canaan."
Her first release features collaborations with artists such as Tracy Grammar, Jim Henry, and Pete and Maura Kennedy—all of whom DeSombre is most excited to see as a fan. She also worked with producer Dave Chalfant.
"I'm really proud of what we came up with," DeSombre said. For more information, visit www.bethdesombre.com.
Since 1875, Wellesley College has been a leader in providing an excellent liberal arts education for women who will make a difference in the world. Its 500-acre campus near Boston is home to 2,300 undergraduate students from all 50 states and 68 countries. For more information, go to www.wellesley.edu.

###