Wellesley College Student Journalist Writes about College Life for CNN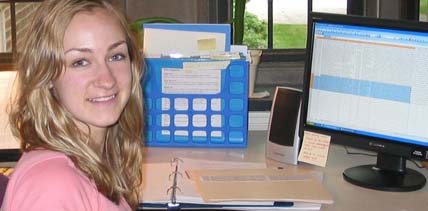 WELLESLEY, Mass.— A number of accomplished journalists claim Wellesley College as their alma mater, including Diane Sawyer, Cokie Roberts, Linda Wertheimer, Lynn Sherr and now, 20-year-old junior Johanna Peace, at right.

Peace is the only student correspondent in New England for CNNU, an online news feature from media giant CNN. Along with 20 other college reporters from across the United States, Peace writes about news and trends from the student perspective.

Most recently, she wrote an article titled "Wellesley Shows Its Love for Famous Alumna," following a visit to campus by Senator Hillary Clinton, Wellesley class of 1969. To read it, go to www.cnn.com/2007/POLITICS/11/09/cnnu.clinton. She has also written about Facebook and other online social networks and student protests for CNNU.

A sociology major and English minor carrying a full course load, she also is the editor-in-chief of the college newspaper, The Wellesley News, a job usually shared by two people. She has twice won the school's prestigious "Three Generations" writing prize. She also holds down three work study jobs, one in the sociology department as a research assistant, another in the public affairs office and a third as a writing tutor. Next semester, she plans to take on yet another challenge: study abroad in Australia.

Peace welcomes the myriad opportunities that have come her way. "That's the thing about Wellesley I really love," she said. "If you have a passion, you can find a way to express it from work study to classes to extracurriculars. You can explore what you want to get experience in. I am so thankful I go here for that reason, and that I've been able to fit all this into my undergrad years. I think Wellesley gives me a huge advantage for that."

A native of South Dennis, Mass., she is the daughter of Katharine and William Peace and attended Dennis-Yarmouth Regional High School. A guidance counselor there encouraged her to apply to Wellesley.
"It won't hurt to say I wrote for CNN as an undergrad," Peace acknowledged, thinking ahead to the future job market.
"I came here wanting to be an English major because I love writing, reading, literature and analysis as well," she said. "But then I took an intro to sociology course, 'Conformity and Deviance in Society,' with [Kenan Professor of Sociology] Lee Cuba. Sociology gives me the vocabulary and background to talk about how people behave and the way society works. I knew I wanted to be a journalist, and what better way to find out about the society that I'm going to be writing about?"
Cuba said that Peace has made significant contributions to his sociology research.
"I've known Johanna since she was a first year student, and she immediately impressed me as one of the best writers I have ever had the good fortune to teach at Wellesley," he said. "Having now worked closely with Johanna as a summer research student and during this year as a research assistant, I can attest to her intellectual curiosity and analytic abilities as well. Johanna has been coding and analyzing transcripts of interviews with members of the Wellesley class of 2010, and her insights into how students experience the transition from high school to college have been deep and thoughtful. She has approached this work with the same keen, probing stance that characterizes all of her journalistic work, and I have come to think of her as a true collaborator on this project."

In September of her first year at Wellesley, Peace began writing for The Wellesley News, quickly rising through the ranks as assistant news editor, news editor and now editor-in-chief. Last summer, while working as a research assistant for Cuba and as an assistant in the public affairs office, she was hired by CNN. "I was on top of the world," Peace said. "It's a great opportunity and I felt so lucky. I never believed it would have happened."

An independent contractor, Peace is paid $50 per article and $25 for photos. "It won't hurt to say I wrote for CNN as an undergrad," she acknowledged, thinking ahead to the future job market. "I'd write for free, it's such an honor, but it is certainly a bonus they are paying me for it."

Her work has already drawn attention from a Web site devoted to young people's involvement with the 2008 election.

"After I wrote my first article, I heard from the Scoop08.com," Peace said. "[The editor] asked me to come onto the staff, and I wanted to do it, but I decided I had enough on my plate. It opened my eyes to the fact that CNN could open doors for me."

A publisher producing a book on communication also contacted her about reprinting her Facebook story, "but I couldn't give her permission because CNN owns the rights," Peace said.

From February to June, she will attend the University of Sydney in Australia, studying media and society. The coursework covers "the intersection between sociology and media studies," Peace said— perfectly marrying her two main interests. She aims to make the most of the experience in all ways.

"I want to do outdoor things," she said. "I want to take surfing lessons, rock climbing, paragliding – I want to try snorkeling on the Great Barrier Reef. It's a study abroad experience, and the point is to try things you've never tried before. It seems like the perfect opportunity to check these things off my life list."

Staff members at The Wellesley News will assume her responsibilities for the semester. Meanwhile, perhaps roving reporter Johanna Peace's next dateline will be somewhere in the wilds of Australia.

Since 1875, Wellesley College has been a leader in providing an excellent liberal arts education for women who will make a difference in the world. Its 500-acre campus near Boston is home to 2,300 undergraduate students from all 50 states and 68 countries.