Thirteen Wellesley College Seniors Awarded
2007 Jerome A. Schiff Fellowships
FOR IMMEDIATE RELEASE:
December 7, 2007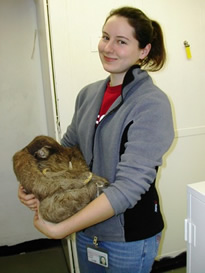 Schiff Fellowship winner
Courtney Stepien '08 at work
WELLESLEY, Mass. -- Thirteen Wellesley College seniors have been named recipients of the 2007 Jerome A. Schiff Fellowship. Made possible through a generous gift from the Jerome A. Schiff Charitable Trust, these merit awards support the scholarly work of students enrolled in the senior honors program.

The 2007 Schiff Fellows will be studying everything from tree sloths to the subprime crisis to Nepali peasants. One student will focus on transgendered individuals' perception of identity as expressed through their zines—informal, self-published writings. Another student's project aims to create a drug delivery system for the treatment of pancreatic cancer.

Schiff Fellows receive a minimum award of $2,000. Some Fellows use their awards to reduce work obligations during the academic year to devote more time to research. In addition, students may apply for up to $1,000 to meet thesis-related research expenses. The maximum award is $3,000. With their awards, students are planning to undertake research at the Bibliotheque Nationale in Paris, the Field Museum of Natural History in Chicago and the New York City archives, among other places.

Listed below are the 2007 Schiff Fellows and their majors, research projects and faculty advisors:
Shloka Ananthanarayanan of New York, N.Y., biological chemistry, for "Functionalized Nanoparticles for Cancer Therapy" (Professor Nolan Flynn)
Ashmita Banerjee of Indira Nagar, India, biological chemistry, for "Determination of the Molecular Target of a Monoclonal Antibody Reactive against Pancreatic Cancer" (Professor Andrew Webb)
Abigail Dalton of Ardsley, N.Y., English, for "Julian Barnes and the Postmodern Problem of Truth" (Professor Lisa Rodensky)
Mattie Fitch of Yellow Springs, Ohio, history, for "Paris as Ideological Battleground: the Third Republic, the Commune and Competing Visions of Modernity" (Professor Ryan Frace)
Madeline Harms of Topeka, Kan., psychology, for "The Roles of Complex Language and Executive Function in Children's False-Belief Understanding" (Professor Jennie Pyers)
Sanja Jagesic, of Revere, Mass., sociology, "Proudhon – Marx – Bakunin: A Case-Study in Intellectual Combat" (Professor Thomas Cushman)
Aigerim Kabdiyeva of Almaty, Kazakhstan, economics, for "Co-ordination Failures and the Subprime Crisis: Implications for Policymakers" (Professor Akila Weerpana)
Sunita Kannan of Singapore, physics, for "Variational Monte Carlo Method Applied to Spins in 2-Dimensional Square Lattices with Zero Doping" (Professor Courtney Lannert)
Katie O'Banion of San Francisco, Calif., economics, for "Transplanting Civil Law into Common-law America: The Effect of New York's 1822 Limited-Partnership Act on Economic Activity" (Professor Eric Hilt)
Katherine Grimm Roth of Houston, Texas, music, for "Alban Berg's Violin Concerto: Reconciling Tonality with Performance" (Professor Gurminder Bhogal)
Diane Slutzky of Maplewood, N.J., women's studies, for "Perceptions of Identity and the Medical Establishment in Trans Zines" (Professors Lara Freidenfelds and Rosanna Hertz)
Courtney Stepien of Bergenfield, N.J., biological sciences, for "Morphological and Molecular Analyses of Aberrant Vertebral Anatomy in Tree Sloths" (Professor Emily Buchholtz)
Erisha Singh Suwal of Kathmandu, Nepal, South Asian studies, for "Were Nepali Peasants Revolutionary? Exploring the Causes of Peasant Mobilization under the Maoists' People's War (Professor Christopher Candland)
Wellesley College has been a leader in the education of women for more than 130 years. The College's 500-acre campus near Boston is home to 2,300 undergraduate students from all 50 states and 65 countries.
###