Wellesley Receives Grant to Support Research in the Sciences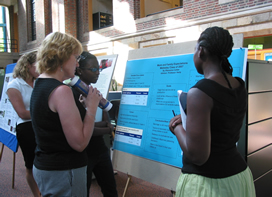 WELLESLEY, Mass.— First-year female students are significantly less likely than first-year male students to pursue a science major, studies say. Female students are also more likely to switch out of the sciences.
The opportunity to participate in research early in an undergraduate career helps ease this discrepancy by attracting students to scientific disciplines and nurturing their future plans to pursue scientific careers. Thanks in part to a new grant, Wellesley College's summer research program will be expanded to provide opportunities for rising sophomores and juniors.
Wellesley College has received a $150,000 grant from the Sherman Fairchild Foundation's Summer Stipend Program in the Sciences. The three-year grant will provide a total of thirty summer research positions—allowing more students to engage in scientific research early in their academic careers.
Funds will be used for student stipends, a housing allowance and laboratory supplies. Summer scholars will conduct faculty-supervised research in biological science, biochemistry, chemistry, geology, neuroscience, physics and astronomy.
The grant will augment Wellesley's summer research program. Each year, participants spend 10 weeks in a faculty laboratory, working one-on-one with a participating faculty mentor. Each student devises her own research project and proposes its direction. Speakers, workshops, career panels and field trips all complement the academic advising and career planning processes.
"Wellesley's Science Center Summer Research Program is an integral part of the college's efforts to provide students with the professional and personal development that will prepare them for successful careers in the sciences," said Dean of the College Andrew Shennan. "We're delighted to have the opportunity to broaden students' experiences earlier in their academic development."
Since 1875, Wellesley College has been a leader in providing an excellent liberal arts education for women who will make a difference in the world. Its 500-acre campus near Boston is home to 2,300 undergraduate students from all 50 states and 68 countries.

###