NASA's Pam Melroy and Stephanie Wilson To Speak About 'Women in Space' at Wellesley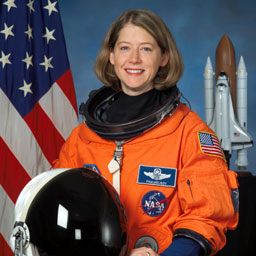 Space shuttle commander
and Wellesley alumna Pamela A. Melroy
WELLESLEY, Mass. — Back in October, alumna and trustee Pamela A. Melroy made an unusual long-distance call to folks at her alma mater. At the time, she was commanding NASA's Space Shuttle Discovery, which wasdocked at the International Space Station. On Friday, Feb. 1, at 4:30 pm, she will talk about her experience in person at "Women in Space," an event held in Wellesley College's Jewett Arts Center Auditorium. The event is free and open to the public.
Melroy's call from Discovery came in the middle of a trustee meeting, which she apologized for missing. "We told her we thought she was on a much higher calling," said board chair Alecia DeCoudreaux.

A retired colonel with the U.S. Air Force, Melroy earned a B.S. degree in physics and astronomy at Wellesley in 1983 and an M.S. in earth and planetary sciences at MIT. She will be joined at the "Women in Space" presentation by fellow NASA astronaut Stephanie D. Wilson, who has a B.S. degree in engineering science from Harvard University and an M.S. degree in aerospace engineering from the University of Texas.

Only the second woman to pilot a space shuttle, Melroy made history with last fall's 215-mile-high mission. When she docked Discovery with the space station and greeted its commander, Peggy Whitson, it was the first time two female commanders met in space. Melroy also oversaw some outstanding scientific and engineering achievements during the 15-day, 6.25 million-mile mission.

Wellesley astronomy professor Wendy Bauer was among the NASA VIPs on hand to watch the shuttle launch. "I remember saying 'You go, girl!' and noticing that it wasn't a smooth contrail like you see from an airplane passing above you, that there was a lot of buffeting," she recalls. "My friend was on top of a barely-controlled explosion. There were puffy clouds, and they went right went through them, and the cloud lit up." After the successful liftoff, more than a few eyes were full of tears, she noted, adding, "It was an unbelievable experience."
The Wellesley presentation is sponsored by the Ignite Foundation, which helps to organize group events including those featuring NASA astronauts. Free parking is available in the Davis Parking Facility, just off the Route 135/Central St. entrance to Wellesley College. For more information, contact Bryan McKay at the Ignite Foundation at ignitefound@charter.net or call Wellesley College at 781-283-2373.
Since 1875, Wellesley College has been a leader in providing an excellent liberal arts education for women who will make a difference in the world. Its 500-acre campus near Boston is home to 2,300 undergraduate students from all 50 states and 68 countries.

###