Heated Discussions: Wellesley Students Explore Active Volcano in Hawaii this January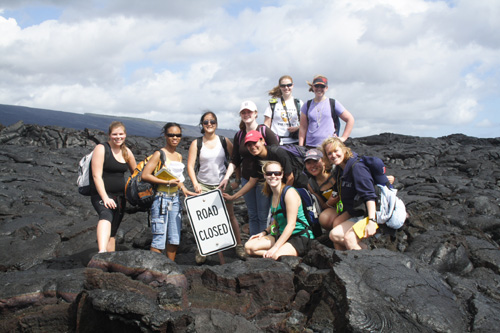 ROAD CLOSED: Wellesley students pose at the current end of Chain of Craters road in Hawaii Volcanoes National Park. The road was closed by an earlier lava flow in the 1980s, then the sign was partially overrun by a more recent flow. Taking in the view from a volcano are, at back, standing, from left to right: Adrienne Kelley, Victoria Allison, Adrianne Lee, Alysha Carkin, Krista Kasper and Xenia Lardas. Front row, left to right: Mei Ai Khoo, Taylor Harvey, Song-Song Xi and Courtney White.
WELLESLEY, Mass. — At Wellesley College today, the date matched the temperature at one point: It's Jan. 17 and 17 degrees outside the snow-covered Massachusetts campus. For 10 students in James Besancon's Geosciences 220 class, though, the heat is on. They are flying over an erupting volcano in Hawaii.

A living laboratory for a Wellesley classroom, Hawaii's Volcanoes National Park shows the results of 70 million years of volcanic transformation that brought bare land from the sea and produced a unique ecosystem and culture. Besancon is leading the trip with geosciences laboratory instructor Rebecca Mattison.

ROOM AT THE TOP: "We are staying for the most part in dormitory rooms at Kilauea Military Camp, a Joint Armed Services Recreation Facility which also takes educational groups and is conveniently situated at the summit of Kilauea Volcano," explained Besancon, who chairs Wellesley's geosciences department. "We are only a few hundred yards from the rim of the summit caldera, the 2½-mile-wide, downdropped roof over the magma source."

A highlight of the trip has been a day spent with Dr. Don Swanson of the U.S. Geological Survey, an eminent volcanologist who carries on active research on the workings of Kilauea.

The Jan. 8-24 trip takes place during Wellesley's annual Wintersession, held between fall and spring semesters; it's a opportunity for students to take part in travel and study of all kinds. Tied to a class taught every other fall at Wellesley, the Hawaii trip offers basic field geology and study and analysis of the volcano.
CRATERS AND SHORES: Song-Song Xi, at left, checks out a fissure on the caldera floor at Kilauea Iki, a crater that marks the site of a lava lake. At right, students enjoy the view from South Point, the southernmost point in the United States. "The platform is a launching frame for small fishing boats," notes Prof. James Besancon. "We then walked two miles over to see a littoral cone (volcanic vent fueled by steam explosions from lava and seawater) and enjoyed a swim at one of the few beaches in the world with green sand (olivine crystals weathered out of the volcanic rock)."
VOLCANO BELOW: "Kilauea Volcano is one of the most active on earth and has erupted almost continuously for several decades," Besancon said. "For most of that time, the eruption site, called Puu 'O'o, or Hill of the 'O'o bird, sent lava several miles down the slope to the ocean. During July, activity shifted to vent D to the north and east. Today our class flew over the vent on chartered helicopters and saw the active lava flowing across a relatively flat area as well as the huge steam and sulfur dioxide cloud coming from the nearby Puu 'O'o vent."

For students like Courtney A. White, a junior from Lauderdale-by-the-Sea, Fla., seeing a volcano from the top down is a memory to cherish.

"Today Dr. Mattison took us on a helicopter tour of Pu'u O'o vent of Kilauea volcano, and I am so grateful to learn under the guidance of such a enthusiastic lab instructor," she said. "We are keeping track of live eruptions every day and understanding the geologic history behind the formation of the Hawaiian islands. There's no question that these two weeks…will leave us with practical skills and happy memories to last a lifetime."
Since 1875, Wellesley College has been a leader in providing an excellent liberal arts education for women who will make a difference in the world. Its 500-acre campus near Boston is home to 2,300 undergraduate students from all 50 states and 68 countries.

###