Journalist and Women's Rights Advocate Gloria Steinem
To Speak at Wellesley Feb. 6

THIS TICKETED EVENT IS SOLD OUT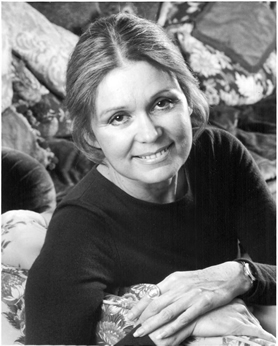 WELLESLEY, Mass.— For the past few decades, Gloria Steinem, co-founder of Ms. Magazine, has been an outspoken voice on issues of equality and women's rights. The upcoming presidential election is no exception. In an op-ed, "Women are Never Front-Runners," published in The New York Times, Steinem recently expressed her concern at the lingering gender barrier in the United States.

"Gender is probably the most restricting force in American life, whether the question is who must be in the kitchen or who could be in the White House," Steinem said. "This country is way down the list of countries electing women and, according to one study, it polarizes gender roles more than the average democracy."

Steinem will speak Wednesday, Feb. 6, at 7:30 pm in Tishman Commons in the Lulu Chow Wang Campus Center. There will be an overflow room with a video screen. She will be hosted by Students for Reproductive Rights.

"Every year Students for Reproductive Rights tries to bring a big speaker— we've had Betty Friedan and Sarah Weddinton, the lawyer from Roe v. Wade," said Wellesley senior Eileen Crehan, president of the student group. "We thought Gloria would be a really great choice to get people fired up about choice issues."

The lecture is free for Wellesley students, $10 for faculty, staff and college students, and $20 for the general public. Tickets can be reserved by e-mailing gloriasteinemlecture@gmail.com and picked up the night of the talk. Students for Reproductive Rights are also holding a raffle for a seat at dinner with Steinem. Tickets will be sold in the Wang Campus Center Wednesday, Jan. 30, and Thursday, Jan. 31, during lunch and in the evenings. Tickets are $2, or $5 for three.

Steinem served as an editor at Ms. for 15 years and then continued on as a consulting editor. She also helped to found New York magazine, where she was a political columnist and wrote feature articles. As a freelance writer, she has been published in Esquire, The New York Times Magazine and numerous women's magazines. She has produced a documentary on child abuse for HBO, a feature film about the death penalty for Lifetime and has been the subject of profiles on Lifetime and Showtime.

Her books include the bestsellers Revolution from Within: A Book of Self-Esteem, Outrageous Acts and Everyday Rebellions, Moving Beyond Words and Marilyn: Norma Jean, on the life of Marilyn Monroe. She was an editor of Houghton Mifflin's The Reader's Companion to U.S. Women's History.

She was president and co-founder of Voters for Choice, a pro-choice political action committee for 25 years, then with the Planned Parenthood Action Fund when it merged with VFC for the 2004 elections.
Since 1875, Wellesley College has been a leader in providing an excellent liberal arts education for women who will make a difference in the world. Its 500-acre campus near Boston is home to 2,300 undergraduate students from all 50 states and 68 countries.
###