Actor LeVar Burton to Speak as Wellesley College
Celebrates Black History Month 2008
Black History Month Events
TUESDAY, FEB. 1 - 6 pm
Celebrating the Black Arts
Harambee House Reception
SUNDAY, FEB. 3-7 - 7 pm
Showing of Roots
Harambee House
THURSDAY, FEBRUARY 7
National Black AIDS Day
WEDNESDAY, FEB. 13 - 7 pm
Quintessence Day Lecture
Speaker: Activist Elaine Brown
Collins Cinema
SUNDAY FEB. 17 - 7 pm
Showing of City of God
Harambee House
WEDNESDAY, FEB. 20 - 7 pm
LeVar Burton Lecture
Collins Cinema
SUNDAY, FEB. 24 - 7 pm
Afro-Brazilian Dance
Harambee House

MONDAY, FEB. 25 - 8 pm
Showing of "A Raisin in the Sun"
Harambee House

FRIDAY, MARCH 7 - 7 pm
Poetry Reading from the African Diaspora
Jewett Auditorium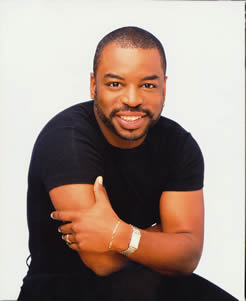 WELLESLEY, Mass.— Some remember him for his Emmy-nominated turn as Kunta Kinte in the miniseries Roots. Others recall his role as host of Reading Rainbow, or his part as Geordi La Forge in Star Trek: The Next Generation.
Since the 1977 miniseries, LeVar Burton has further established himself as a celebrated author, director and actor. He will speak of the role that brought him to prominence during the talk, "The Making of Roots," Wednesday, Feb. 20, at 7 pm in Collins Cinema at Wellesley College.
The 1977 miniseries traces the development of one African-American family beginning with the pre-slavery life of their ancestor, Kunta Kinte, on through the Civil War. Burton's lecture is a culmination of a month of events celebrating Black History Month at Wellesley. Harambee House, a center for students, faculty and staff of African descent, will show the mini-series in five parts, Sunday, Feb. 3, through Thursday, Feb. 7, at 7 pm.
"Black History Month 2008 explores artistic expression of the African-American experience in North and South America," said Angela Carpenter, director of Harambee House.
Elaine Brown, former leader of the Black Panthers Party, will be the featured speaker for Quintessence Day, an event held annually and hosted by the student group Ethos, which describes quintessence as "the most perfect manifestation of black womanhood." Each year Ethos looks to politics, media, literature, science, technology, business and beyond to find a woman who best represents the proud legacy of black women.
Brown will give the lecture, "New Age Racism in America: The Elimination of Race, Gender and Class Disparities," Wednesday, Feb. 13, at 7 pm in Collins Cinema.
Brown was the chairman of the Black Panthers Party from 1974-1977 and is currently focused on radical reform of the criminal justice system. She writes extensively on the plights of prisoners and injustices in the justice system, including the book The Condemnation of Little B: New Age Racism in America.
Moving from North America to South America, "City of God", a film about the modern black experience in a slum of Rio de Janeiro, will be shown Tuesday, Feb. 19, at 7 pm in Collins Cinema.
To complement the film, Deraldo Ferreira's Afro-Brazilian group will perform copoeira and samba dances Sunday, Feb. 24, at 7 pm in Harambee House. Ferreira, founder and artistic director of the Brazilian Cultural Center of New England, was one of the first capoeiristas to bring the art form to the U.S. and Canada.
In addition to films, talks and performances, Harambee House will host a month-long art exhibit featuring local artists Laura Palmer Edwards, Crystal Brown-Battle, Joan Cameron and students Rebecca Amponsah '08 and Taylor Holloway '08. The public is invited to the free opening reception Friday, Feb. 1 at 6 pm in Harambee House to meet the artists and view their work.
Since 1875, Wellesley College has been a leader in providing an excellent liberal arts education for women who will make a difference in the world. Its 500-acre campus near Boston is home to 2,300 undergraduate students from all 50 states and 68 countries.
###